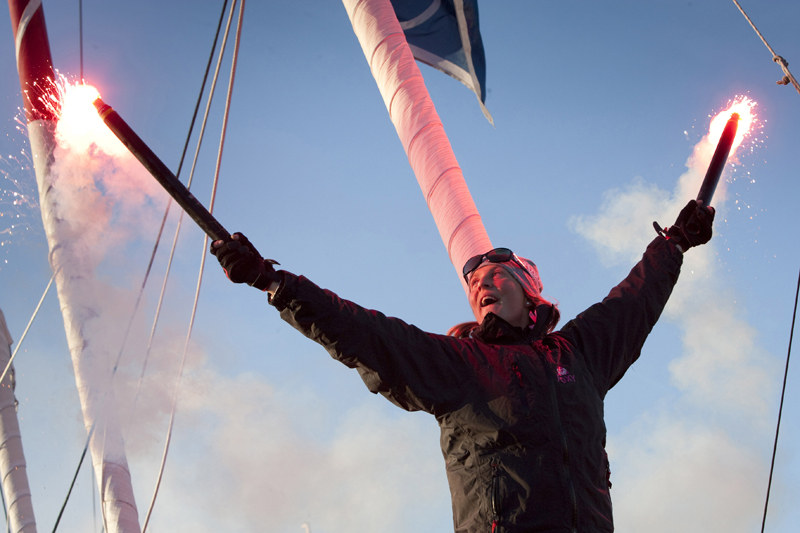 Not only were Friday the 13th, Valentine's Day and Presidents Day all shoehorned into the same long weekend just past, the last several days have also been momentous ones in a number of sailing events around the world. Today we'll take quick looks at the latest news in the Vendée Globe and Louis Vuitton Pacific Series. On Wednesday, we'll bring you some amazing stories from the Leg Five start of the Volvo Ocean Race, a more fun than serious PV Race, and yet another major Melges 24 win for the ageless Dave Ullman.
Vendée Globe — As she predicted, British sailor Samantha Davies ended her marathon 27,470-mile nonstop Vendée Globe race on Valentine's Day, crossing the finish line off Les Sables D'Olonne in third place in the wee hours of Saturday, February 14. Although Roxy finished almost two weeks after winner Michel Desjoyeaux (and a week behind second place Armel Le Cléac'h), her 95d, 4h, 39m passage missed Ellen MacArthur's fastest-female time by only one day. Thousands of 'Sam fans' toughed out the cold weather to greet the boat as she came in. But as popular as she has become during the race, the spotlight of the weekend shined brightest on Mark Guillemot of Safran.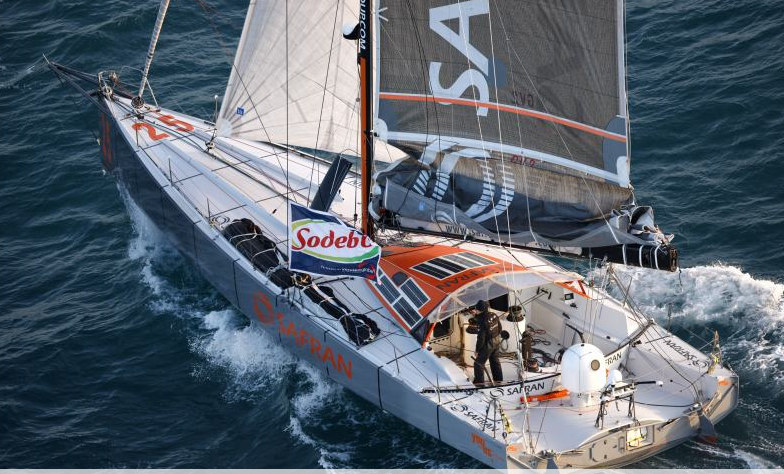 You may recall that Davies and Guillemot both diverted earlier in the race to stand by an injured competitor, and both were given redress — Guillemot a bit more because he was alongside Yann Eliès' boat longer. So the numbers worked out that Davies owed Guillemot 50 hours. Then, last Monday, 1,000 miles out, Safran's keel fell right out of the boat. So for seven days, Guillemot sailed his high-performance Open 60 like a tender dinghy — with triple-reefed main and staysail, using only water ballast and his skill to keep her upright. He finished last night, saving his time to take a well-deserved third place. On his way into the harbor, he invited aboard all the Vendée skippers who'd had to drop out of the race — 19 so far. Four accepted the invitation, including the recuperating Yann Eliès, who Guillemot had gone to the aid of back in mid-December.
Earlier this morning, another 'duel' was decided as Brian Thompson and Dee Caffari finished less than five hours apart, securing fifth and sixth places, respectively. So six boats have finished and five are still on the race course — and will be for awhile. The closest, Arnaud Boissières, is more than 1,000 miles away, Rich Wilson — the only American in this edition of the race — is over 3,000, and the last competitor, Norbert Sedlacek, is still off the coast of Brazil, some 4,500 miles away. For more, www.vendeeglobe.org/en/.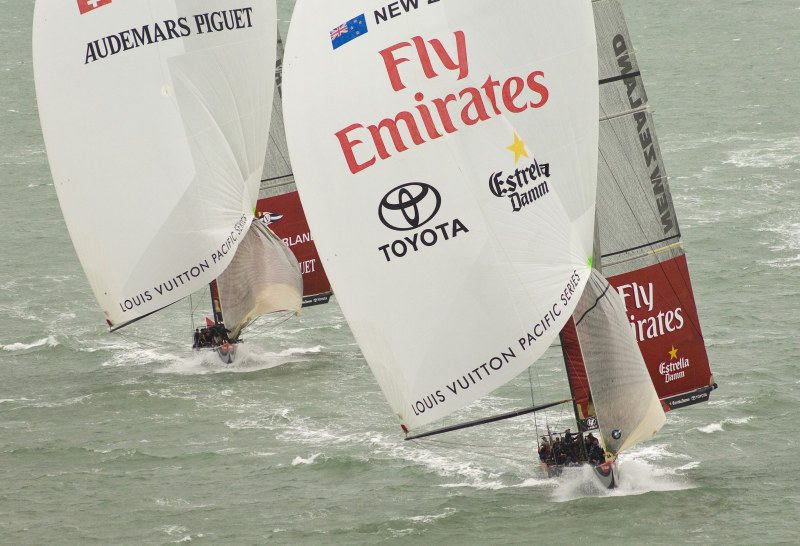 Louis Vuitton Pacific Series — On Saturday, Emirates Team New Zealand clinched a come-from-behind victory over the Swiss Alinghi team in the first Louis Vuitton Pacific Series, sailed out of Auckland in a very America's-Cup like format which started January 30. This first-ever series had all the same boats, all the rock star sailors, the same match-racing format, great management, and a great sponsor in Louis Vuitton (which for 25 years sponsored the A-Cup Challenger Series but quit last time because they felt the Cup had become "too commercial"). And talk about déjà vu — there were even days when races were cancelled because of too little wind, or too much. In fact, about the only thing missing from this event was the Auld Mug itself. Well, and all the baggage it carries: bickering billionaires, suites full of lawyers and a series that — when they occasionally do get out of the courtroom every few years and go sailing — drags on interminably. Anyway, nine syndicates showed up for the series. Alinghi defeated the American team, the Russell Coutts-led BMW Oracle, in the semi-final round to earn the right to face 'host' syndicate Emirates Team New Zealand — now there's some déjà vu. The Kiwi home team lost the first race but then came back to dispatch the Swiss 3-1 in the best of five finale. For more: www.louisvuitton-pacificseries.com.
Receive emails when 'Lectronic Latitude is updated.
SUBSCRIBE