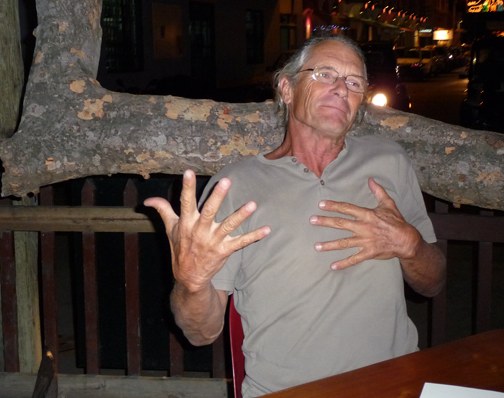 In Wednesday's 'Lectronic, we ran a video showing the 600-ft cargo carrier Gulser Ana T-boning and dismasting the uninsured Venezia 42 catamaran Courtship about 350 miles WSW of Bermuda on November 18. We explained that it had been done on purpose, and asked readers to guess why.
We got a number of responses, including one from Seth and Elizabeth Hynes of the San Francisco-based Lagoon 380 Honeymoon, who are now in Antigua, and who know the previous owner of Courtship. Most of the responses to the quiz were generally correct, although the cat wasn't being hit to be scuttled. But nobody mentioned the whale, which was the cause of the whole mess. As such, here's the abridged version, as given to us by owner Fred Tassigny of St. Barth, who lived through it. The complete version will appear in the February issue of Latitude.
Having spent many years cruising the South Pacific with his wife Sophy aboard their Moody 39 Suzu, the 63-year-old Fred and his wife decided to sell their boat and take advantage of the strong Euro to buy a catamaran in the States. He'd then sail the cat to their former and future home of St. Barth in the French West Indies. Fred bought a Venezia 42 in Annapolis for $200,000. Because it was already November, he couldn't get insurance until he got further south. That was bad luck. The good luck was that, despite being an EPIRB skeptic, a friend giving up offshore sailing offered him one at such a low price he couldn't afford to say no.
In early November, Fred and crew Jacques Lescureux took off. All was fine until the morning of November 18, when a whale, apparently surfacing from the deep, slammed into the bottom of the aft part of the port hull with what Fred describes as a "soft but powerful" impact. Powerful enough to bend the rudder shaft 90 degress and drive the rudder through the hull like a knife. Powerful enough to shove the saildrive right up through the bottom of the boat. And even powerful enough to cause a bloody one-foot by three-foot wound in the whale, which surely died shortly thereafter. "It was as though his insides exploded, like an overcooked sausage bursting out of its casing," remembers Fred.
Before long, the aft port engine compartment was flooded, and because a steering tube connects it to the starboard engine compartment, the starboard engine compartment flooded, too. Unable to steer the boat or keep water out of the back of both hulls, Fred reluctantly switched on the EPIRB. In surprisingly rapid fashion, a Coast Guard plane was overhead, and not long after that, the 600-ft Turkish ship Gulser Ana was on the scene to rescue them.
Alas, the weather conditions were bad enough that the ship couldn't get close enough to rescue the two men during the first three passes. With darkness falling, the captain decided he had one last chance, or Fred and Jacques would be in mortal danger. So without them fully understanding what he was going to do, the captain slowly and carefully T-boned the small cat with his big ship. It enabled the two men to get off the cat safely. Fred escaped with nothing more than his papers, his Mac computer, and a ukelele from the South Pacific that holds tremendous sentimental value for him.
After looking at today's video, we know some armchair sailors are going to scoff that it wasn't rough at all, that it wasn't really getting dark, and that the boat shouldn't have been abandoned. First of all, videos and photographs of the ocean always make it look calmer than it really is. Second, today's video equipment does so well in low light conditions that they make it seem brighter out than it actually is. Lastly, a very experienced cruiser, civil engineer and contractor, Fred didn't make the decision to abandon his uninsured boat lightly. "I cried like a baby when I had to leave her," he admits.
After Fred and Jacques were dropped off at Cueta, Spain, which is surrounded by Morocco, Fred returned to St. Barth. Thanks to many friends and a long relationship with a local bank, he and Sophy managed to acquire the Oceanis 40 Tres Palmeras, which they are now living aboard in the Gustavia anchorage. We're glad to report it appears they are coming into a good job, which means their dream of getting a catamaran is still alive. "When you give up your dreams and no longer see them through, you are finished," says Fred, miming shooting himself in the head with a pistol.
As for Courtship, despite two flooded engine rooms, she appeared to still be very bouyant in the video, even after being T-boned. As such, if the bulkheads to the rest of the boat aren't somehow breeched over time, we wouldn't be surprised if she didn't ride the Gulfstream all the way across the Atlantic to Ireland.
Receive emails when 'Lectronic Latitude is updated.
SUBSCRIBE