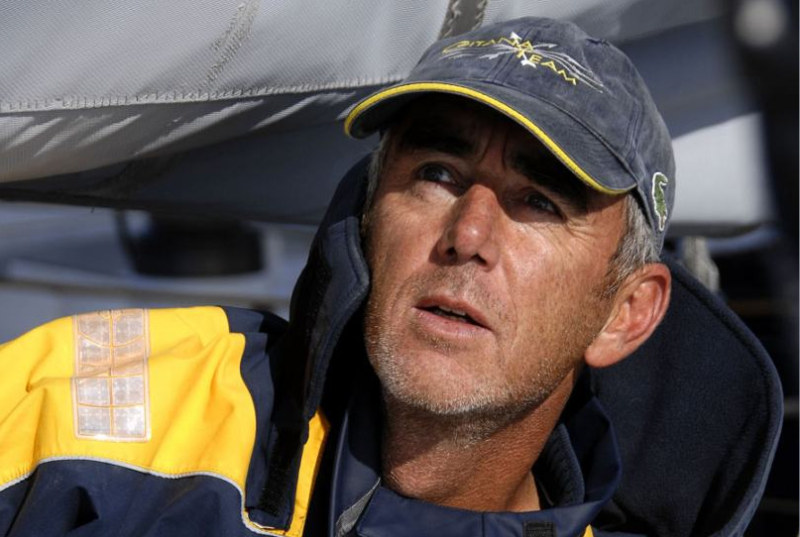 In one of the real heartbreakers of the singlehanded, nonstop round-the-world Vendée Globe Race, Loïck Peyron reported that his IMOCA 60 Gitana Eighty had dismasted early this morning in the Southern Ocean. Peyron, who was in third place at the time, was below when the spar failed and was not injured. He reported that the boat had been sailing in 30 knots of breeze at about 6 p.m. local time (5 a.m. PST) under a single reefed main and solent when he heard the dreaded big bang. "When I went on deck I noticed that I no longer had a mast," he wryly reported to his shore team. He said that the carbon spar, which at that point was broken in three or four places, took about an hour and a half to cut free of the boat. All that remained was the boom, which he was able to save, and about a five-foot stump of mast sticking out of the deck. Peyron is currently busy putting together a jury rig and seeing how the boat sails before deciding on where to go from here. At the time of the dismasting, he was sailing with the leaders about 180 miles south of tiny Crozet Island and about 650 miles west of the Kerguelen Islands, at the southern edge of the roaring 40s.
Gitana Eighty's mast was built by French spar builder Lorima, which also supplied spars for 10 other Vendée boats. While the cause of the failure is not known (and may never be), it may be relevant that the spreader attachment system was similar in design to Jérémie Beyou's Delta Dore, which retired earlier in the race due to problems with the upper spreaders breaking loose.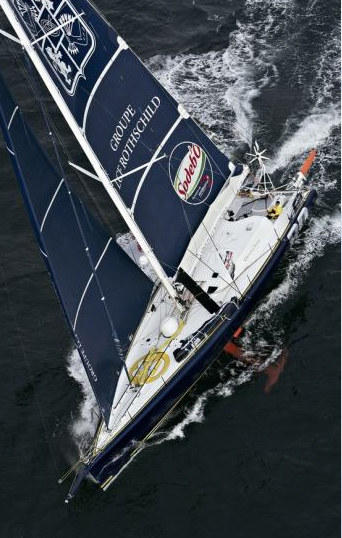 Gitana Eighty herself is one of a stable of globe-girdling boats sponsored by Baron Benjamin de Rothschild. She is a Farr design built in at Southern Ocean Marine in New Zealand, right next to a sistership, Jean Pierre Dick's Paprec Virbac 2. Both boats were launched within a few months of each other in 2007. The two skippers have sailed together in several events on other boats (they won the 2005 Transat Jacques Vabre) and their new boats were apparently something of a collaboration of their combined experience.
Among Peyron's claims to fame are wins of the Transat B to B on this boat, a second in the very first Vendée Globe in 1989 (he also entered the '92-93 edition but retired due to damage), and another second in 2000's The Race, in which he skippered the 110-ft maxi-cat Innovations Explorer. He is also the younger brother of Bruno Peyron, who holds the current crewed round-the-world record on the maxi-cat Orange 2.
The 2008-09 Vendée Globe started off Les Sables D'Olonne on November 9 and is now in its 31st day. In one of the closest Vendées ever, the race has so far seen more than 20 lead changes. Peyron himself — a pre-race favorite for overall honors — led the race for 16 days. Jean-Pierre Dick's Paprec Virbac 2 currently leads, with Sébastien Josse's BT less than a mile behind.
For more on the Vendée, log onto www.vendeeglobe.com.
Receive emails when 'Lectronic Latitude is updated.
SUBSCRIBE