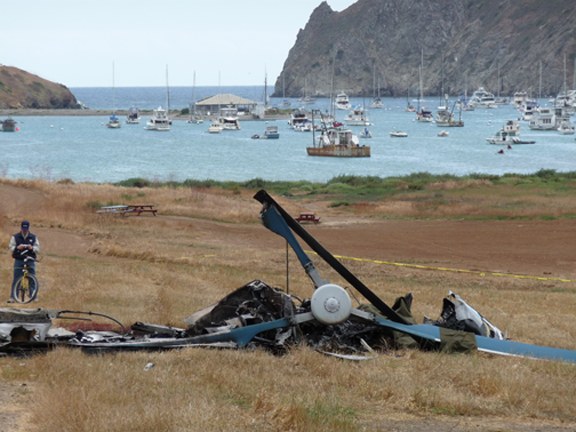 The high season at Catalina got off to a terrible and tragic start on Saturday morning when a Eurocopter AS-350 carrying four mariners, plus a pilot and baggage handler, from Long Beach to Two Harbors crashed in a sloped field about 75 yards south of the Isthmus Yacht Club.

The helicopter burst into flames upon impact, almost immediately killing two who weren't able to get out or be pulled out of the overturned helicopter. The pilot and one woman were pulled free, but he died a short time later from a heart attack and she died a day later in a mainland hospital from major injuries. The other two aboard suffered serious injuries, but survived, and are expected to recover.

While the names of those aboard have not been released, Wayne Noecker of the blue-hulled Alamitos Bay-based J/44 Sabrosa asked us to report that two members of his family were involved.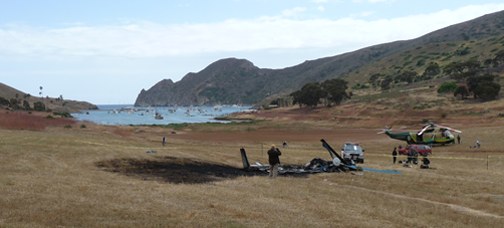 Tanya Hurd, who he had lived with for 16 years, and who is the mother of his 12-year-old son Max, was one of those who perished because she couldn't be pulled from the flaming wreckage in time. A culinary arts teacher at Burroughs High School, Tanya wasn't the world's most enthusiastic sailor, but she loved playing host to others on Sabrosa at a mooring at Two Harbors. We were guests for a number of wonderful brunches she prepared on the boat, and found her to be the antithesis of a Southern California stereotype. Tanya was a sweet, soft-spoken and loving woman who will be dearly missed by everyone who knew her.

Also aboard the helicopter was C.J. Noecker, Wayne's older son, who turns 30 in just a few days. Because he'd suffered a broken back and a compound break of his right leg, C.J. begged not to be moved when help arrived. Rescuers had no choice but pull him away, as the flames were almost upon him. He's now out of intensive care, and according to his father, doing much better given the circumstances.

There has been a tremendous amount of inaccurate reporting on this accident. The Chicago Tribune reported that it was caused by driving rain and poor visibility. It wasn't. Another source said the crash site was near Avalon. It wasn't. Many sources said that it was a charter tour and that the passengers had been picked up from Two Harbors an hour earlier. This was also incorrect.

What really happened is that a boatowning friend of Wayne's had chartered the helicopter so that his wife and daughter wouldn't have to make an early morning trip from the mainland to Two Harbors on his powerboat. With two open seats, he called Wayne and asked if he knew anyone who would like to use them. Wayne said that Tanya, who, as we said, wasn't an enthusiastic sailor, and his son C.J., would be happy to take the seats. So rather than join Wayne and Max for the 5:00 a.m. departure on Sabrosa from Alamitos Bay for Two Harbors, Tanya and C.J. got on the helicopter in Long Beach at 9:20 a.m. and flew over.

There was no sign of trouble until the helicopter was almost passing over the outer row of moorings at Two Harbors. It was at that point that Dona de Mallorca, in Profligate's dinghy, noticed what appeared to be periodic flames coming out of the helcopter's exhaust. There were several other eyewitnesses to this, and one member of the Harbor Patrol got on the radio expressing concern whether the helicopter was going to be able to land safely. The heliport is on a flat area on the side of a hill about a half mile inland, and the helicopter was not able make it.

Exactly what happened after the apparent flame out is not completely clear, as eyewitnesses give slightly different accounts. Several witnesses said they heard clicking sounds, as if the engine had flamed out and the pilot was trying to get it restarted. Many said the pilot appeared to also be autorotating the helicopter, which is the procedure used to lessen the impact of a crash. Several eyewitnesses told us that the helicopter appeared to be gliding poorly past the Isthmus Yacht Club when the blades suddenly stopped rotating, causing it to fall to the ground from a relatively low altitude. Whether some low power lines next to the crash site added to the pilot's problems is not clear.

According to Wayne Noecker, his son C.J. said he remembers that the engine flamed out, and that he urged the pilot to set the helicopter down immediately. But the pilot felt they were better off trying to make it to "a soft spot" on the other side of the Isthmus Yacht Club. It's possible that the pilot was trying to avoid people on the beach, the pathways, in the schoolhouse, and at the Isthmus Yacht Club. The helicopter did make it over all of those, but ultimately, C.J. remembers the helicopter as finally pitching forward, then landing on its back.

The first person to reach the wreck site was a flight attendant for American Airlines. She was described as "the hero" by others who arrived at the scene just seconds later. The woman was instrumental in getting four of the people out of the helicopter and onto the ground. At that point others arrived to pull the victims away from the spreading flames. The effect of not being able to rescue the two who were trapped inside has been absolutely devastating to everyone who was at the scene.

For Wayne Noecker and his son Max, the loss of Tanya is a particularly terrible blow, because it happened at a place where his family had enjoyed "many of the best times of our lives". Having lost Tanya, they worry that they might lose the island, too.
Receive emails when 'Lectronic Latitude is updated.
SUBSCRIBE