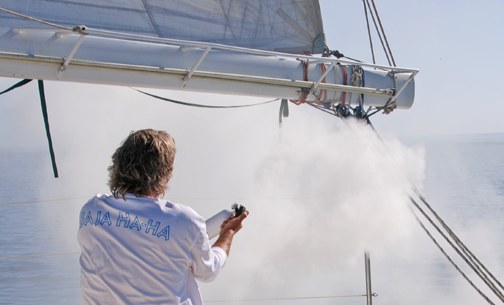 Thanks to the accidental release of 26 Tanzanian queen bees in Brazil in 1957, cruisers have had another thing to worry about — swarming 'killer bees'. There have been a number of reports from cruisers of being attacked or threatened in Central America and Mexico this season, and we got our first taste of them just a few days ago while sailing into La Paz on Profligate.
We were just outside of Pichilingue when the first of several hundred — maybe several thousand, as we weren't counting — arrived. Curiously, they seemed intent on entering the opening in the back of our boom which, until a month ago, had been home to several bird nests. Presumably they were looking for a new location for a hive.
Swarming 'Western bees', as are common in the United States, are generally harmless because they aren't protecting a hive. But the 'killer bees', considered to be "hyper defensive," are a different story, as they have more guard bees, respond to threats over a larger area, and are relentless when they attack. While their venom is not stronger than that of Western bees, there is a greater chance of death because victims tend to get more stings.
On Profligate, the response of the crew was as follows: John Foy, who is allergic to bee venom, headed inside the boat and began sealing it up while looking for his Epi-Pens, which are made for fast and simple injections of epinephrine. John's wife Gilly and Doña de Mallorca headed for the bow. The Wanderer, having read several years before in Latitude that bees hate being sprayed with dry chemical fire extinguishers, grabbed a couple of the white canisters and uncharacteristically went on the offensive.
We can report that, in our incident, the killer bees wanted no part of dry chemicals. It didn't seem to make them mad, but rather made them want to find another location for a hive. Groups of them returned four times, each time heading for the opening at the end of the boom. But each time they were relatively easily driven away with a couple of blasts of dry chem.
So based on our experience, dry chem extinguishers aren't just for fires anymore. If you've had a killer bee experience, we'd like to hear about it.
Receive emails when 'Lectronic Latitude is updated.
SUBSCRIBE