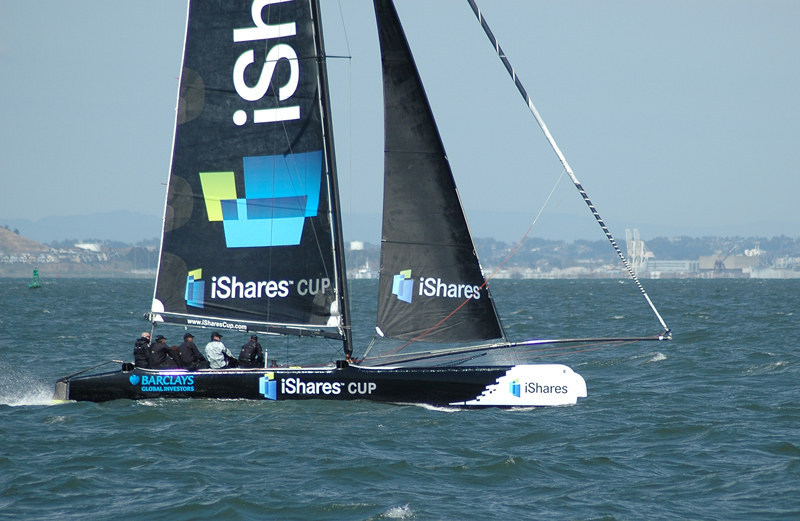 If you're on the water this weekend in the vicinity of the Cityfront, keep your eyes peeled for a black shadow hiding in a cloud of white spray. That'll be iShares, an Extreme 40 catamaran on a worldwide promotional tour. Named for its corporate sponsor, iShares Funds, this all-carbon 40-ft speedster weighs only about 2,750 pounds all up and has been clocked at speeds of nearly 35 knots.
The boat was launched last Friday at Svenden's in Alameda. Designed from the outset to be transport-friendly by former Olympic Tornado sailors Mitch Booth and Yves Loday, the entire 40- by 26-ft boat and two-piece 62-ft tall mast fit inside a standard 40-ft shipping container.
"They opened up the container and all you see are two bows that come right up to the door," said Svendsen's yard manager Adam Sadeg. For transport, the demountable crossbeams are removed from the hulls and placed on the boat's trailer between the two hulls. They're then nested with both sections of the carbon fiber wingmast, bowsprit and boom. Finally the trailer's telescoping bunks are retracted to form a compact package which can be shipped pretty much anywhere in the world. iShares performed the same promotional role in Sydney as recently as January.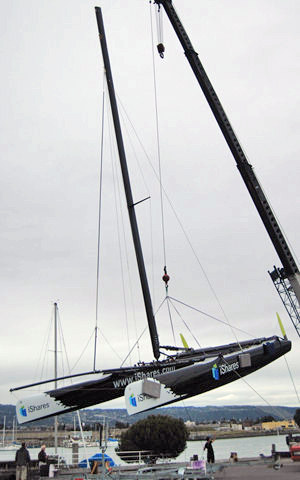 The Extreme 40 has become quite a sensation in Europe starting with the 2005-6 Volvo Ocean Race when it served as a successful sideshow of spectator-friendly, close-quarters racing at various stopovers. Since then, iShares took over sponsorship of both a boat and the entire circuit. Another former Olympic Tornado sailor, Briton Hugh Styles is the project manager for the boat and will be racing it this summer in the iShares Cup. He's joined here on the Bay by Nick Moloney who in addition to having a few laps of the globe under his safety harness, will be Styles's competitor on this year's circuit. Look to upcoming issues of Latitude 38 for more on these boats and how they're fitting into the work-up of both Alinghi and BMW Oracle Racing for the next America's Cup.
Receive emails when 'Lectronic Latitude is updated.
SUBSCRIBE