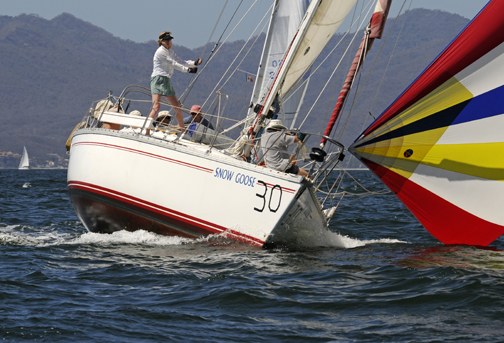 A total of 46 boats — 27 cruising boats in the Banderas Bay Regatta, and 19 serious racing boats in the MEXORC — went at it on two seperate Banderas Bay courses yesterday afternoon. Although the skies were completely blue, the wind, unfortunately, blew only 10 knots or less for much of the day.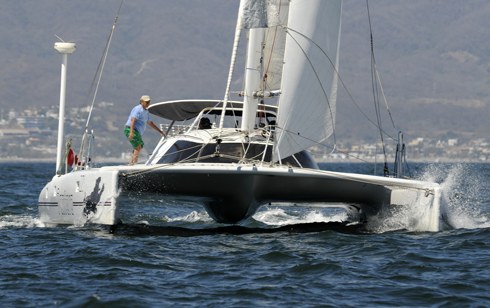 While the MEXORC fleet has been racing since Sunday, this was the first of three races for the Banderas Bay fleet. While everyone could have used more wind on the 11.74-mile course, it was still hard not to have a great time.
You could be forgiven for wondering if Pantera, the boat with the fastest elapsed time in the BBR fleet, is truly a cruising cat, but consider the evidence: owner Bob Smith has sailed south from Vancouver to Mexico three times, and twice sailed — not motored — all the way from Mexico to Vancouver. Singlehanded, too. If that's not a cruising boat, we're not sure what would be. In any event, Pantera overcame a -50 PHRF rating to correct out over David Crowe's San Jose / P.V.-based M&M 68 Humu Humu by five minutes.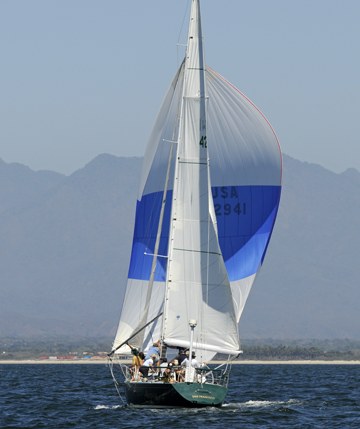 The second fastest elapsed time was turned in by Jim Coggan's San Francisco-based Schumacher 40 Auspice. Again, you might mistake Auspice for a racing boat, but Jim and members of his family have been cruising her all winter. Many of today's cruising boats aren't like the typical cruising boat of 10 years ago. Auspice nipped the second place boat, Sooner Magic, a Beneteau 47.7 from San Francisco driven by Jim Taylor.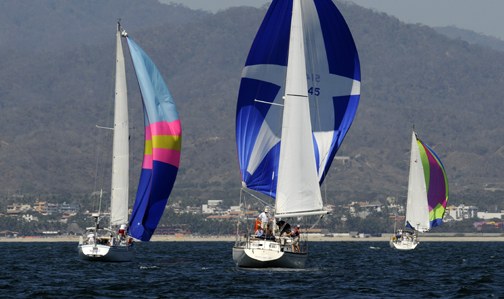 Correcting out first in Class 3 was Ha-Ha vet Patsy Verhoeven with her Portland-based Gulfstar 50 Talion. Hers is one of a number of Banderas Bay Regatta boats planning to compete in the revived Sea of Cortez Sailing Week April 1-6.
Class 4 honors went to Rush Faville's always competitive S-2 7.9 Escape Velocity, a boat that's based out of P.V.
Charles Naslund, a two-time Ha-Ha vet currently based out of Mazatlan, took the first race in Class 5, continuing his dominance of that fleet from last year. The average age of the crew on his Morgan 382 Moon Shadow? Seventy years, as two of them are in their 60s and two are in their 80s.
Receive emails when 'Lectronic Latitude is updated.
SUBSCRIBE