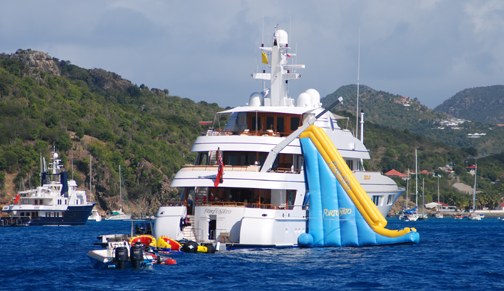 You know that old bumper sticker philosophy, 'He who dies with the most toys, wins'? It certainly seemed to be embodied by the owner of this 200-or-so-foot motoryacht anchored off Gustavia, St. Barth over the weekend. The boat, called Fortunado or Fortunate Son or one of those, had 17 water toys trailing behind it, most of them sitting idle the entire afternoon. But the biggest and most visible toy was the massive, three-story tall inflatable waterslide off the beam. It wasn't too windy, so they left it up for a couple of days. It seemed a little over the top to us.
We're not nominating ourselves for holier-than-thou man or anything, but we can honestly say that one of the highlights of our soon-to-end two months aboard 'ti Profligate here in the French West Indies has been the simplicity of life. Since moving aboard, we haven't ridden more than five miles in a car, and haven't used more than 10 gallons of fuel in our dinghy and catamaran combined. (That's a good thing in a land where gas and diesel are both over $7 a gallon.) In addition, we've bought absolutely nothing but food, beverages, internet space for our 'office', and anchoring rights. Yet we've wanted for nothing — except less time in the 'office' and more time engaged in physical activities.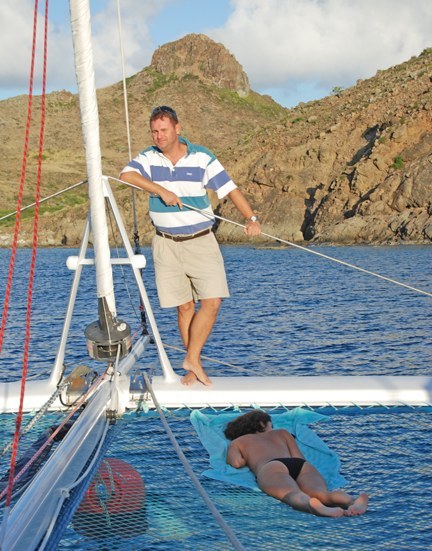 We've derived our pleasure from meeting other sailors — a number of them from the West Coast — diving off of the transom in the mornings, sailing, boogie-boarding, watching the sunsets and sunrises, observing the turtles and fish, and reading books from the 'leave one, take one' library at the port captain's office. On a stack of bibles, we've not once envied those on the mega motoryachts and 120- to 170-ft mega sailing yachts we're surrounded by. It may not work for everyone, but so far the simple — and waterslide-less— life has seemed pretty sweet to both Doña de Mallorca and us.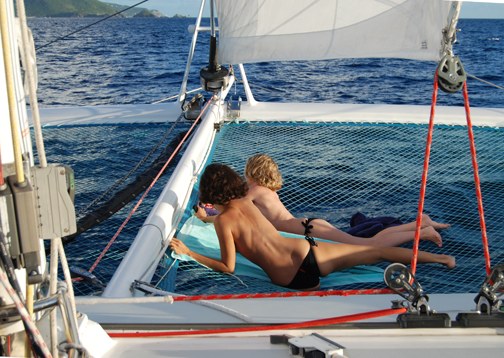 Receive emails when 'Lectronic Latitude is updated.
SUBSCRIBE