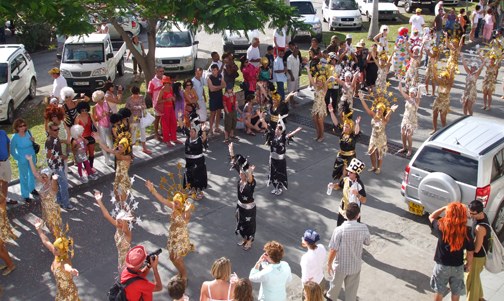 No two Carnivals are the same. Even though Carnival historically begins 12 days after Christmas and ends on Mardi Gras, which is the day before Ash Wednesday, not everyone keeps with this tradition. On St. Thomas in the U.S. Virgins, for example, they're celebrating the final day of Carnival on April 26 this year. Most everywhere else, the big Mardi Gras celebration was yesterday, although in the French Islands, the fun doesn't end until Vaval is burned tonight.
While Carnival is important in most of Europe except the United Kingdom, as well as much of Latin America and the Caribbean, the size of the celebrations vary tremendously. The most famous Mardi Gras blowout is in Rio, of course, which goes on intensely for three days and draws millions of people. Other big ones are in Venice, Trinidad and New Orleans. Interestingly, you can sail to all three.
About 15 years ago, we sailed down to Port of Spain for the Trini Mardi Gras, and had a great time. The Trinis are intense about Carnival, and invest great amounts of time and money in their music, costumes and routines. Some of the big troops might include hundreds of spectacularly dressed dancers and/or pan musicians, and hundreds of thousands of people participate in one way or the other.
This year we happened to be in St. Barth for Carnival, where the celebrations couldn't begin to match the ones at Rio, Venice and Trinidad. But like the island, Carnival here was small, safe and intimate. Even if you just got here, it was like having a big party with friends. The following are a selection of photos to show what it looked like.
Receive emails when 'Lectronic Latitude is updated.
SUBSCRIBE