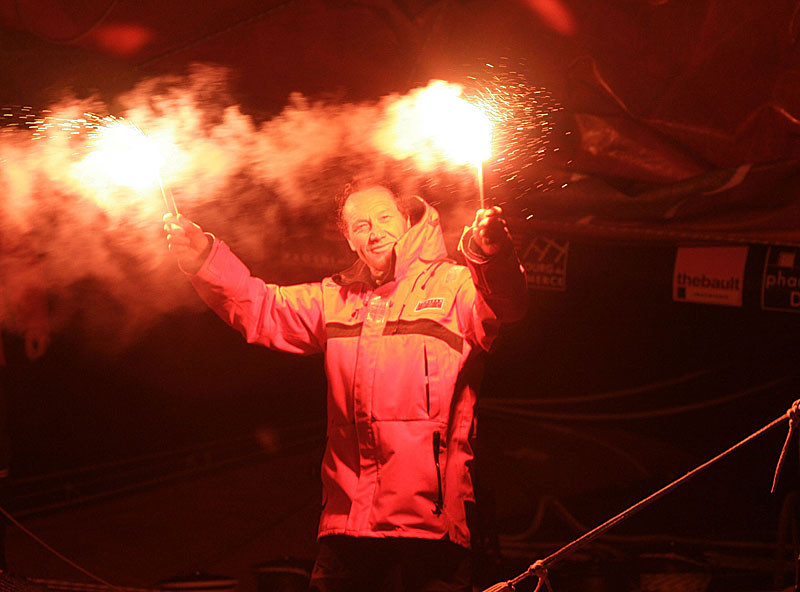 Just 57 days, 13 hours, 34 minutes and 6 seconds after starting from Brest, France, Francis Joyon finished his record attempt in the wee hours of Sunday morning, then took a well-earned victory nap before greeting the 2,000-strong crowd of well-wishers that gathered to welcome him home.
"It feels a bit like arriving on the Moon!" he said. "Reaching Brest with all those people watching, was something I had never experienced before. The support and warmth of the welcome from the people of Brest impressed me . . ."
When asked if there was a secret to his success, he joked, "When you're tired, you can quickly start to become very mystical, so I'm going to have to watch what I say."
Perhaps as amazing as the voyage itself is the fact that he accomplished it without having to use a generator. Although IDEC carried solar panels and a fuel cell, we'd be surprised if the apparent wind generated by a 97-ft trimaran averaging 19.09 knots around the world wasn't enough to power the boat's systems.
When asked what he'd be doing with the boat in the future, Joyon mentioned the Route of Discovery course from Cadiz to San Salvador. Interestingly, Thomas Coville, who took off behind Joyon but had to retire from his attempt, took that record from Joyon and the previous IDEC in 2005 with his previous Sodeb'O, an ORMA 60 trimaran.
We got more than a little excited when Joyon mentioned "some Pacific records." We just hope the records he was alluding to start or end in the Bay Area. Cross your fingers . . .
We'll have a full report on Joyon's amazing trip in the February issue of Latitude, due to hit the streets February 1.
Receive emails when 'Lectronic Latitude is updated.
SUBSCRIBE