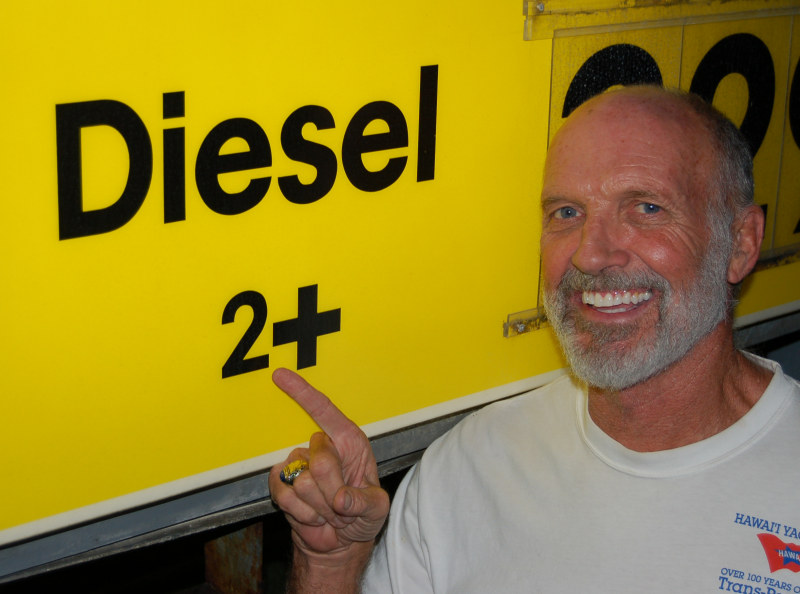 With nearly 200 cruising boats getting ready to head to Mexico in the next month or so, a number of parsimonious skippers are wondering how inexpensively they can cruise. In the past, we've heard veteran cruisers say it takes anywhere between $500 and $2,500 a month. But according to Evan Dill, the subject of today's Photo of the Day, he's been able to cruise his Crowther 48 catamaran Java in the Sea of Cortez this summer for $150 a month – and sometimes even less. French Polynesia wasn't much more.
And it's not like Evan is some kind of weirdo. As you'll be able to read in the November Latitude interview, he graduated from the Naval Academy, then spent decades in the construction business in California, his last job being for an A++ list Hollywood actor. After signing up on the Ha-Ha Crew List a few years back to see if he liked cruising, Evan ended up in Zihua, then sailing to French Polynesia and Hawaii, then down through the South Pacific. It was in Western Samoa he made the decision to fly to Australia to buy his own boat. Since then, he's been loving the 'less is more' approach to cruising.
As you might expect, Evan doesn't spend much – if any – time in marinas or tourist bars. But he does dine out frequently and indulges in the bounties of the Sea, no matter if it's good waves around the East Cape, anchorages not found in any cruising guides, or the clams and plentiful fish. If you can't wait to read all about it in next month's interview, as well as why he prefers the South Pacific to Mexico, you can invite him to be crew for you on the Ha-Ha. Just shoot him an email.
Receive emails when 'Lectronic Latitude is updated.
SUBSCRIBE