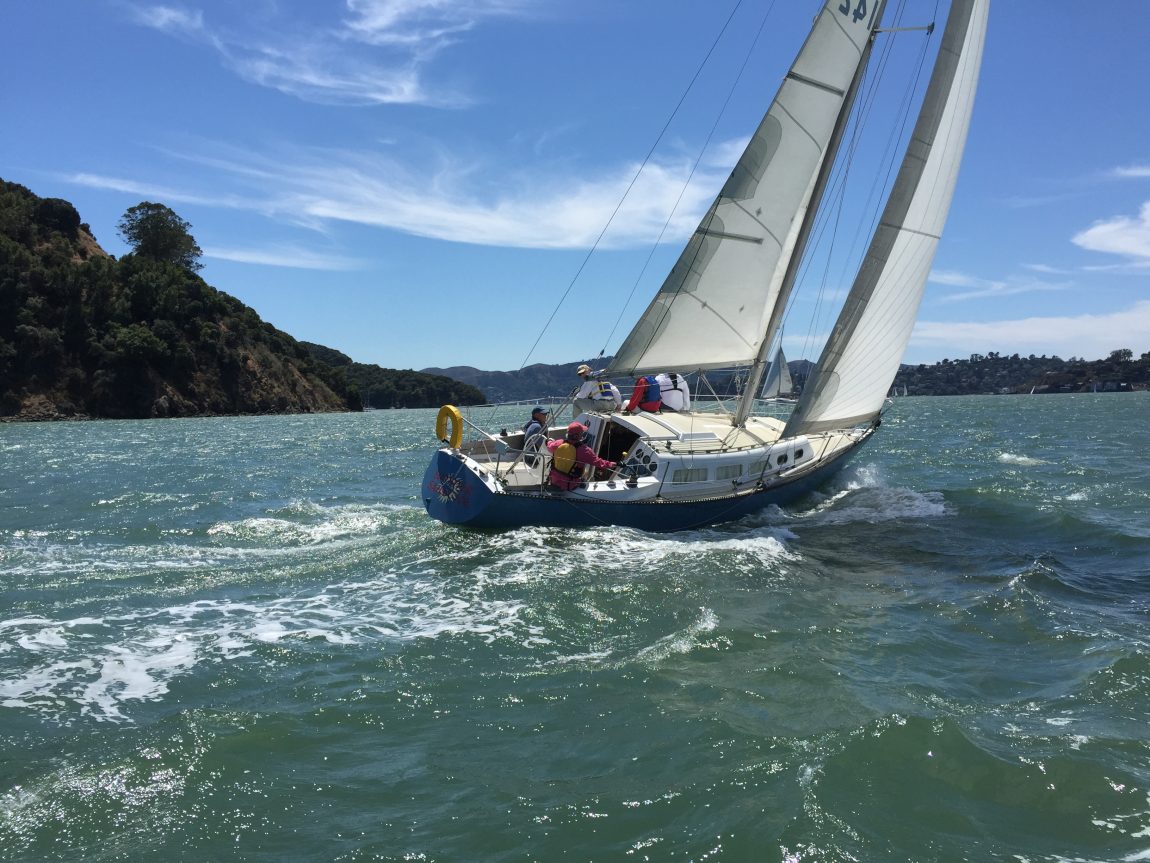 Boat of the Month: Ranger 33
When yacht design pundits assemble lists of worthwhile plastic classics, the venerable Ranger 33 often makes the top 10 – which is precisely why two of them are owned by Latitude staffers. We have to admit, though, that before buying ours we knew relatively little about these well-loved relics, except that every time we'd query folks who'd sailed R-33s extensively, they would say things like, "Ah, dude, those are g-r-e-a-t boats!"
Designed by Gary Mull in the late '60s, this enduring fiberglass sloop is one of an impressive family of similarly-styled 'small yachts' produced under the appellation Ranger between '69 and '78 which promised high quality construction and high performance on the race course. The sporty little Ranger 23 probably enjoyed the greatest success in assembling one-design fleets – most notably in San Diego – while the Ranger 37 made the biggest headlines when Muniquita won the SORC in 1973, which, at that time, was the ultimate proving ground. But the Ranger 33 was the design that seemed to embody the best qualities of the entire line. She was an ideal 'combination boat' which was fast on a race course, yet had ample interior amenities for cruising in relative comfort. Inventor Roger Jones, who knew many of the folks that produced these little gems, recalls, "She was the pride and joy of everyone in the plant."
Today, 34 years after their introduction, Ranger 33s are still popular as both easy-sailing club racers and bargain cruisers. From Seattle to San Diego and from Chicago to the Chesapeake, you can find plenty of longtime owners who proudly pamper them and are reluctant to move on to more modern designs. R-33s achieved recent notoriety when Ted Morgan's Seattle-based Diminished Capacity won Division A in the 2000 Pacific Cup, and in the 2002 event when Bob Gray's Oakland-based sistership, Coquelicot, took second in Division A and sixth in fleet. Untold numbers of them have proved successful as coastal cruisers and at least a few have crossed oceans.
Back in the mid-'60s, the Cal 20 – believe it or not – was the hot ticket for inshore racing. But Gary Mull's first boat, the Santana 22, soon began stealing the little Cal's thunder. By the end of the decade, after also designing the Santana 27, Mull had come into the limelight as chief designer of newly-formed Ranger Yachts, an affiliate of Jensen Marine which produced the Cal line of Lapworth-designed sailboats.
The 1970s were the West Coast's heyday of production boatbuilding, with a seemingly inexhaustible supply of buyers awaiting every boat that came off the line. There were low-priced boats like O'Days and mid-priced boats such as Cals, while Rangers appealed to the higher end of the production boat market.
George Bristol, who headed up Ranger's production team back then, recalls having 'spirited debates' with Mull over the R-33's beam during the planning stages. Mull initially wanted it very narrow and racy, but was gradually won over to the marketability of a combo boat. It was the right idea at the right time, and sales soon took off. Although former employees say there was always a great emphasis on quality workmanship, they were able to complete roughly one boat a week.
According to former Jensen Marine staffers, one of the primary reasons for creating the Ranger line was to expand sales to the East Coast. During the swingin' '60s and '70s, the Left Coast, and by extension the name 'Cal', often conjured up negative connotations in the minds of proper eastern yachtsmen. Even Cal 40s, which were becoming all the rage on the West Coast, sold poorly back east. But since the name Ranger was free of such image problems, the R-33 and others in the line sold well on both coasts.
Described in its original sales brochure as a "high performance cruiser," the R-33 outperformed most of her contemporary rivals, such as Cal 34s, Pearson 33s and Columbia 34s, yet came equipped with a cruisy interior that was reasonably comfy, in spite of her comparatively narrow 9'7″ beam. With her subtle yet graceful sheer line, reverse transom and relatively low cabin trunk, she had a classy, modern look when she was first introduced in 1969. Beneath the surface, her moderate fin keel – 4,500 lbs of lead encased in fiberglass – and spade rudder made her responsive, while short spreaders and inboard chainplates allowed narrower sheeting angles for better upwind performance.
The earliest Ranger 33s were tiller-driven and had teak toerails and trim, but by the mid-'70s wheel steering was standard as were slotted aluminum toerails, and much of the modular fiberglass interior moldings of the early boats were replaced by teak trim and paneling. The early R-33s were all fitted with gas-powered Atomic 4 engines, but by mid-decade 16-horse Universal diesels were a popular option.
The last boats in the Ranger line were produced in 1978, with the final R-33 numbered 464. The parent company of both Ranger and Jensen, Bangor Punta, was going through an internal upheaval at the time – we'll call it corporate restructuring – and when the smoke cleared in '81, the Ranger name was shelved and the Cal division moved to Florida. Not long afterwards B.P. decided to get out of the boatbuilding business altogether, so Mull found a client to buy the Ranger molds. Sadly though, B.P. destroyed them rather than allow the line to continue under new ownership.
One aspect of the entire Ranger line that was unique at the time was that they were all offered with either a tall or short rig. On the R-33, the difference – masts were 45 feet or 42 feet above the water, respectively – translated to about 80 square feet of working sail area. In either case, though, the masthead rig allowed for a powerful chute.
Although we don't pretend to know the complete racing history of these smart little boats, we get the impression that in the early days one design fleets were common on both coasts. These days they still sail well to their PHRF rating (150 to 159 depending on mast height and sailing venue). Here on the Bay, one of the most ardent R-33 campaigners is Michael Yovino-Young, whose tricked-out Boogie Woogie has probably won more Friday Night Races at Berkeley YC than any other boat over the 17-year history of the series. A few years ago his dedicated longtime crew was dumbfounded when Michael told them he planned to sell her. But a few weeks later he had a change of heart. "I thought, 'I love this boat, why would I sell her?'" And when he gave the news to his crew, two of them broke into tears. Michael claims that Boogie Woogie is at her best in nasty, choppy conditions, when she often keeps up with J/105s and Tartan 10s – boats that, naturally, should cream her on flat water.
Of their Pacific Cup successes, both Ted Morgan and Bob Gray give much of the credit to their boats' inherent sailing qualities, although they had both done extensive upgrades and sailed with excellent, well-practiced crews. Gray figures he averaged 7.6 knots during the 2,070-mile trip. Morgan, who sailed right down the rhumbline during his atypically-light-air passage, tells of "doing 8s, 9s and 10s all day long" – although these 10,500-lb displacement hulls never actually surf. Morgan (who has now upgraded to a Frers 41) did little local racing with Diminished Capacity, but he and his family enjoyed cruising Pacific Northwest waters aboard her, including a memorable trip up to Princess Louisa Inlet. Gray, who has done more Catalina races aboard Coquelicot than he can count, once found himself in 50 knots of wind en route to Drake's Bay. "It scared the hell out of me, but the boat did fine." A footnote of Coquelicot's history is that her previous owner cruised her all the way to Alaska and back.
When we put out the word that we were seeking Ranger 33 input, we received a stack of testimonials, including several from well-known industry figures. As a young man, renowned yacht designer Alan Andrews raced and cruised aboard his parents' 1971 model named Antares – hull #5. Thinking back on those days he says, "I'm amazed that my parents let me round up a bunch of college and high school kids to race it around buoys and then around the islands in the days before Loran and GPS. During the '73 Ensenada Race, the crew included Carl Schumacher, who had just started with Gary Mull." Antares is still in the family and, as Andrews says, "At 33 years old, this Ranger 33 is still a great family boat."
Phil Lambert of Outbound Yachts has owned both a tall and a short-rigged R-33, one of which he lived aboard while starting up his company. "It was designed before the IOR and before companies started selling from the inside out, so it sails great. Lock the helm and watch her go!" He also shared the fact that he copied "the general feel of the salon" when designing the Outbound 44, as its big ports let in "lots of light."
While Ranger 33 interiors can't compare with the elbow room found on beamy contemporary cruisers, they do have 6'+ headroom throughout and can sleep six in a pinch – providing that no one brings much more than a change of underwear and a toothbrush. Most have pressure water and a shower in their enclosed, teak-paneled heads, as well as a workable chart table and a small galley, making them ideal bargain boats for a couple or a small family. In today's market you can pick one up for less than the cost of a new SUV.
We know of Ranger 33 owners who've taken them to the South Pacific, across the Caribbean, up the Eastern Seaboard to the Great Lakes and, of course, to Mexico. But the best cruising anecdotes we've heard concern Peter Weiss. Not only did he once race his R-33 to Hawaii with an all-girl crew, but we're told he survived not one, but two, hurricanes aboard her on a trip up from Mexico.
In case you're thinking that this all sounds too good to be true, we should tell you that several problems are typical of Ranger 33s: Some owners have had to beef up the support for the mast's compression post (below the cabin sole), others have had to replace and enhance their rudder bushings and, over time, some hull-to-deck joints have leaked, necessitating the removal of toe rails before recaulking. Still, that's not a terribly scary list compared to the failings of many 1970s production boats.
The time-honored Ranger 33 is by no means a superyacht or a speed demon, nor was her design particularly radical. She is simply, in Gary Mull's words, "a really nice little boat" which meets all the design criteria he held in high esteem three decades ago: she's good looking, well-balanced and sails well on all points of sail. She has a bright, airy interior, plus a comfortable cockpit, and is easily converted from racer to cruiser and back again with minimal effort. No doubt she'll remain on the plastic classic honor roll for many years to come.
This story was reprinted from the August 2003 issue of Latitude 38.