Web, 'Lectronic Latitude, and Email Advertising
Latitude 38 has opened up new marketing opportunities to enhance your print campaigns with web and email advertising. Our base in the Bay Area got us started early on the Web. 'Lectronic Latitude has been updated at least 3x/week since April 2000!
We now have advertising space available on our very active home page and 'Lectronic Latitude newsletter with more than 40,000 unique monthly visitors. A Google search will provide excellent results due to high frequency of original content, an enormous archive of stories and almost 20 years building a unique sailing community.
Ad opportunities are outlined below. For rates and information email Mitch Perkins at mitch@latitude38.com or Nicki Bennett at nicki@latitude38.com.
Latitude 38 Website 
The Latitude 38 home page contains three prominent ad banners.

'Lectronic Latitude 3x/Week Newsletter
Latitude 38 offers a single display ad embedded as the third item in 'Lectronic Latitude. Online ad rates are based on magazine ad frequency. Horizontal ad: 800 W x 525 H. Vertical ad: 800 W x 1035 H (max).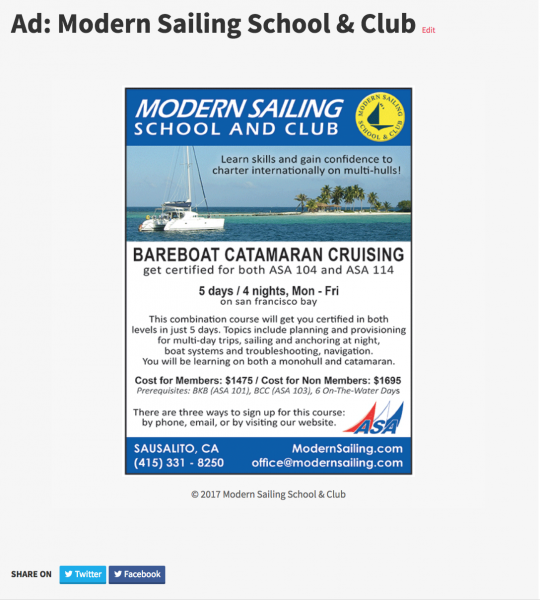 Latitude 38 Email Advertising: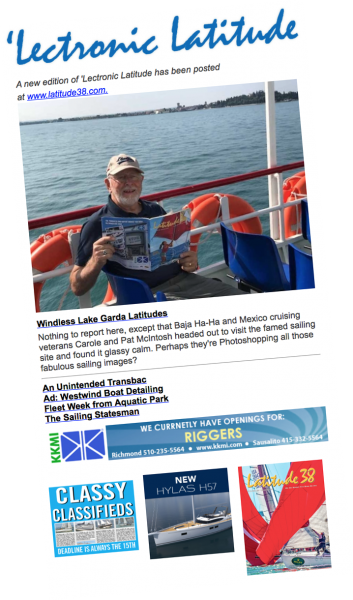 Latitude 38 has more than 10,000 opt-in email addresses with available ad space. Two options currently available: Monthly eBook: on the first of the month, Latitude sends out an email blast to more than 6,000 subscribers to the digital editions of the magazine. With an almost 40% open rate, it is a very popular forum for our passionate readers.
The 'Lectronic Latitude email block ad is 200 x 200.
'Lectronic Latitude email blast: almost 6,000 readers subscribe to our 3x/week blog, which has been continuously published since 2000.
Latitude 38 offers web links to 12-month display ad customers on our 'Advertising Links' page.
For rates and information email Mitch Perkins at mitch@latitude38.com or John Arndt at john@latitude38.com