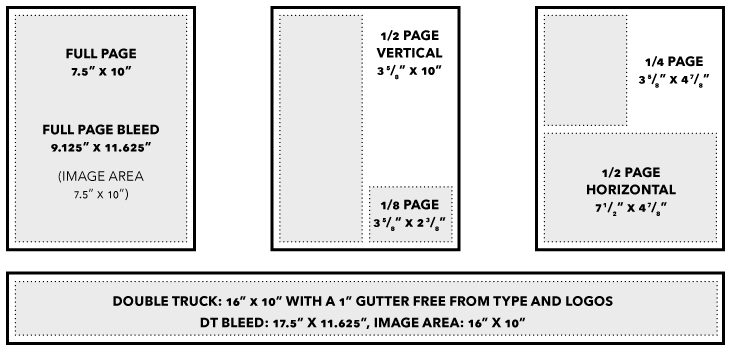 Ad Sizes in Inches
Full Page: 7 1/2" wide x 10" high
1/2 Pg. Vert.: 3-5/8" wide x 10" high
1/2 Pg. Horz.: 7-1/2" wide x 4-7/8" high
1/4 Pg.: 3-5/8" wide x 4-7/8" high
1/8 Pg.: 3-5/8" wide x 2-3/8" high
Full Page Bleed Ad: 9.125" wide x 11.625" high (image area 7 1/2" x 10")
Double Truck (2-page spread): 16" wide x 10" high
Double Truck Bleed: 17 5/8 " wide x 11 5/8" high (image area: 16" x 10"/less gutter)
Ad Sizes in Millimeters
Full Page: 191 mm wide x 254 mm high
1/2 Pg. Vert.: 92 mm wide x 254 mm high
1/2 Pg. Horz.: 191 mm wide x 124 mm high
1/4 Pg.: 92 mm wide x 124 mm high
1/8 Pg.: 92 mm wide x 60 mm high
Full Page Bleed Ad: 232 mm wide x 296 mm high (image area 191 x 254 mm)
Double Truck (2-page spread): 406 mm wide x 254 mm high
Double Truck Bleed: 448 mm wide x 296 mm high (image area: 406 x 254 mm)
To download templates for full page & double truck ads in InDesign and Illustrator, click here. (Zip file titled "Lat38AdTemplates")
Color
We accept four-color ads, black & white ads, and spot color ads. Our 'house' spot colors are as follows:
Red: 100% Magenta, 70% Yellow
Blue: 100% Cyan, 25% Magenta
Green: 80% Cyan, 90% Yellow
Yellow: 100% Yellow
Use 4-color process for spot colors
Art Files
Artwork must include a proof copy for verification purposes. Please read below for specifics. (Note: We cannot accept film, or files in Corel Draw, or Microsoft products such as PowerPoint, Word or Publisher. We no longer accept files in QuarkXpress. Color ads sent for black & white reproduction are not considered 'camera-ready' and may not work at all in black & white. Latitude 38 will either return the ads for a corrected version, or, if possible, make the necessary adjustments with our normal graphic service charges added.)
All color ads must be in CMYK, not RGB.
Artwork should be provided as:
PDF files with fully embedded or embedded subset fonts.- Black type set to overprint and be black only; avoid four-color black or gray type.- White or light-color typeset to knock out.- No crop marks, registration marks or printer's marks.- No OPI. No RGB.
• Black & white photos at 300 dpi (200 dpi minimum) with small highlight areas at 0% and mid-tone range 30-40%. Shadow areas can now be as dark as 100% black.
• Four-color photos at 300 dpi (200 dpi minimum), small highlights 0%, mid-tones 50-110%, and darkest areas not exceed 240% total color density.
• Photoshop Color Settings for color photos: Newsprint: US Newsprint (SNAP 2007) CMYK Color Setting for photos to print on newsprint pages.
Native files along with all fonts and images in InDesign or Illustrator CS5.5 or earlier.
Photos alone can be sent as TIFFs or JPEGs, at 200 dpi. Logos, line art or files containing text at 600 dpi. Photos sent separately do not need to be adjusted to the above specs.
Artwork can be sent to our FTP site. Please contact us for log in information. Once you've uploaded, please let us know it's there.
Or Email artwork to Soren.
Or Mail a CD to Latitude 38, 15 Locust Ave., Mill Valley, CA 94941, Attn: Production
For art questions call (415) 383-8200: Soren Hemmila at ext. 102.
Greatest Tips
Some tips from the graphics department:
• Keep the World Wide Web. Keeping the www. in front of your web address will help ensure that a link to your website is maintained in our digital editions. Also, fonts must remain fonts (not outlines), and will be lost if you export your file as a JPEG rather than making a PDF.
• Red on black or black on red is invisible to the 10% of men who are color-blind. And red on black is hard to read on newsprint for the rest of us.
• Multiple colors on type. Imagine lining up an overlay for each ink that makes up your text color… this is what the press must do. Do you really need all that ink? The fewer inks, the better the registration, especially for 12-point or smaller fonts. Black or gray text should always be black only.
• Gray in color ads. Similar to the above tip, if you want a background, shape, or text to be gray, use a shade of black only, rather than all four colors, to avoid unintentional color shifts.
Billing
On all new accounts, payment is due with the space reservation. After three ads have been placed, terms are NET due the 19th of the month. Bills must be paid on the due date in order for Frequency Discounts to be taken. Visa, MasterCard, and American Express accepted. Returned check fee: $25.
Co-Op Ads: There is a 30% surcharge on all co-op ads with four or more dealers.
Advertising Agencies: Recognized agencies may take a maximum 15% discount. Frequency discounts do not apply. Agency discount of 15% does not apply for bills paid after due date.
Rates
For advertising rates and information please call Latitude 38 at (415) 383-8200 and speak to Nicki Bennett at ext 109.

15 Locust Avenue, Mill Valley, CA 94941 • (415) 383-8200
Publisher reserves the right to change rates with a 30-day notice to contract advertisers. All ads produced by Latitude 38 Media, LLC are the property of Latitude 38. This page was last updated on December 4, 2018.