Tin Can Heads Back to the Bay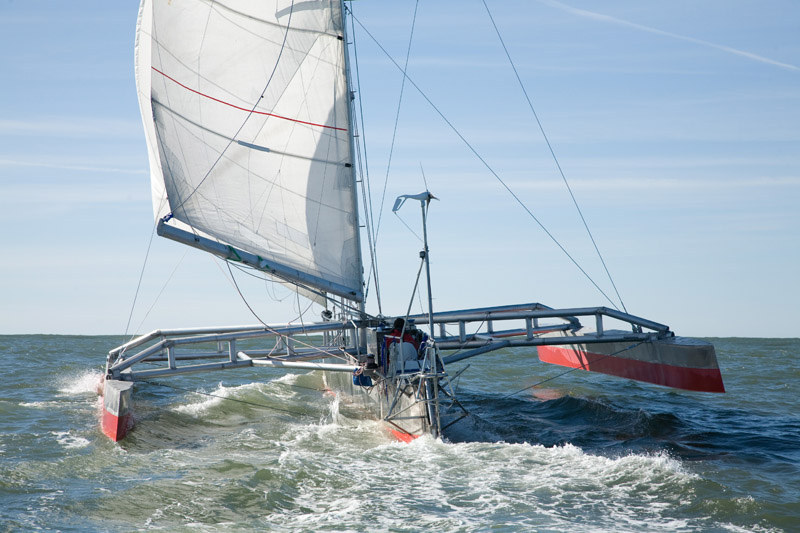 Adventurer David Vann's trip south in his 50-ft trimaran Tin Can was cut short over the weekend when he was towed into Santa Cruz on Saturday after discovering cracked welds on one of his crossbeams. Vann is a 39-year-old writer and sailor whose dream is to sail this self-built aluminum craft solo around the world. He left the Bay Area last Thursday on a shakedown sail to San Diego, but diverted to Santa Cruz when he discovered the cracks. Vann was towed out of the harbor yesterday morning (he has no engine) and is presumably on his way back to the Bay. We have not spoken with him directly (he is prevented from giving interviews by an agreement with Esquire magazine to write about the trip for them). Fortunately, Jeremy Leonard of Surf City Catamarans went down to talk to Vann over the weekend and took a few photos, which he has generously shared with us.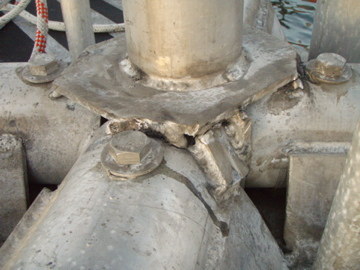 "Without getting into the debate of whether Vann's adventure is ill fated or not, I would like to say that I admire his spirit of adventure," Leonard wrote on his website, www.surfcitycatamarans.com/vann. When Vann and a friend went to dinner, he even let Leonard climb all over the boat, where he got a taste of all the bad press Vann has received in some of the sailing media. "Many people in the harbor were checking it out, and several of them thought it was my boat. There were a few people that had been following the story and came up to me with a hostile attitude. I had to come clean and tell them it wasn't my boat. Vann must get that reaction all the time!"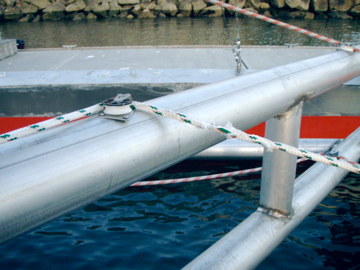 As far as his plans go, Vann told Leonard that he'd left too late this season, and that he would take the boat back to Napa, where he completed and launched it, and "try again next year." He also said he was going to make some modifications to the design so the boat, which features flat-bottomed hulls, wouldn't pound as much.
We've made our opinion clear about Vann's voyage, so we won't rehash it here. But like Leonard, we also admire Vann's adventurous spirit. He built the boat he said he was going to build the way he said he was going to build it. And he did sail it out the Golden Gate. Although a failed weld is surely embarassing, he's not the first person who has had to stop a proposed great voyage shortly after the start. He deserves a chance to prove himself, and we surely hope he will.
Receive emails when 'Lectronic Latitude is updated.
SUBSCRIBE