Synthetic Standing Rigging. Why Not?
We want to re-rig our 30,000 lb. Kelly Peterson 46-ft sloop Esprit with synthetic — yes, plastic — standing rigging, but almost everyone we talk to (except 'young sailors' and 'old sailors' who have it already) are telling us not to! What gives?
There are many types of polymer-based rope in use today, most commonly they're called Dyneema or Spectra. The two that are used mostly for standing rigging are: New England Ropes STS-HSR (Stronger Than Steel Heat Set Rope) and Hampidjan Dynice Dux. "In the end, Dux is like anything new. There is a distinct learning curve, and there will be skeptics and believers," said John Franta, a rigging engineer with Colligo Marine
If you're new to this concept, let me enlighten you.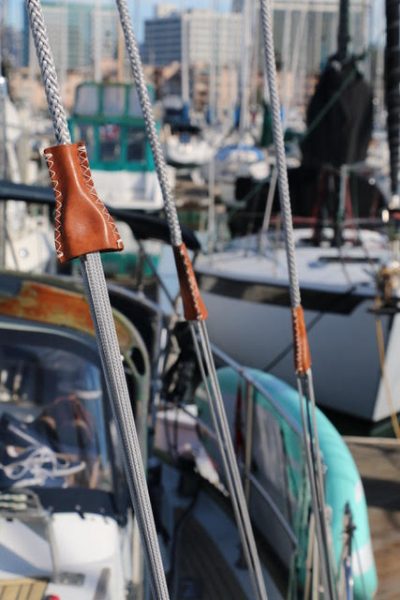 A few of the reasons sailors are making the switch are: Anyone with a fid and access to some patience can rig their own boat; the rig is seriously lightened; it doesn't rust, and you can keep a whole duplicate of the rig in your bilge; it's two to five times stronger than the steel it replaced; and, did I mention, you can do it yourself without expensive and heavy equipment? Also, unlike a swage, the splices and thimbles are fully inspectable.
An article by the International Institute of Marine Surveying states, "The impressive tensile properties of these fibers make them ideal for standing rigging. [The technology] has allowed [Dyneema] rigging to be provided by smaller rigging companies or done by individuals as a DIY project."
So, why wouldn't you do it? Most commonly sailors cite that plastic rope stretches, chafes, and is susceptible to UV rays. All of these reasons can be addressed. For stretch, the heat-treated fibers in Dux and STS-HSR have had all the constructional elongation removed before it goes onto the spool. Some of it comes back when spliced for standing rigging, but that can be accounted for and taken back out by setting it with a winch.
"Actual working elasticity, at least if sized correctly, is less than that of 1×19 wire rope," said Brion Toss, author of the Riggers Apprentice. I also spoke with a local Bay Area rigger, and he saw a 50% reduction in breaking strength over a 12-hour period when he stretched a 40-ft length of Dux to 30,000 lbs. I can't imagine any chainplate staying attached to a hull when that much pressure is applied!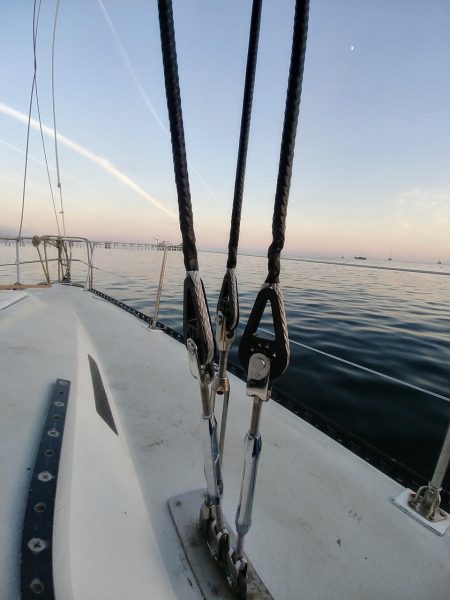 For chafing concerns, the rope can be dressed with chafe gear like — in this case — heat shrink tubing, by splicing on a Dyneema cover, or, if you're really salty, one could serve and parcel the rope like we've done for thousands of years. For UV concerns, you could dress the whole rig like above, or, just keep an eye on it — as you should anyway. Just like all rope, there are visual signs of stress and age. "It is also much more resistant to UV damage than, say, Dacron or nylon." Toss said. When chafe or UV becomes a problem, the line turns fuzzy. This is a warning sign to replace. Colligo Marine has charts of UV data for Dux. However, remember that Dyneema is two to five times stronger than the steel it replaced!
A local rigger agreed to help us make the switch, but said they were confident I'm someone who will have the wherewithal to do something about the maintenance. "For people unlike you, I would still tell them to use conventional materials," they said.
Michael Moradzadeh, owner of the Santa Cruz 50 Oaxaca, has a Dux backstay. "I'd like to see how Dux stands up against heat-generated friction or a knife while under tension; if it lasts, I'm sold," Moradzadeh said, adding, "Standing rigging is not something I'd like to have to learn in an emergency."
One last question: Will my insurance drop me if I take the leap? That's my biggest concern! "Lloyds of London have approved Dynice Dux for strength." John Franta said.
So honestly, tell me why you wouldn't do it? I'm still on the fence myself, but I have both feet headed in the direction of modernizing our rig. From my research, there are no documented disasters from this technology in the 12 years that this stuff has been in use.
What am I missing that I can't find on the Internet or from the professionals I've asked?
We'd like to hear from you. You can either comment below, or email us here. Please be sure to include your Boat Name, Make and Port of Call.
Receive emails when 'Lectronic Latitude is updated.
SUBSCRIBE