Somali Pirates and a Lightning Romance
"My husband John and I, who had chartered the Leopard 45 'ti Profligate, just happened to bump into Roger Hayward of the Long Beach-based Catalina Morgan 440 La Palapa, while at the Bitter End YC at Gorda Sound in the British Virgins," reports International Cub Reporter Lynn Ringseis of Novato. "I remembered him from checking his boat into a recent — maybe the '09 — Ha-Ha. Actually, Roger spotted us first, as I was wearing my yellow Ha-Ha hat and John was wearing his Ha-Ha shirt.
"Roger had big news. Bigger than his big Somali pirates scare in the Arabian Sea last spring. He got married again! It happened very quickly. It started after he parted ways with his Australian girlfriend in Gibraltar, and singlehanded 1,000 miles to the Canary Islands for the start of the Atlantic Rally for Cruisers (ARC). There some friends introduced him to the lovely Aimée of Vancouver. Well, did the sparks ever fly! Aimée, who was in the Canaries about to join a Brazilian couple on their ferro cement boat for a crossing to Brazil, was swept off her feet by Roger.
"Swept off her feet in the sense that five or six days later the couple were married! (Neither can remember exactly how many days because apparently there was some alcohol involved.) After a month of ARC pre-crossing parties, the couple set sail for St. Lucia on their honeymoon cruise. How romantic!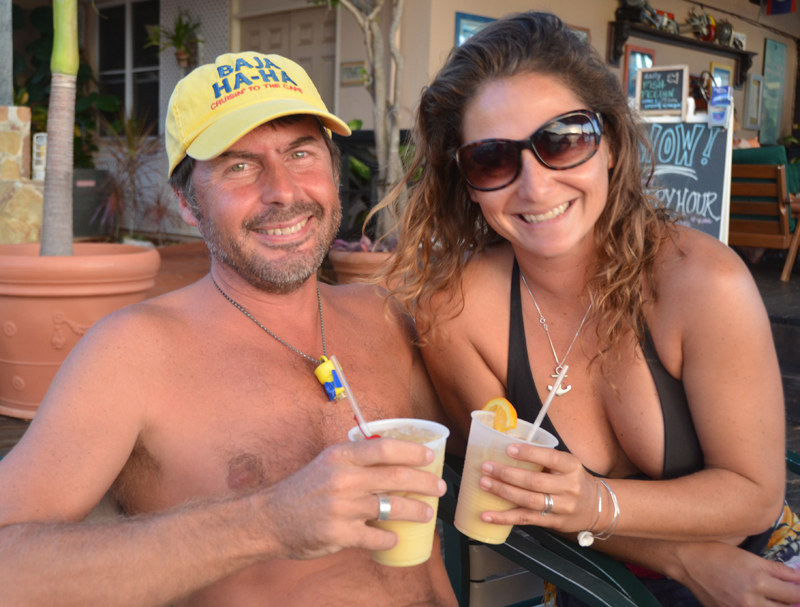 "Two days out, La Palapa's main blew and the honeymooners spent much of the 2,700-mile crossing trying to repair it while flying a poled-out genoa. It wasn't until two days from St. Lucia that they were finally able to hoist the main. By the way, they used an interesting combination of 3M's 5200 on a patch and sail tape in the shape of giant hearts for the repair. At the ARC awards ceremony in St. Lucia, they won the award for the 'best chilled-out boat blog'. The judges were impressed by the calm and humorous nature of their reports, where other sailors with lesser problems were writing in complaints and freaking out. It certainly doesn't hurt one's attitude to be freshly in love!
"Aimée's parents have been sailing with these lovebirds for a week in the British Virgins. They are both happy for their daughter, and thrilled to be in the warm Caribbean rather than chilly Vancouver.
"Roger and Aimée had just sailed in from St. Martin when Roger saw us, and they plan to spend some time in the British Virgins. They say they plan to keep their eye out for the Grand Poobah and Doña de Mallorca, who will be picking up 'ti in the BVIs on February 10 with plans to reach St. Barth in time for Carnival on the 22nd. Can't miss that! Roger and Aimée also hope to meet up with Scott and Mika, Roger's longtime friends from the staff at Two Harbors. Scott and the gorgeous Mika, two of the most popular members of the staff at Two Harbors, are now running a crewed catamaran. As John and I ran crewed charterboats for The Moorings and then our own crewed Lagoon 41, Roger and Amy will probably have time to say 'hi' and 'bye' before Scott and Mika have to rush back to work.

Receive emails when 'Lectronic Latitude is updated.
SUBSCRIBE