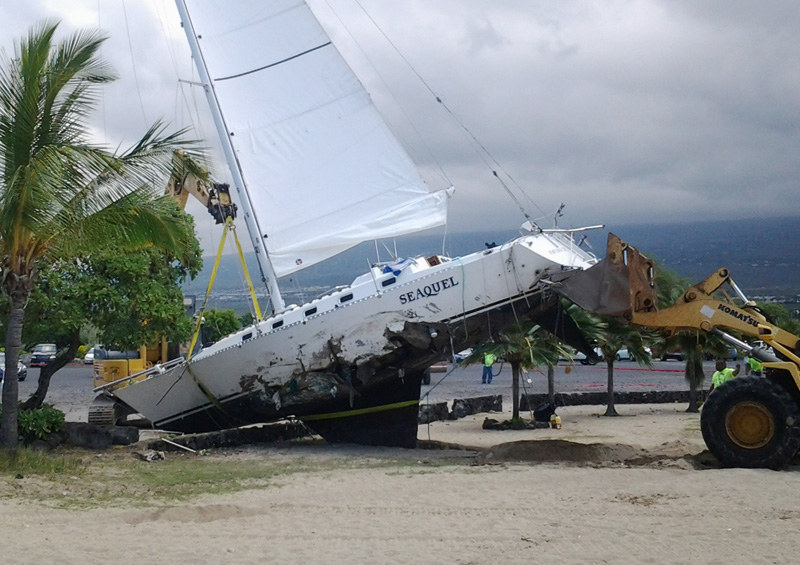 After the Ventura-based Nordic 40 Seaquel was driven onto the Kona coast late Sunday night, there was initial hope — at least among some observers — that she might be salvageable. But after several days of grinding in the surf on a rocky ledge, that possibility became unlikely. Debate over the sloop's future potential ended abruptly yesterday, however, when workers contracted by Hawaii's Department of Land and Natural Resources dragged the hull up to high ground, chopped it up and hauled it away.
Some valuable gear had been looted previously, but the engine, rig and winches were reportedly salvaged. Owner John Berg did get some personal gear off the boat prior to all that.
He and his crew, Dani Peters, are now back on the mainland. This morning we had a chance to talk with Berg, who is totally blind. "I just want to make it crystal clear that it was my boat, I was the captain, and it was me who screwed up. Even though I had sighted crew with me, it was my fault we lost the boat."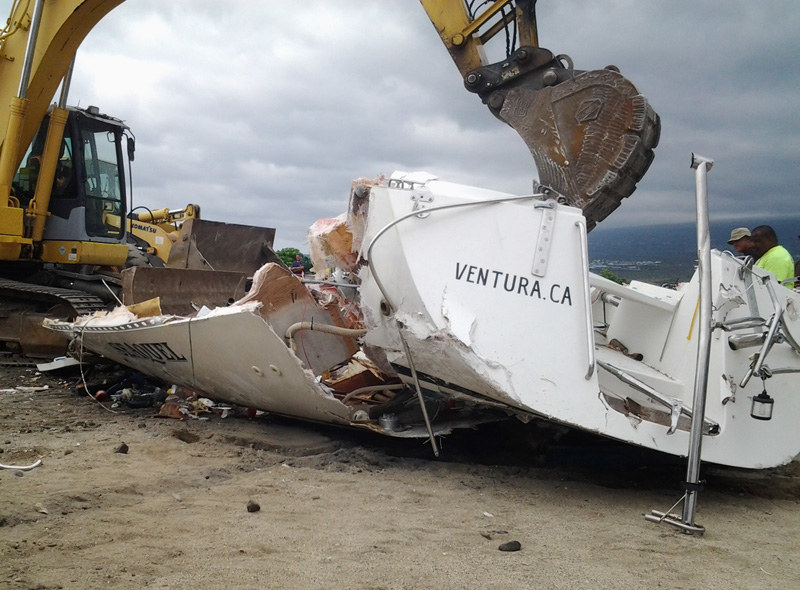 The explanation of what went wrong portrays a truly 21st-century dilemma. Berg and Peters left Hilo last week, had a "great sail around the south end of the island," and found a nice little anchorage where they swam with spinner dolphins. The next day, they were heading up the Kona coast well offshore, when the breeze died, forcing them to motorsail. Because they hadn't refueled after making landfall from Mexico at Hilo, they had only about six or seven gallons of fuel, which concerned them. But they soon had bigger problems.
They'd been navigating for weeks without a problem using iNavX software on Berg's iPad, which was interfaced with the vessel's GPS. That night they were headed for a waypoint offshore of Honokohau Harbor, north of Kialua Kona town. All of a sudden the screen was taken over by a system request to log in to FaceTime, an Apple resource, then another request to log in to the iCloud. No matter what Berg and Peters did, they couldn't clear the screen and log back in to iNavX. Berg also had that software on his iPhone, but he hadn't entered the waypoint there. The built-in chartplotter had a system that displayed NOAA charts, but Berg says that proved inadequate.
"I should have just said, 'Hang a hard left', until we sorted things out, but I didn't. It was totally my screw-up." Before they could find a software solution, they heard the sound of surf crashing and they knew they were in trouble.
What impressed us most about our conversation this morning was Berg's relatively upbeat attitude. He is doing his best to stoically put the whole nightmare behind him. "But I really can't imagine being away from the water." He lived aboard Seaquel for 12 years before heading south to Mexico last fall.
We'd like to think that Berg's sailing days are not over yet. There are hundreds if not thousands of perfectly good boats sitting idle in marinas. Perhaps one of them has a big-hearted owner who'd be willing to give his neglected vessel to this extremely capable but unlucky sailor — thus giving both the boat and the mariner a new beginning. Write us if you have a good boat to offer.
Receive emails when 'Lectronic Latitude is updated.
SUBSCRIBE