Notices Being Posted on Boats in Richardson Bay
After decades of passionate debate, the fate of Marin County's most contentious piece of water seems poised to change, at least in Sausalito waters.
On Monday, the Sausalito Police Department handed out and posted flyers on all vessels anchored in the city's jurisdiction on Richardson Bay, or the waters west of the channel and closest to the shoreline. "The Sausalito Police Department may remove or cause to be removed any vessel which has been left in city waters or beached for seventy two (72) or more consecutive hours," the notice reads.
These flyers represent the early stages of a four-phase plan conceived by the City of Sausalito when it withdrew from the Richardson Bay Regional Agency (RBRA) last year. For the moment, SPD said it's focusing on unoccupied vessels that are considered marine debris or are being used for storage, otherwise known as phases one and two of the plan.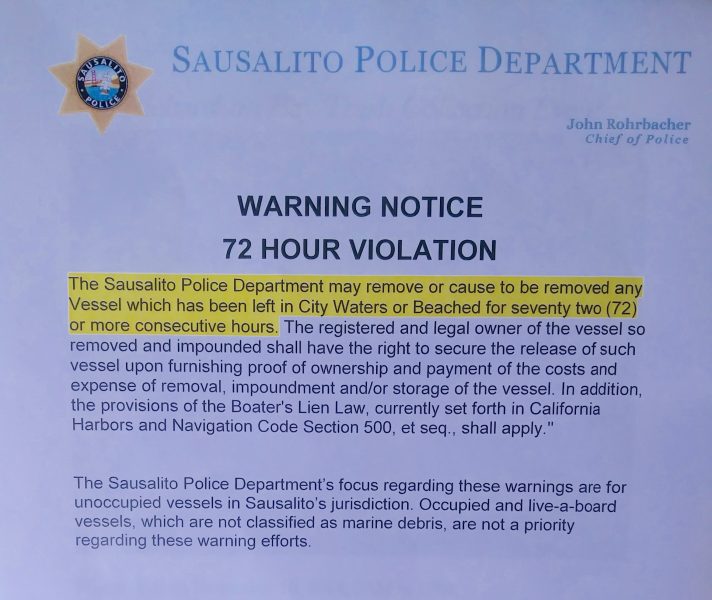 But all vessels in Sausalito waters, occupied or not, received the flyer.
"The 72-hour notice has nothing to do with the condition of the boat," said SPD Lieutenant Bill Fraass by phone this morning. "The vessel could be in seaworthy condition, but it is subject to being towed." Fraass said there was some confusion among the anchor-outs when the flyers were handed out. "There's been a lot of conversation, and we've had a lot of citizen correspondence via email. But we want people to know that there are several different categories of things that we're looking at."
Fraass said that when Sausalito was getting ready to withdraw from the RBRA, the city added the 72-hour rule to its municipal code. As we  reported in September, there have been laws on the books for decades restricting vessels anchoring in the waters in Richardson Bay — which lies at the intersection of Sausalito, Mill Valley, Belvedere and Tiburon — to a three-day stay. But the status quo has been to tolerate  anchor-outs, however grudgingly, and the 72-hour rule has never really been enforced.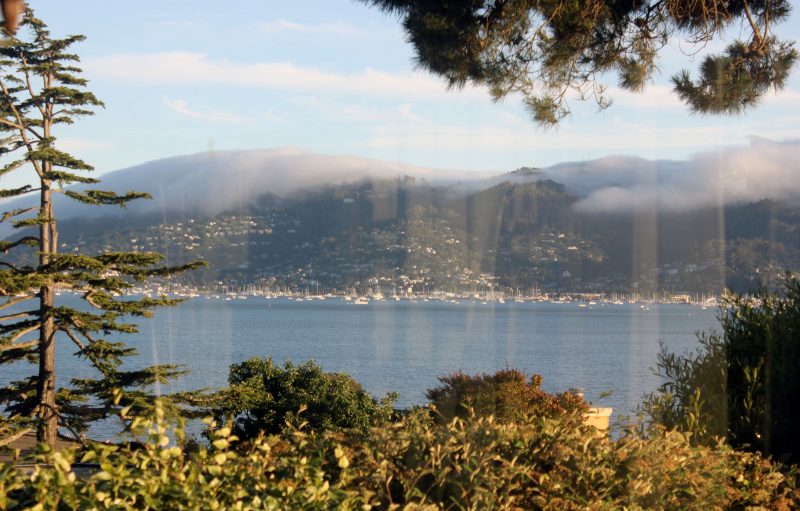 Phase three of Sausalito's plan involves removing vessels occupied by persons who are a danger to themselves or others, or people without much boating experience who are living on unseaworthy boats. Phase four is centered around how to address the longterm, experienced anchor-out community that's deemed safe and seaworthy.
"At a certain point, were going to look at the occupied vessels," Fraass said. "We just want people to be aware of what's happening. We've given numerous presentations on the subject, and we're going to continue to be open and transparent as we move forward, and give the community an opportunity for feedback."
"We're trying to do this for the betterment and safety of the waterfront."
This story has been updated.
Receive emails when 'Lectronic Latitude is updated.
SUBSCRIBE