Get Rid of Your Old Sails This Week
"Do you have old Dacron, nylon and laminate (as long as they aren't completely delaminated) sails that you'd like to see re-purposed rather than just taking up your storage space or bring hauled off to the dump?" writes Cam Tuttle of Tiburon Yacht Club. "Then you'll want to bring them down to TYC this Saturday morning (then go racing in this weekend's TYC Mott Midwinter Regatta).
"Jeff Wapner is a UC Santa Barbara sailing instructor, J/70 racer, and Founder and CEO of Paradise Is Divided into Blue and Green, which makes recycled products for the surf industry from used sails (Dacron, Kevlar and nylon plus anchor line and kiteboarding control lines)."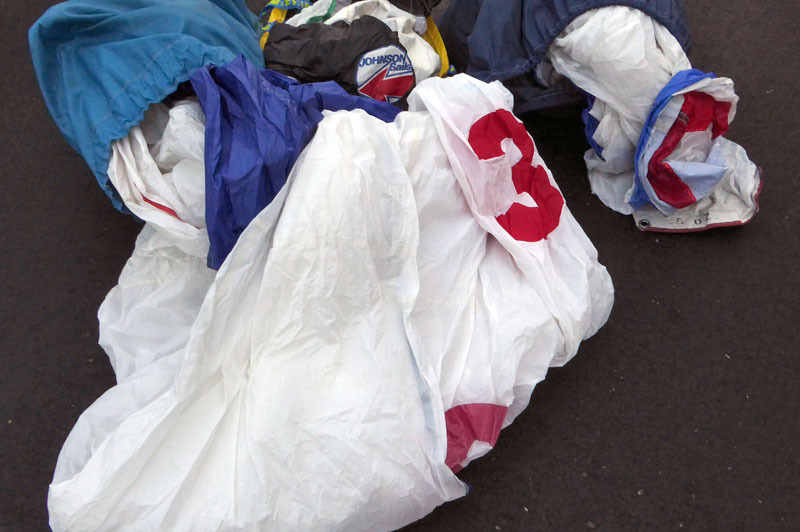 "The goals are to keep these out of landfills," says Wapner, "give them new life, and expose children to the activities that have helped shape my life (like surfing and sailing) in hopes that they will become more passionate and caring about the environment."
Jeff is swinging through the Bay Area and will be coming by TYC (off Paradise Drive on the east side of the Tiburon Peninsula) on Saturday morning, 10-10:30 a.m., to pick up donations. Email Cam and Jeff so that Jeff can plan to have sufficient sail-carrying capacity. Jeff will be in the Bay Area this Friday and Saturday, so if TYC is inconvenient email him to arrange a rendezvous.
Receive emails when 'Lectronic Latitude is updated.
SUBSCRIBE