Floating Nicely on Her Lines
The 71-ft home-built catamaran pictured below has been a conspicuous landmark on the grounds of San Rafael's Loch Lomond Marina ever since James Lane, his family and friends began assembling it there two years ago. After countless hours of labor, she was finally launched at roughly 2 a.m. on Memorial Day morning.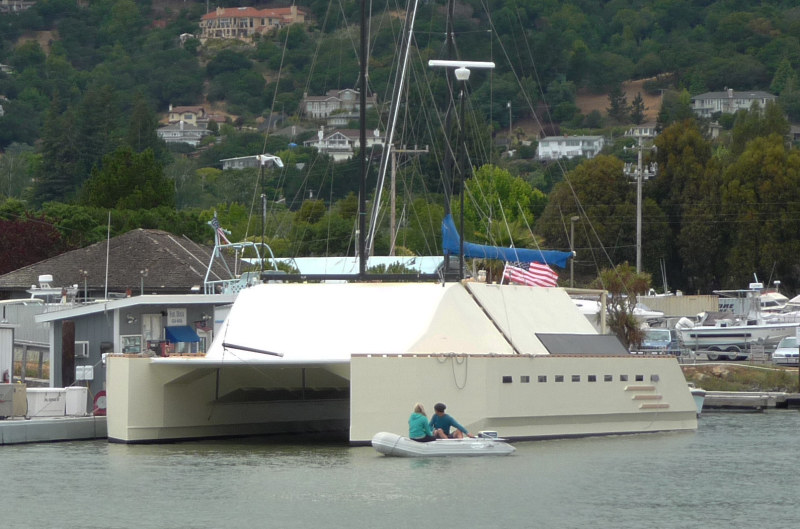 The choice of a nighttime launch, we're told, was due to the high tide at that hour, combined with the family's desire to minimize the number of spectators on site.
Because the boat was designed by Lane, who is an accomplished carpenter but not a naval architect, the slowly evolving structure drew both praise and critique from local boaters. Say what you will about the cat's somewhat unusual look, you've got to give Lane and his crew a huge measure of credit for seeing this colossol job through. The fact that the big cat floats almost exactly on her lines is a testament to Lane's engineering skills — even though he's never built a boat before.
We've been quietly observing the cat's progress since construction began at Loch Lomond, but chose to give the builders their privacy during the construction process. Now that she's been launched, though, and the project is near completion, we hope to learn more about the specifics of the building process and about Lane's plans to sail her to Hawaii.
Receive emails when 'Lectronic Latitude is updated.
SUBSCRIBE