Escalera Nautica Now Ladder to Nowhere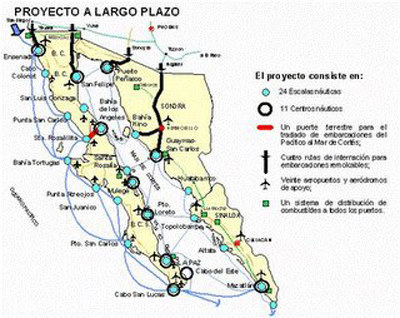 File this one under 'seemed like a good idea at the time': We've received word via news reports from south of the border that the Mexican government has finally pulled the plug on its Escalera Nautica (Nautical Stairway) project. Widely criticized as impractical and unnecessary from the outset, in 2001 the grand scheme proposed to build a 'ladder' of marinas and tourism facilities all along the Baja Peninsula and the eastern shoreline of the Sea of Cortez. The idea was to shorten the distance between potential safe harbors, thereby inspiring an upsurge in maritime tourism.
The original $2 billion plan was to build or refurbish 22 full-service marinas. Today, however, the 10 projects — some completed, others only partially completed — will be sold, as the project has been officially cancelled.
Administered through FONATUR (Federal Tourism Promotion Fund), original projections estimated that 76,400 boats would be cruising the Baja coast by next year, and by 2014, infrastructure upgrades would attract 5.4 million nautical tourists to Mexican waters. Needless to say, those figures were wildly optimistic — according to one source, off by as much as 600%. Look for more on the Escalera Nautica debacle in the September edition of Latitude 38.
Receive emails when 'Lectronic Latitude is updated.
SUBSCRIBE