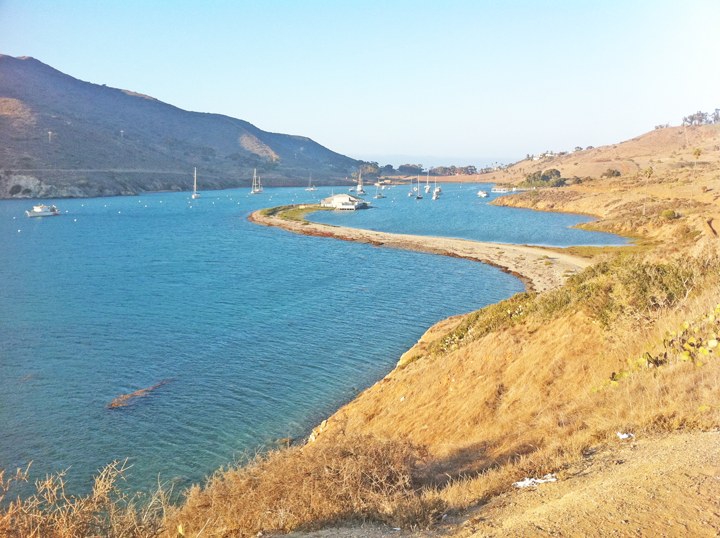 Late Monday afternoon we took a hike from Two Harbors out to some benches overlooking the far end of Cat Harbor, Catalina. We went for the exercise and to see if we could spot the whale that had been paying visits to the harbor in recent days. He's believed to be a gray whale of about 30 feet. Because of his behavior — bumping into boats, swimming around and maybe even under the dinghy dock, and surfacing next to folks in dinghies — some say he's a teen. Teen whales apparently exhibit such behavior. But we couldn't see the whale, and if you look closely at the photo, we doubt that you can see him either.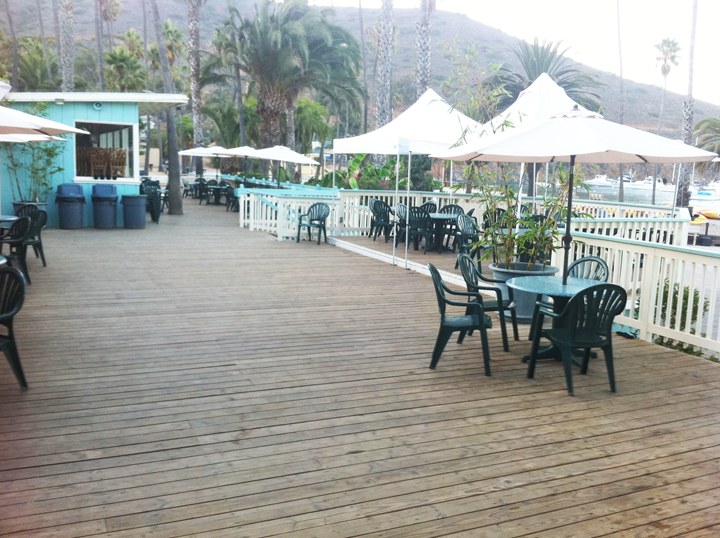 The other thing you don't see in the photo is fog. Boy, has this ever been a great summer for sun along the coast of Southern California. We had tons of it in San Diego, almost as much in Santa Barbara, and every morning for the last 10 days was fog-free at Two Harbors. We came down to San Diego yesterday in bright sunshine. When we arrived just after dark, there were wisps of fog, but as of 9 a.m. this morning, it had all burned off. Being from San Francisco, we don't want to say anything against the fog — other than if we never see any again in our life, it will be fine with us.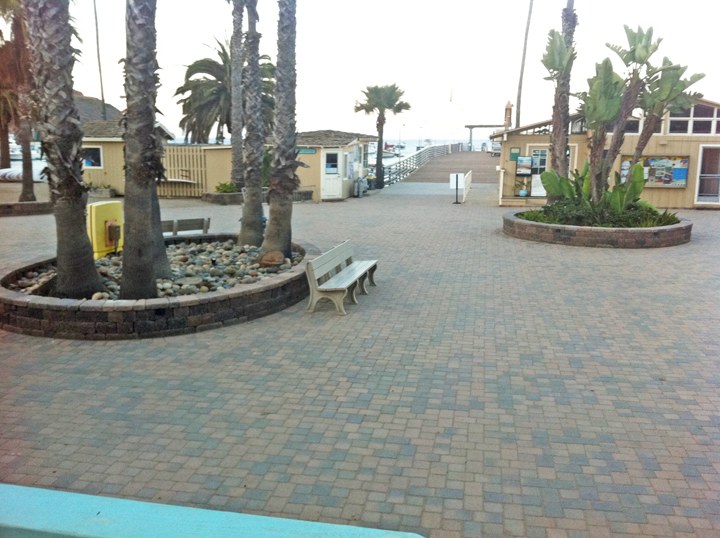 It's about a 40-minute hike from Two Harbors to the benches at Cat Harbor and back. Prior to Monday, it had sort of been a highway of hikers. On Monday we passed only one other person. And when we got to the base of the pier and the patio area of the restaurant, it was like a cheap sci-fi movie. These two areas, where there had been lots of people for the previous three months, were devoid of human life. Weird. True, there were a few people inside the restaurant watching the Packers get jobbed by the Seahawks, but to not see anyone outside or at the nearby picnic tables was weird.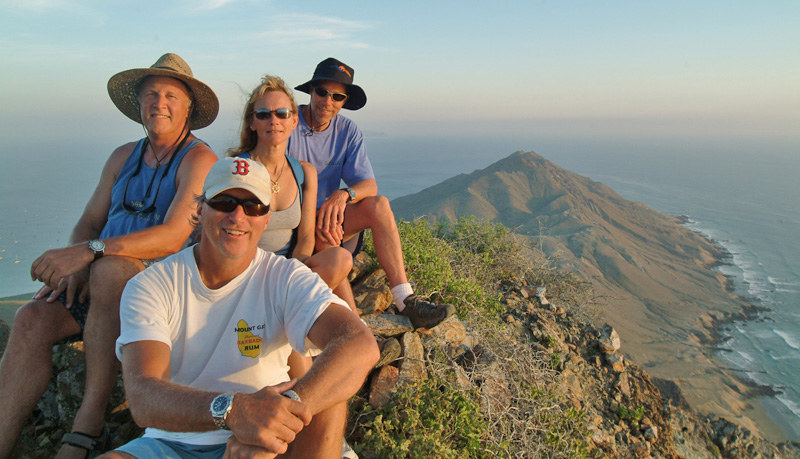 All it really means, of course, is that the changing of seasons is in full swing. People are thinking of school, football, fall fashions, and god knows what else. The irony is that it's almost October, and except for the shorter days, it's one of the best months for cruising Catalina and the other Channel Islands. So if you're coming down for the Ha-Ha — we've already met a bunch of you folks — make sure you take some time to smell the Channel Islands. Speaking of the Ha-Ha, the start is just over a month away, so it won't be long before hundreds of us cruisers will be hiking along the shores of Turtle Bay and in the high hills in back of Bahia Santa Maria. We can't wait!
Receive emails when 'Lectronic Latitude is updated.
SUBSCRIBE