Boater Survey Findings and a Safety Course
The US Coast Guard has been busy gathering information and putting together classes to enhance  boaters' safety. Firstly, in December they released the findings of a survey on recreational boating. And next month Flotilla 113-01-01 Central Marin is hosting a four-lesson course that meets the requirements  to apply for the California Boating License — both are in the interests of boater safety.
The National Recreational Boating Safety Survey (NRBSS) looks at boating participation demographics, trends, boat use, at-risk boating populations, boating safety and more. According to the December press release, the survey data, captured in 2018, include all types of on-water activity from canoes, kayaks, rafts and rowboats to sailboats, sculls, airboats, motorized boats and personal watercraft.
Their findings include these interesting facts:
Ownership: It is estimated that approximately 25.2 million boats were owned by 14.5 million households in 2018. Evidence suggests that joint/shared ownership is an increasingly popular way to secure access to boats. While the vast majority (94.5% or 23.83 million) of boats in the country were owned exclusively by someone residing in the household, nearly 1.4 million boats were in some manner of joint/shared ownership.
Boat use: Boats that were operated in 2018 were taken out on the water a total of 471.8 million days. Across all owned boats, the average number of days a vessel was used was 19 days — 29 days for motorized boats and 12 days for human-powered boats. Outings, meaning different occasions that boats were operated out on the water, lasted an average of 3.8 hours. On average, boats that went out on the water in 2018 had 2.3 persons aboard.
Safety: About one third (33.7% or 220,000) of all boats and 32.8% of motorized boats that operated over three nautical miles from shore were equipped with EPIRBs while 83.2% of the motorized boats that were operated at least once were equipped with an emergency engine cut-off switch. Just 13.9% had VHF-DSC radios. About two thirds (65.6%) of the persons who operated a boat in 2018 had not taken a boating safety course.
Survey findings showed that the greatest percentage of boating participants do not, as is sometimes assumed, have high household incomes. Almost a quarter (23.1%) of boat-owning households in 2018 had household incomes of less than $50,000, and 41.8% earned less than $75,000. Households with household incomes between $75,000 and $149,999 represent 37.5% of boat-owning households.
Fatalities/accidents: The risk of boating fatalities is six per 100 million person-hours for all types of boats nationwide, and five per 100 million person-hours for motorized boating. This low rate is attributable to practicing safer boating behaviors due to boater education, regulations and inspections. as well as to safer boats and safe-boating technologies. However, the risk for fatalities nationwide was twice as high on human-powered boats: 13 per 100 million person-hours.
You can read the full press release here.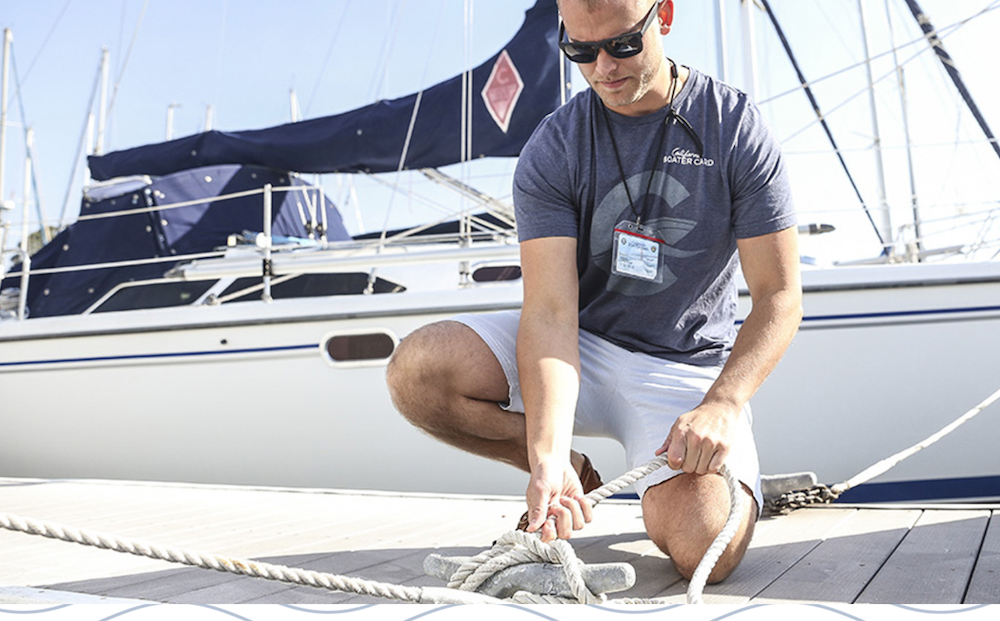 Flotilla 113-01-01 Central Marin is presenting 'Boat America: A course on Responsible Boating.'
"Boat America is a boating certificate class that offers an in-depth and interesting boating safety course, and provides the knowledge needed to obtain a boating certificate."
According to the information flyer, the course meets the requirements to apply for the California Boating License.
The course is being offered as a webinar and will be presented across four two-hour lessons.
Topics will include Introduction to Boating, Boating Law, Safety Equipment, Safe Operation and Navigation, Boating Emergencies, Trailering and Sports and Boating.
While some of this may not be pertinent to every sailor, it is worth reading through the flyer and perhaps passing the information along to someone who will benefit from the course.
Registration is $35 and closes on February 15, 2021.
According to the California Boater Card website, as of January 1, 2021, persons who are 40 years old or younger are required to carry a boater card while operating a motorized vessel. There are numerous rules and exceptions to rules, so it is advisable to go to the website and research your own requirements.
Receive emails when 'Lectronic Latitude is updated.
SUBSCRIBE