Bikes can be a great addition to a cruising boat — if you have room. They immediately quadruple or more your walking range, and keep you from being at the mercy of taxi drivers.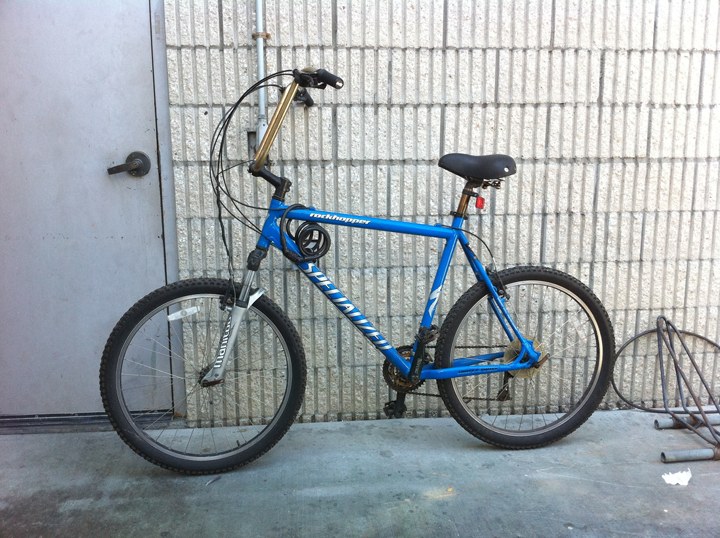 We have a mid-range Rockhopper that frankly wasn't very comfortable. But since we weren't going to being hopping any rocks, we modified it with a fat ass seat and ape-hanger handlebars, transforming it into a cruiser. When we asked to have the modifications done at a bike shop in Santa Barbara, the guy looked at us timidly and asked if we knew the modifications would cost $130. Big spenders that we are, we told him to go ahead.
The weather has been spectacular here in San Diego, where we are having the folks at Driscoll's do a little repair to Profligate after she was bonked on the bow while on the hook at Catalina. About to head north for the nine-day distant start of the SoCal Ta-Ta — 40 entries — we decided we'd hop on our bike and ride after work yesterday. The weather was perfect!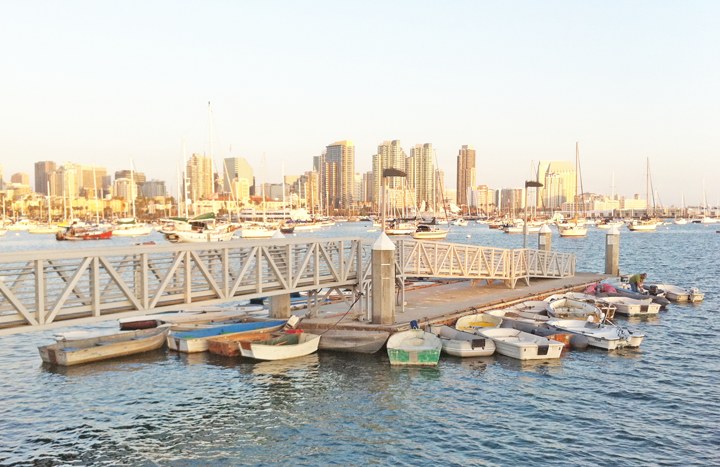 We started off at Shelter Island and headed toward downtown. As we got to Laurel Street, the last rays of the day were setting off the skyscrapers behind the moored-out boats. It must have been 80 degrees, with a gentle breeze.
As we stopped to take a photo, we heard the sound of a Coast Guard helicopter revving up about 150 feet away. It's very possible that this is the same helicopter that rescued the crew of J/World after she sank as a result of being hit by a whale in the '09 Ha-Ha. The helicopter lifted to about 40 feet, hovered in place, then took off.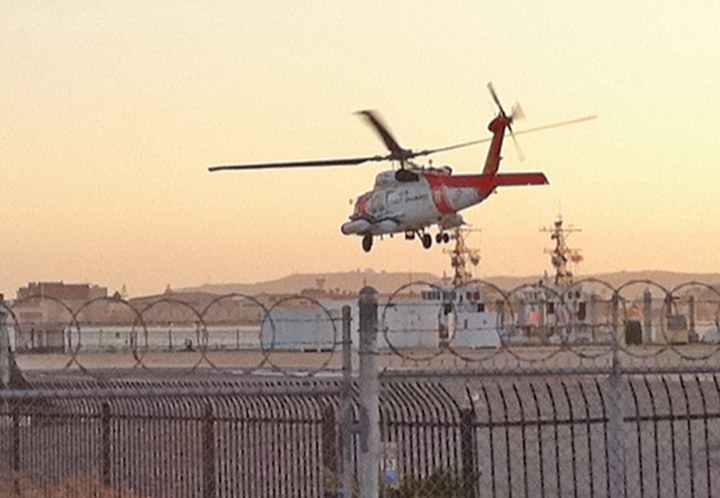 Right after we took that shot, we glanced to the east and saw a whopper of a moon coming up over the boats moored on the first row of the Laurel Street mooring field. It looked as if it might have been full, but we've since done a little research, and it turns out that not only is tonight's moon full, it's a 'blue moon'. We know some of you think this means there is some kind of astronomical reason for the moon to come up the color blue tonight. Alas, it's not going to be blue at all, it just means that it's the second full moon of the month, something that only occurs once this year and not again until '15. Why do they call it 'blue'? Because back in the Middle Ages it was known as the 'betrayal moon' because it didn't wait for the next month, and 'blue' sounds like 'betrayal' in French. Of course, after the giant volcanic eruption of 1883 in Indonesia, the volcanic dust actually did make the moon look blue. It was the orgin of the saying 'once in a blue moon'.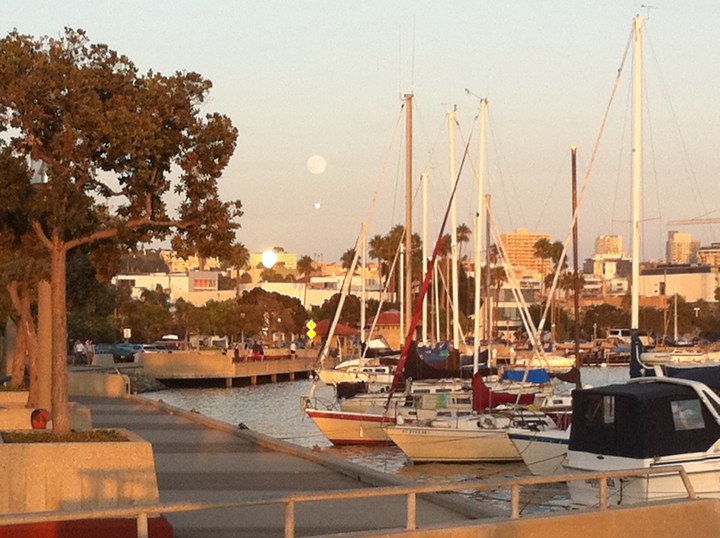 Night sailing with a full moon is spectacular. That's why we've arranged for a full moon for the first night of this year's Baja Ha-Ha. You're welcome.
Our next stop was the corner of Laurel Steet and the Pacific Coast Highway. This is kind of fun because of the planes coming in to Lindbergh Field pass directly overhead. They come in pretty low, but nothing like the old days of PSA. If we remember the lore correctly, one PSA pilot touched his 727 down just 150 feet from the Pacific Coast Highway. Did you know that some women consider the whining of jet engines to be an aphrodisiac? We saw it in a Francis Ford Coppola movie.
It was pretty close to dark by now. Having left our headlamp back on the boat, we were foolishly riding without any lights. And wearing a black shirt to boot. But the PCH is almost deserted to the north of Laurel, so we had no trouble riding up to Washington, then taking a right up to India Street.
If you're looking for a last meal in San Diego before heading off to Mexico, we highly recommend Saffron, a Thai restaurant. It has no decor, but the food it killer. Ever since we had pho on the dark and dirty streets of Hanoi a few years ago, we've been dying to find some in the States that taste half as good. Well, Saffron has the real deal, plus lots of other delicious treats. And you can't believe the photos of celebrities on the walls: Julia Childs, Jimmy Carter, Glenn Close, Meryl Streep. There's also a photo of Tom Hanks with Julia Roberts, both sporting strange looks that suggest they had electrodes stimulating their genitals. The swordfish with red curry was delicious. The spring rolls were orgasmic.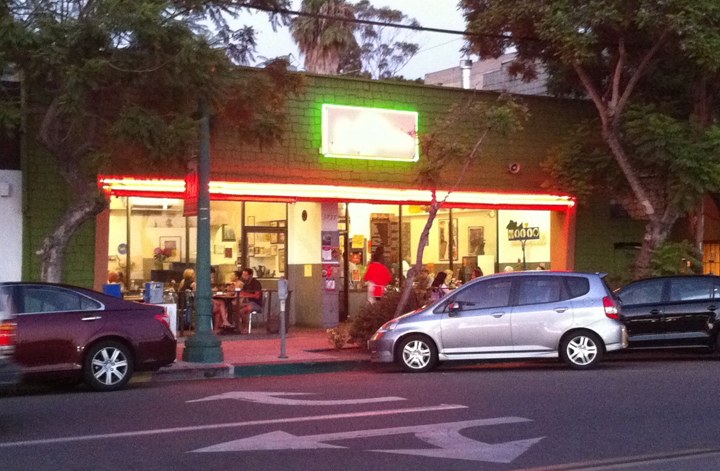 Kittycorner from Saffron is a weird Mexican restaurant called Luche Libre. We don't know what goes on at that place, but no matter if we pass at noon or 9 p.m., there are 100 people in line. Gotta try that one sometime, too.
By now, it was about 10 p.m., and we only had about four miles to go to Home Depot where we could get a headlamp so we wouldn't be riding black against black any longer. We made it there safely, and found that we could buy one headlamp for $15 or three nearly identical ones for about the same price. Who decides on the prices of this stuff?
We later met some friends for drinks, figuring our chances of getting a BUI — biking under the influence — were slight. Indeed, we rode the last three or four miles home illuminated like a UFO, and never saw a cop. But we did enjoy the still very warm temperatures, even at midnight.
That's our boat biking story and we're sticking to it. Do you have one?
But don't forget, blue moon sailing tonight!
Receive emails when 'Lectronic Latitude is updated.
SUBSCRIBE