West Coast, how was your weekend? We're talking to you, SoCal. Where you at, Pacific Northwest? Aloha, Hawaii. ¿Que pasa, Mexico? If you have a story or picture (or an arsenal of synonyms for "very windy") please let us know.
Here in the Bay Area, as we took the last bend and headed onto the San Rafael/ Richmond Bridge, the water was almost completely white. We gripped the wheel tightly, because our car suddenly had weather helm and was getting nudged from side to side. We navigated the headers and lifts as best we could.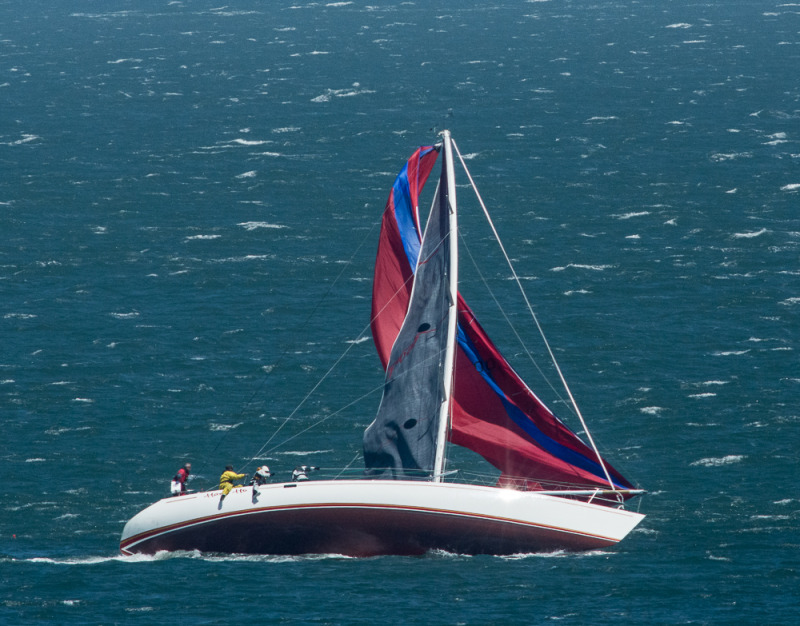 Late on Saturday, we heard there were gusts up to 50 in San Rafael. Mind you, windy days are like catching fish — the increments get bigger as the story is repeated. Needless to say, it was nuking. The Bay was so studded with foamy whitecaps that the flecks of brown and green were few and far between, and covered in spume. It was blowing like stink. It was blowing so hard that we needed to search our internal cache of expressions for extreme wind: Snorting. Horking. Blasting. Atomic. In the end, we settled on simply and utterly gnarly.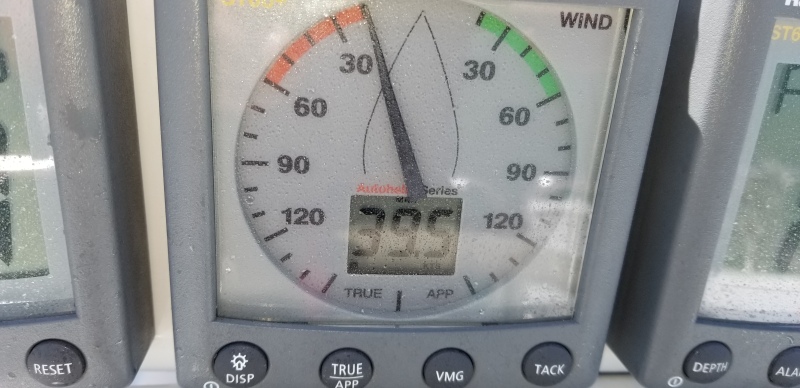 The annual Duxship Race was (naturally) on Saturday. Boats race out of the Gate, go around the Duxbury Reef buoy off Bolinas, around the Lightship buoy and back into the Bay. We heard stories of carnage: rails deep in the water, rigs shaking perilously, and general chaos. We saw a few sailors at the bar with expressions of equal parts stoke and exhaustion. Stories were told; 30 with gusts to 40 seemed to be the consensus.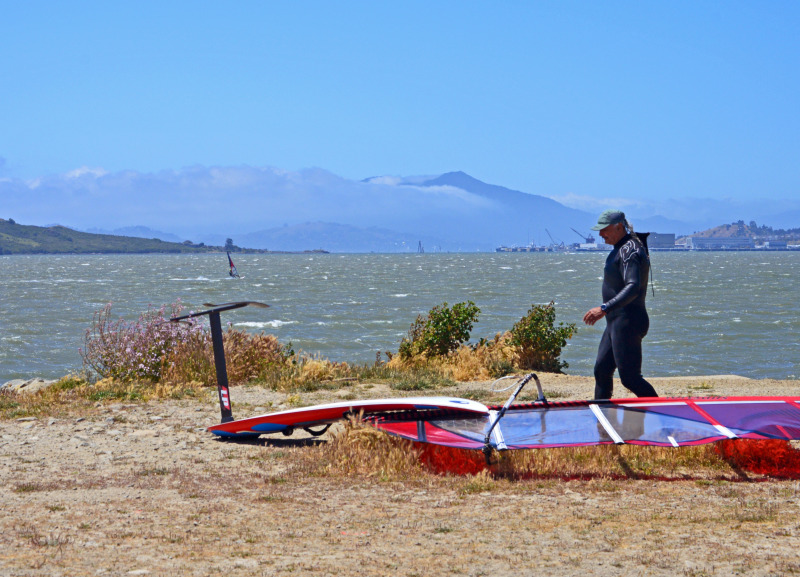 I had plans to go windsurfing, but figured it would be too windy for my gear. While the Bay is rightfully famous for its big sea breezes, days like this are not all that frequent, and some of us don't own boards and sails small enough for gale-force conditions. I stopped at Point Isabel in Richmond, where a handful of windsurfers were just coming off the water. "How is it?" I asked. "Windy!" everyone replied, before grabbing their smaller sails (4.2s to 4.7s) and re-rigging.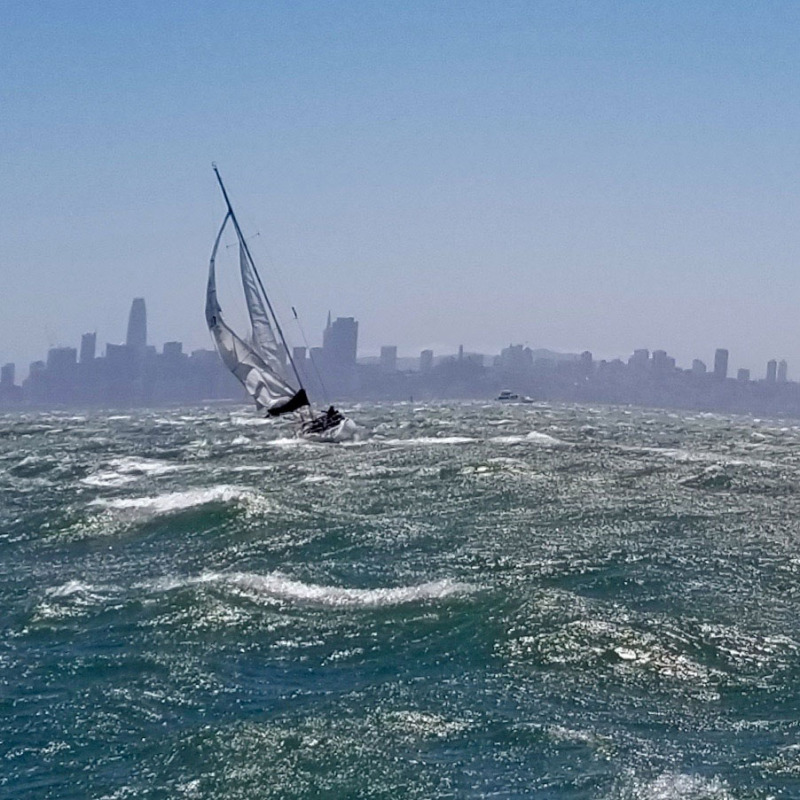 Some of us purposefully don't follow weather forecasts, because waking up to whatever conditions Mother Nature happens to be serving is exciting. There were, however, some natural indications on Friday evening — after a beer can at Corinthian Yacht Club in light to moderate conditions, there were distinctly warm gusts of wind that descended on Tiburon around 10 p.m. It was weird, and you could feel something stirring in the atmosphere.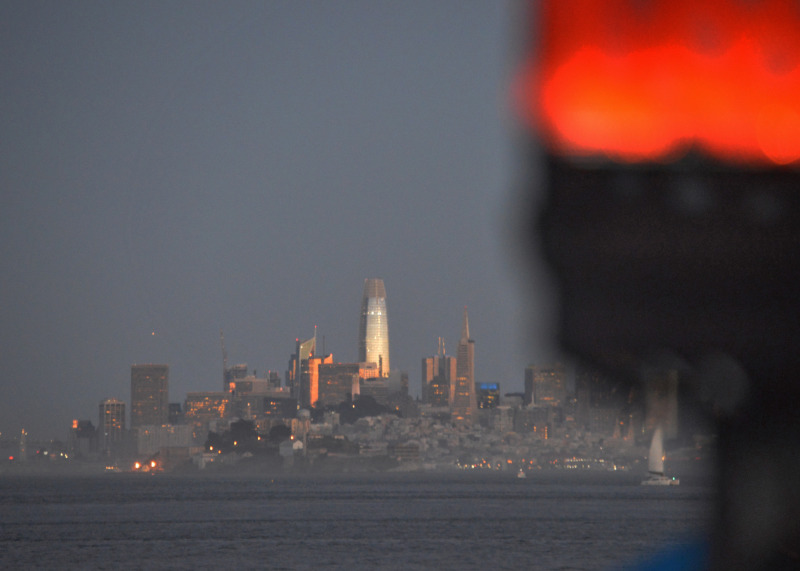 After checking out Point Isabel, I drove to Berkeley out of curiosity, having absolutely no plans to sail. To my surprise, the conditions were moderate. I rigged my standard "big" gear, but then it started to pick up and leveled off in what I would guess was the 25-knot range. So I re-rigged, got the smaller board and gave it a go. I'm not afraid to sit out gnarlier days, but it felt good to be out in some sportier conditions. I wasn't killing it, but found a comfortable rhythm and thoroughly enjoyed myself. My cold beer felt well earned, and I — along with everyone else at the bar who'd been sailing on Saturday — exaggerated the gnar factor.
We've all seen them. Wandering the waterfront, it's fairly common to come across forlorn-looking vessels sorely in need of TLC. Some passersby see a mess destined for the dump, but others see potential. They can imagine when the boat was delivered new with fresh cushions and crisp sails to a family with many great times ahead of them. But those times are now behind them, and it's a sometimes-dubious prospect to consider bringing a particular boat back to the good times.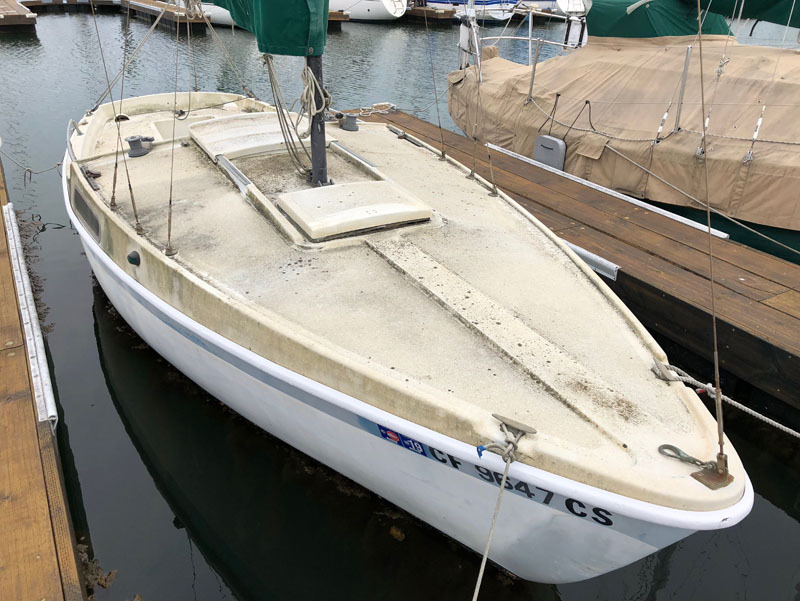 Last year we found Glenn Shinn, who was finishing up a restoration of a prototype for the Moore 24. At the time Glenn said, "Last year, I bought George Olson's original [1969] prototype for the Moore 24, Grendel. I first spotted it at UC Santa Cruz."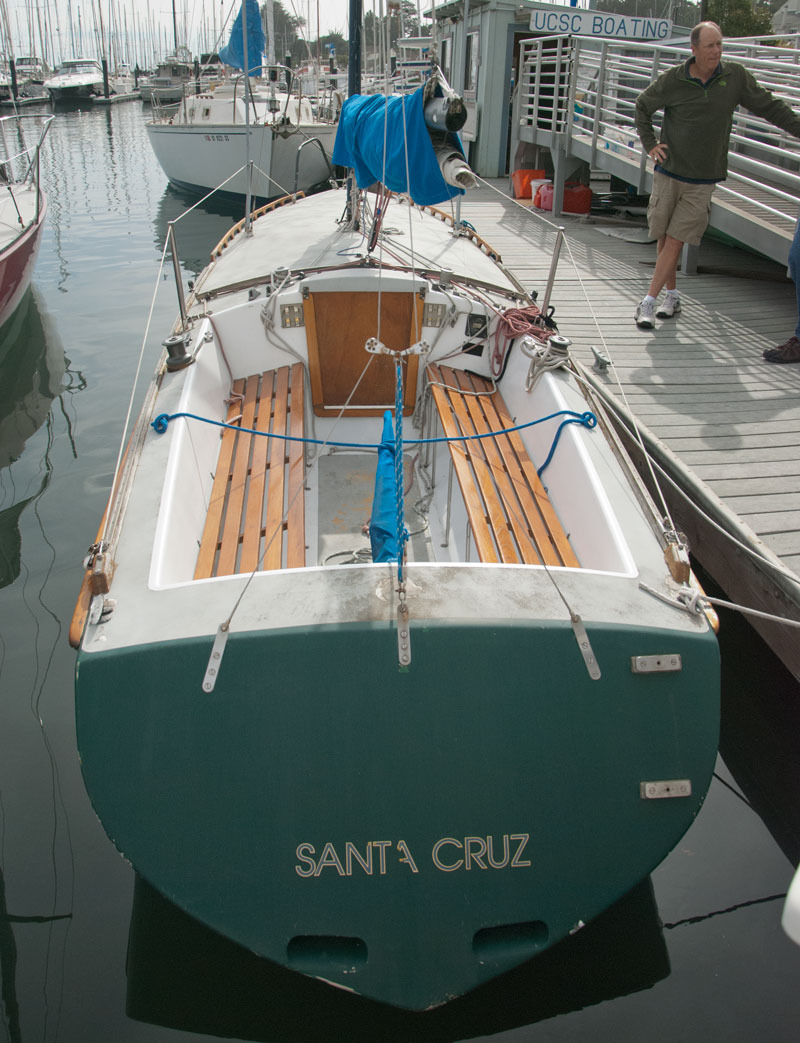 "She was in sorry shape," said Glenn, "not even sailable — not even close (she'd been sitting in a slip for at least 10 years!). There were soft spots all along the plywood deck, which was totally delaminated, and the main support beam down the middle was broken. I had to cut out big holes in the deck and patch it up."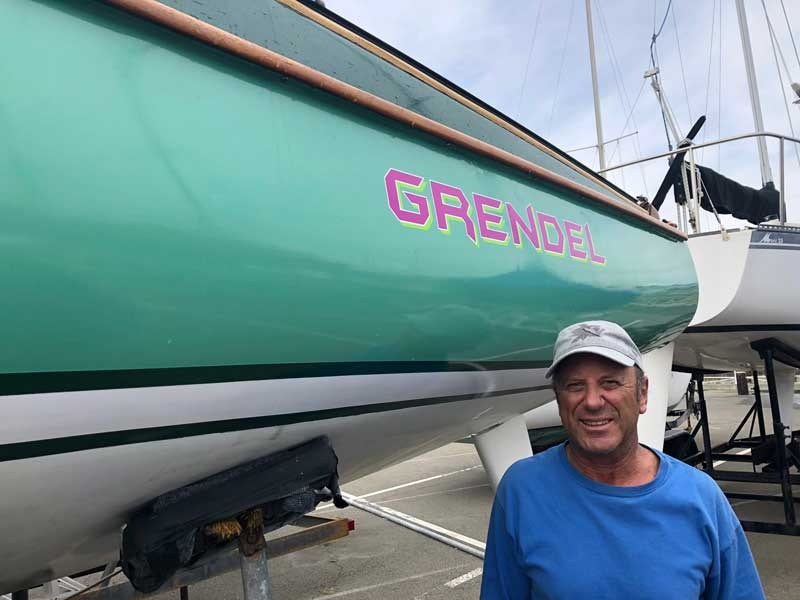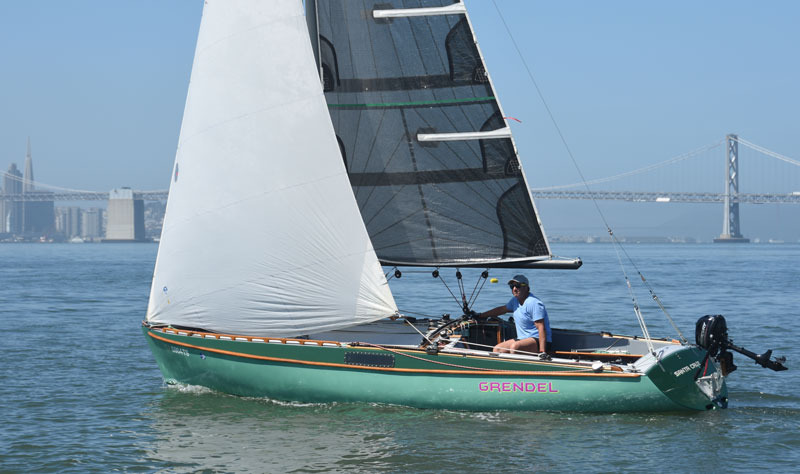 Glenn is not the only one who's found a project resurrecting an old boat now enjoying a second life. However, anyone who's taken on one of these projects would offer words of caution. It's easy to get in over your head both financially and in terms of time commitment. But, as Glenn has shown, the rewards can be there.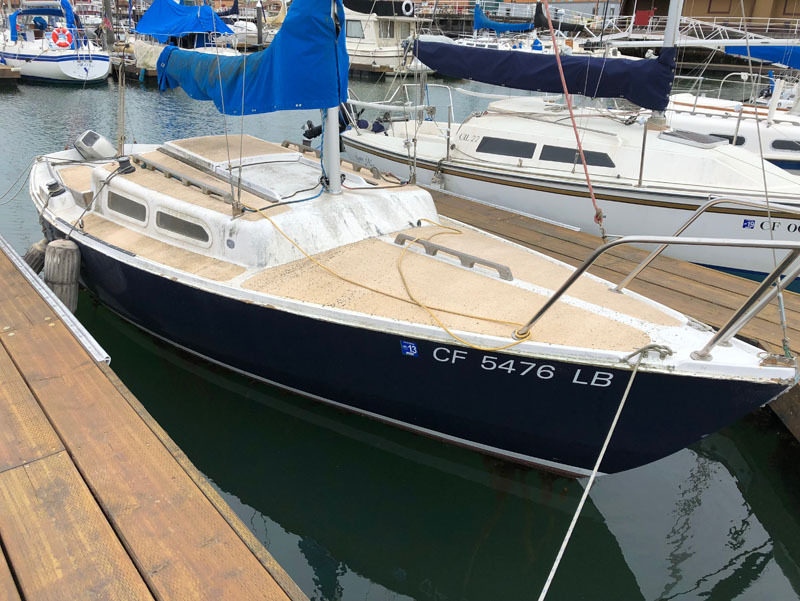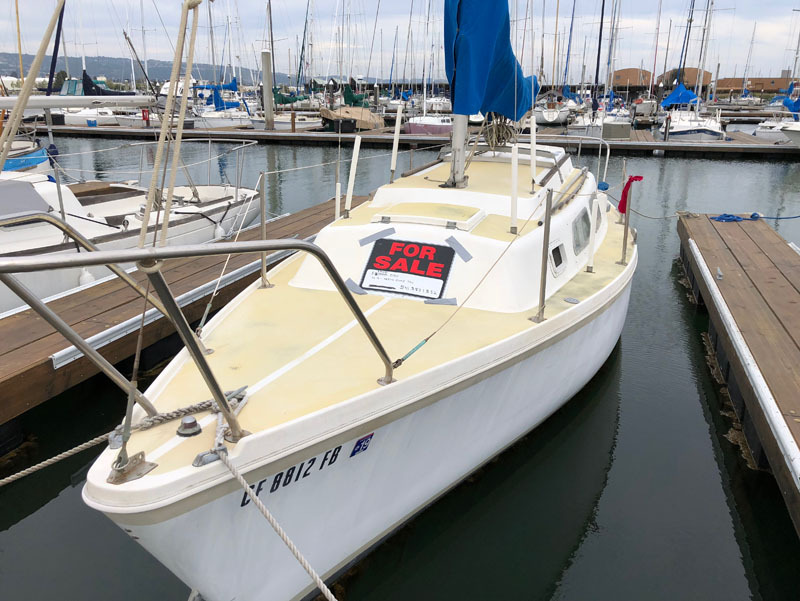 Some of these boats may need no more than a good scrub to get you sailing by the end of the weekend. Others could take a year. With many boats you can start sailing soon and spread out your improvements over months or years. The old sails may be terrible but, if they don't blow out, you can use them for a while until you get a handle on the scope of your project and then decide what to do next. Some of those 'what to do next' moments will appear after a few quick sails!
PHOTO
As they say, one person's trash is another one's treasure. It depends on your temperament, time, budget and skills. There's plenty of 'inventory', so if you're the next person resurrecting an oldie but goodie let us know.
Receive emails when 'Lectronic Latitude is updated.
SUBSCRIBE