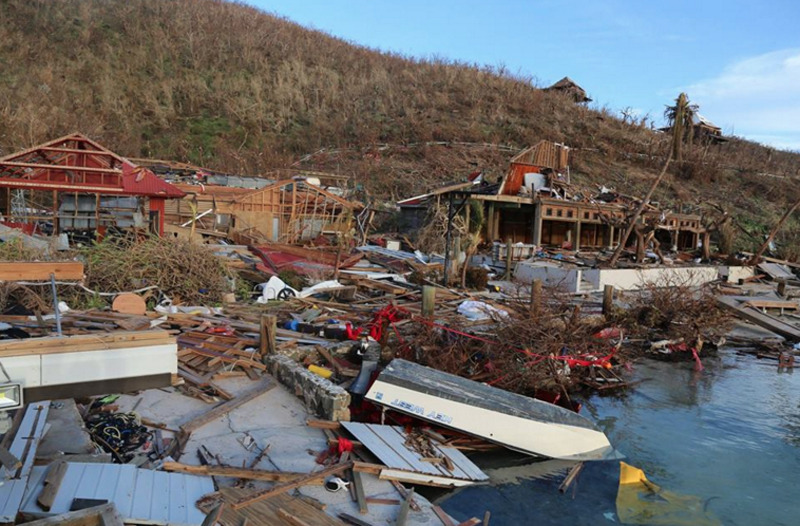 "Damage? No Dad, you don't get it: It's gone, all gone." So said Aaron Turpin, 36, yesterday from San Juan, Puerto Rico, where he and thousands of Hurricane Irma refugees are currently staged, awaiting flights to the mainland. Like Aaron, a member of Latitude's extended family who has worked for years in the British Virgin Islands, most islanders now massed at San Juan airport lost everything they owned to Irma's wrath, leaving them with little more than the shirts on their backs as they process the nightmare they've endured, and consider their future options.
Aaron's "It's all gone" comment referred specifically to places well-known to many West Coast sailors including Virgin Gorda's famous Bitter End Yacht Club, which was absolutely pulverized by wind gusts reportedly as high as 220 mph. That resort's staff are said to have endured the unprecedented blow in a bunker-like storage facility beneath The Carvery Restaurant, which was a favorite dinner spot for hotel guests and international yacht charterers for decades.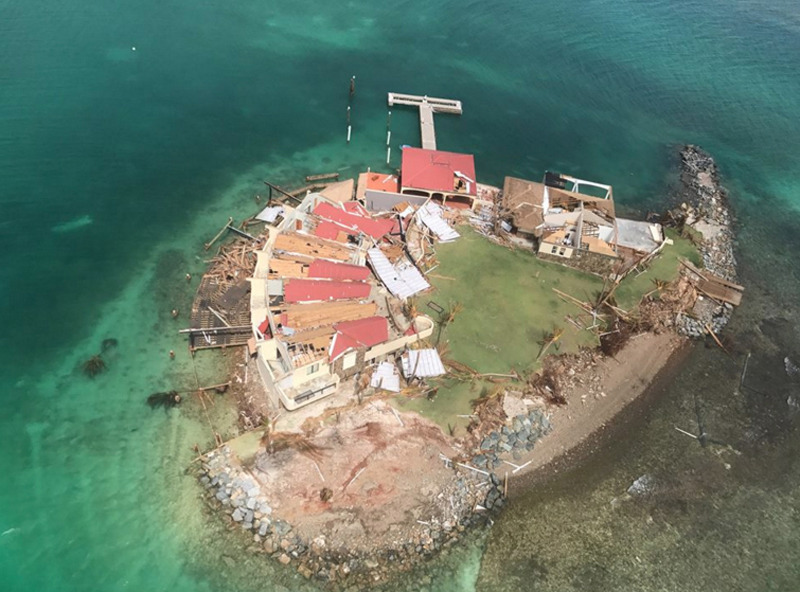 Photos taken in the aftermath of the Category 5 storm leave us wondering how anyone could have survived, but amazingly, there were no known deaths on Virgin Gorda. Several fatalities, however, were reported on the neighboring main island of Tortola, where hundreds of charter boats are now piled up like cordwood in both mangrove lagoons and marinas.
Aaron, his wife Crystal and 11-month-old baby Zoe rode out the storm in their masonry-constructed apartment on the ridge above Leverick Bay — another favorite sailor's destination. Their initial plan was to follow the conventional wisdom among islanders: to barricade themselves within the relative safety of the bathroom, where several walls built close together would theoretically offer the greatest protection. But as the outside wind pressure built to almost unimaginable proportions, a solid cinderblock-and-concrete bathroom wall began to crumble, and all manner of rubble pierced the safety of this shelter like shrapnel. The young family then took refuge in the corner of a closet where they huddled together for many long hours as Irma slowly passed over them, helpless to find greater safety as the roof above them began to peel away. The eye of Irma passed directly over the top of Virgin Gorda as it roared NW along the Leeward Islands chain.
We offer the vignette above as a single example of the horror that was endured by thousands of Irma survivors on other British and US Virgin Islands, Dutch/French Sint Maarten/St. Martin, Cuba and elsewhere.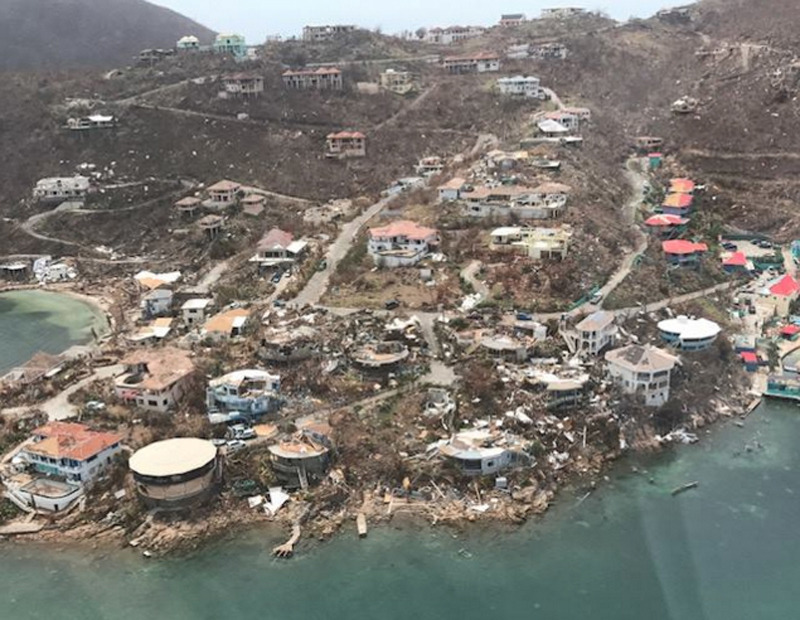 With virtually all communications infrastructure wiped out on many islands, sat phones and text-messaging devices are the only sources of accurate firsthand info, even now. For stateside friends and family of islanders and expats-in-residence, social networking sites have played a key role, although much of the initial info that we've seen was only loosely corroborated, or just plain wrong.
As California is said to be the second-biggest market for yacht chartering and general tourism in the US and British Virgin Islands, we intend to bring you a detailed overview of Irma's impact in the October issue of Latitude 38. In the meantime, we're sure many West Coast sailors who have spent glorious days in those sunny latitudes will want to do their own research, and perhaps offer their assistance or expertise to the grim prospect of recovery and rebuilding. As demonstrated in the aftermath of many past Caribbean hurricanes, islanders tend to be particularly resilient. But this time the scope of need for cleanup and rebuilding is absolutely staggering.
Websites of interest:
• British Virgin Islands Relief Fund
• Facebook group: Stateside St. Johnians Alliance for Hurricane Irma
• Facebook group: BVI Abroad – Hurricane Irma
• Dive BVI
• Facebook group: Stateside St. Johnians Alliance for Hurricane Irma
Receive emails when 'Lectronic Latitude is updated.
SUBSCRIBE