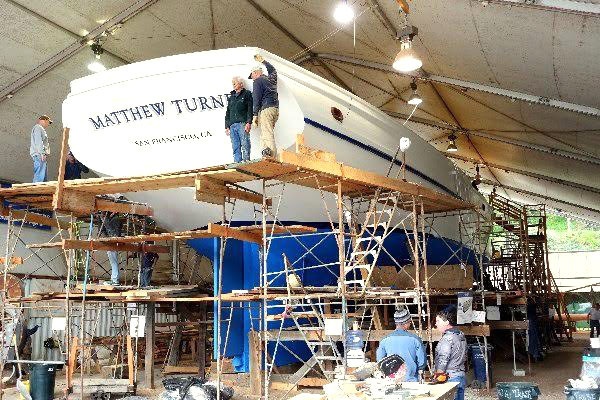 As reported in the current issue of Latitude 38, more than three years of labor by several paid shipwrights and roughly 600 volunteers have gone into the construction of the 100-ft LOD brigantine Matthew Turner — which was 100% funded by private donations.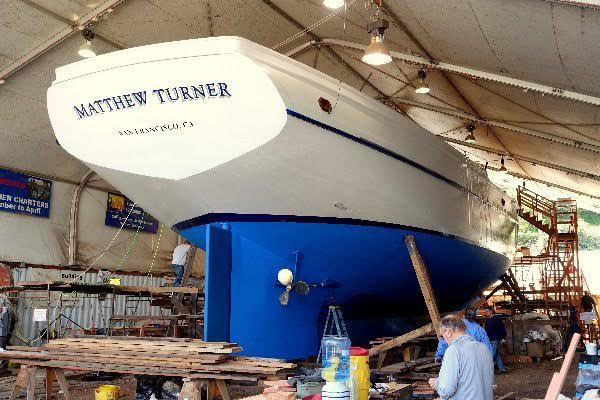 Earlier this week, work crews performed a key step in preparation for the ship's upcoming launch. It was a simple, inevitable gesture, a tiny milestone marking a huge step: The scaffolding came down, clearing the way for the Turner's slow roll to the water's edge — no doubt at a painfully slow pace.
The massive wooden ship is scheduled to be launched Saturday afternoon, April 1 at Sausalito's Army Corps bulkhead. The Post-Launch Celebration is totally sold out, but there will be free public viewing of the launch from Marinship Park and the Bay Model parking lot. The ceremony will start at 4 p.m. and the launch will be at 5.(Look for our followup report here and in the magazine.)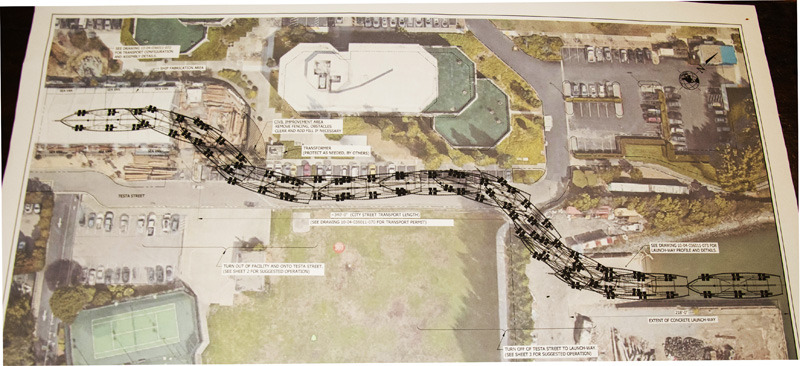 At the Southern California Yachting Association's Midwinter Regatta on February 11-12, crewmembers included military veterans who had only learned how to sail a few months earlier.
The Warrior Sailing Program (WSP) was founded in 2013 with a mission to introduce wounded, ill and injured military and veterans to the sport of sailing. The program includes opportunities ranging from introductory-level sailing to world-championship competition. For the past two years, San Diego Yacht Club has been hosting the three-day Warrior Sailing Basic Training Camp to teach veterans the basics of sailing. SDYC is one of several yacht clubs throughout the country that hosts this program.
The participants come from all branches of the military and have varying injuries that include but are not limited to limb loss, brain injuries and post-traumatic stress disorder. During the camp, participants sail together in teams of three on J/22s, with an onboard professional coach accompanying each team. During the camp, SDYC's J/22s are equipped with adaptations to meet the needs of each disabled sailor.
The program's co-founder, Jen French, is a Paralympic medalist. "Being on the water, free from outside distractions, our Warrior Sailors are able to reconnect with others with similar backgrounds. They comment that their time in service was about the person to their left and to their right. Working together in small teams toward a common goal is a perfect way for our participants to revisit the camaraderie that was inherent in their military service."
Select graduates join the Warrior Sailing Advanced Training to learn racing skills, have the opportunity to earn a keelboat certification, and compete in open and disabled racing events across the country and around the world. SCYA's Midwinter Regatta offered an opportunity for five WSP graduates — Eli Arroyo, Joe Morrison, Chris Peacher, Jordan Ohara and Lisa Kukula — to race.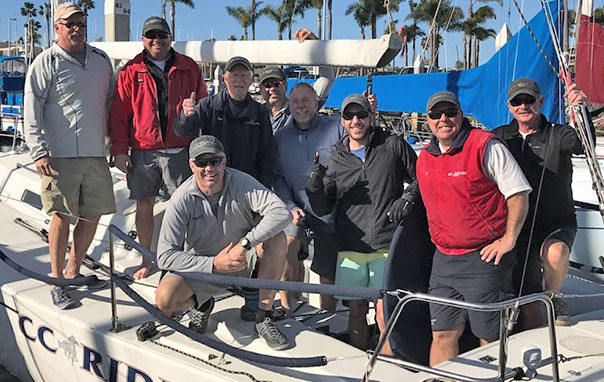 Three J/120s (Caper, CC Rider and Hasl Free), one Beneteau 36.7 (Kraken), and a Flying Tiger (Ruckus) offered openings for warrior sailors to crew on their boats. These boats are much larger, both in length and crew size, than the J/22s that the warrior sailors initially learned on. Many had never sailed on the ocean.
All five warrior sailors were successful in their first racing experience. Kraken placed second in the Beneteau class, and the warrior sailor onboard, Eli Arroyo, was presented with the boat's trophy by Kraken's captain.
Arroyo described the WSP camp as an "amazing experience" and said it thoroughly helped prepare him for competing in an official race. One of the ultimate goals of the WSP is to help these veterans with their transition back into the community.
The Warrior Sailing Program will return to SDYC in June 2017. There are many ways to help the WSP in their efforts to provide life-changing opportunities for wounded, ill and injured service members and veterans. See www.warriorsailing.org to learn more.
This summer you're anticipating another lazy spinnaker run up the Delta as you head to your favorite anchorage among the tules and look forward to jumping in for that first freshwater swim. Nights are quiet, the air is warm, and it's an idyllic escape from the frantic pace of nearby digital life.
But beneath the surface the calm of the Delta is stirred up by controversy as its resources are a lifeline for many state residents. If you're interested in a deeper dive below the surface you might consider attending an upcoming talk by SPUR in Oakland, The State of the Delta, 12:30 p.m. on Thursday, April 6.
The talk's description reads: "The Sacramento–San Joaquin Delta is a rich and complex place studded by islands and utilized for shipping, agriculture, recreation, housing and more. Together, these uses contribute billions of dollars to the state's economy. The waterway has also proven to be highly controversial, with groups continuously arguing over how it should and shouldn't be used. Come hear about the ongoing debates surrounding the policy and planning process for the delta, as well as an outlook for the future."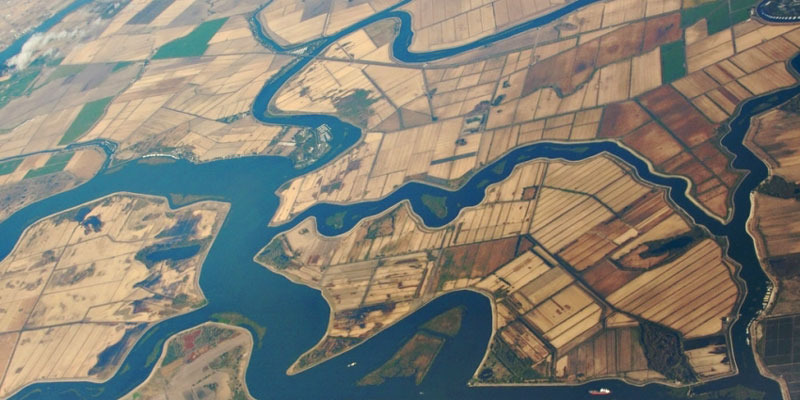 We'd be interested in learning more about it from anyone who might attend. And remember that registration is now open for Latitude 38's Delta Doo Dah, a cruising rally that's as casual and laid-back as the Delta itself.
Receive emails when 'Lectronic Latitude is updated.
SUBSCRIBE