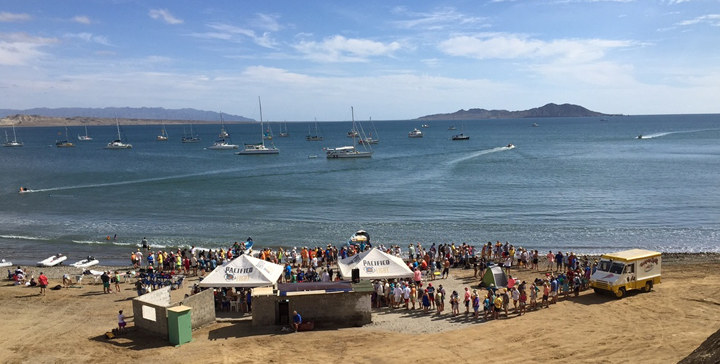 As of today, the 23rd Baja Ha-Ha has already received 179 paid entries, which at this point makes it the fifth-highest number ever. The biggest years were in the mid-2000s — despite the financial crisis. Who knows, maybe a lot of folks are headed south this year because of the tremendous disappointment with the presidential candidates. Anyway, here are the numbers from the biggest years:
2006: 183
2007: 178
2008: 182
2009: 193
2010: 196
Because of late entries not reflected in the numbers above, both '09 and '10 actually had more than 200 entries. If this year follows past years, the fleet will gain a few more boats to very likely be the third-biggest Ha-Ha ever.
Based on historical data, about 18% of paid entries will be no-shows. So the Grand Poobah is expecting a fleet of about 150 boats. This is still substantially smaller than the Atlantic Rally for Cruisers (ARC), which sends about 225 boats from the Canaries to St. Lucia, and has another fleet of 50 or so boats sailing to St. Lucia via the Cape Verdes.
One of the issues with big Ha-Ha fleets is where all the boats are going to stay.
It's not an issue at Turtle Bay, where the anchorage could easily hold 500 boats.
It's also not an issue at Bahia Santa Maria, which could also easily hold 500 boats.
One of the reasons for moving this year's starting date back a week is that it means the Ha-Ha won't conflict with a big annual fishing tournament in Cabo San Lucas, so hopefully there will be a lot more berths available. We never know how many slips there will be there until the day before the fleet arrives, but the marina holds all the open slips for the Ha-Ha fleet. (Slips are assigned by the Rally Committee based on the chronological order in which they signed up.)
There is plenty of room for the fleet to anchor at Cabo, although sometimes it can be a little rolly as the boats get farther east in the anchorage, and boats can get a bit scrambled in the anchorage in variable winds. But it's always worked out.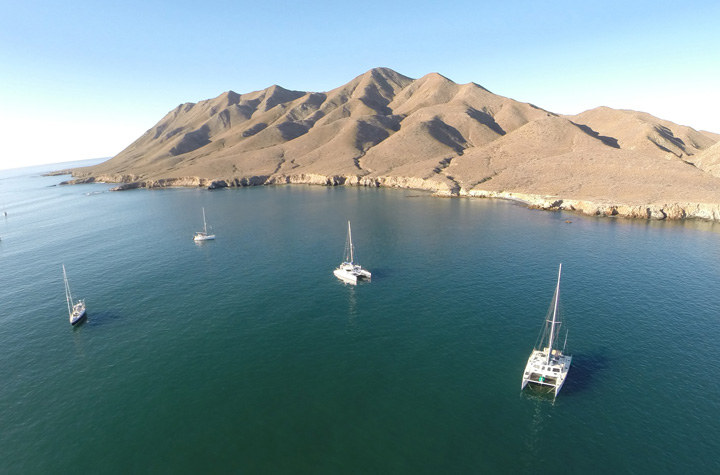 In addition, there is also Marina Puerto Los Cabos, 19 miles farther to the east. In the past, some Ha-Ha boats have taken slips there and bussed to Cabo for the parties. If you're way down on the Ha-Ha entry list and want to try to reserve a slip, contact Assistant Manager Shirley Collins by email, scollins@puertoloscabos.com, or phone: 01 855-578-6222 (toll free).
The biggest problem regarding where to find space for all the Ha-Ha boats is actually at San Diego just prior to the start. Spaces at the Police Dock and most marinas in central San Diego will go fast or have already gone, and Ha-Ha vets have no doubt snagged all the reciprocal yacht club slips. The San Diego Harbor Police always sets aside a special anchorage for Ha-Ha boats at Glorietta Bay, near the Coronado Golf Course. It's free, but you need to get a permit from the Mooring Office before dropping your hook.
The good news is that Karin Phares, who did the 2012 Ha-Ha aboard Wallflower, says California Yacht Marina, which she runs, "has plenty of 40- to 45-ft berths available." The slight downside is that the California Yacht Marina is in Chula Vista, nine miles east of the Ha-Ha Kick-Off Party site, and the starting line. Nevertheless, it's not a bad option, and there is relatively good public transportation available to the Ha-Ha Kick-Off Party. You can reach Karin at 619-422-2595.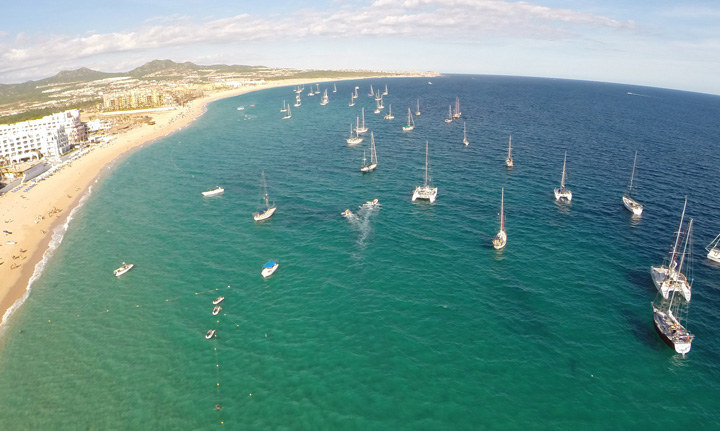 An even more distant but also viable option is Ensenada, which has Marina Coral and Cruiseport Village. The former is part of a lovely resort overlooking the water; the latter is closer to town.
In previous years five to 10 boats have started from Ensenada. Most of the crews of these boats come up for the Ha-Ha Party at the West Marine super store on Sunday using the ABC bus to Tijuana ($16), then the Red Trolley to Downtown San Diego, and finally Uber to West Marine. It's a fun trip that takes about three hours. While it's more expensive, Marina Coral can arrange for one of its vans to take Ha-Ha folks to and from the Kick-Off Party.
The Ha-Ha party usually winds down about 4 p.m. or so, which means these folks can get back to their boats in Ensenada by about 7:30 p.m. By starting in Ensenada, it also means they'll have about a 60-mile head start on the rest of the fleet, and a somewhat-shorter first leg to Turtle Bay.
When it comes to staging just to the north of San Diego in the days prior to the Ha-Ha, there are a number of options. Catalina, 80 miles from San Diego, will have almost all the moorings open and lots of room to anchor. A new advertiser, Newport Marina Park, wants everybody to know they have short-term slips available, with Wi-Fi, laundry, showers, a pump-out station and a cafe. Call 949-270-8159 for details. Newport Harbor also has a free anchorage with a 72-hour time limit.
Even closer to San Diego are Dana Point, where you can anchor behind the breakwater as well as possibly find a transient slip, and Oceanside, which has transient slips.
So that's the story, and we're sticking to it. It's just more than a month until the start of the Ha-Ha, and we can't wait. And did you see that a dollar is now worth more than 20 pesos? Wow! Two years ago it was 12 to the dollar. So except for berthing and marine work, which are charged in dollars, everything in Mexico costs visitors almost 50% less than it did a couple of years ago.
Over the years we've been heartened to meet many families cruising with school-age kids who are home-schooled aboard while experiencing different cultures firsthand. And we know that when those kids return to regular classrooms ashore, many of them test higher than the majority of their peers. Needless to say, of course, such results require a special parent-child relationship that not all families have.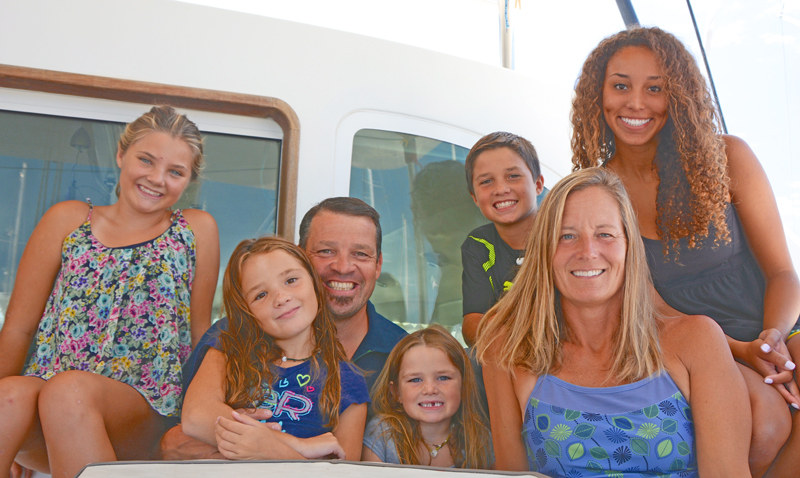 We are certainly not experts on homeschooling, but we're convinced that there's no single method that will work for every family. Some use long-established international correspondence courses, some customize curricula with their hometown teachers, and others simply ad lib.
If you've homeschooled your kids while cruising internationally, we'd love to hear what worked and didn't work for your family. Please tell us:
– How old were your kids at the time?
– What teaching method did you use (are you using), and why did you choose it?
– Did you (do you) maintain strict 'classroom hours' or keep things loose?
– What were (are) some highs and lows of your onboard teaching experience?
– And how did your kids cope with re-assimilation into regular classroom learning, assuming they did so?
Also, if possible, please send a few photos of your kids hitting the books aboard your boat, and/or enjoying firsthand learning while exploring the world under sail.
PHOTO
If you missed the award-winning film The Weekend Sailor when it debuted in San Francisco in March, you'll get a second chance to watch in a theater next month.
The 107-year-old Roxie Theater in San Francisco's Mission District will host an encore on Wednesday, October 19, at 7 p.m. A Q&A via Skype with Mexican filmmaker Bernardo Arsuaga will follow the screening. The film is in English and Spanish with English subtitles. Simon Le Bon of Duran Duran, an actual rock star, not to mention a Whitbread vet (Drum, 1985-86), narrates.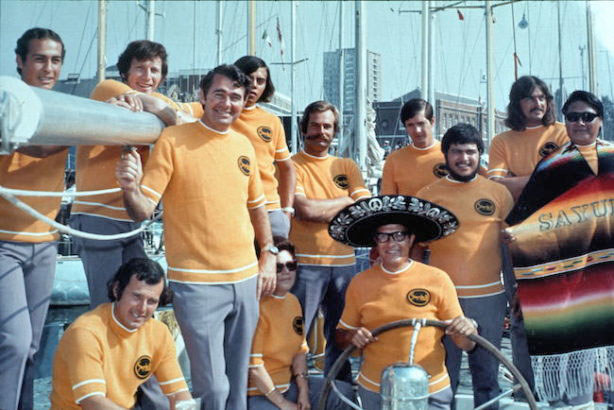 In case you're not familiar with the film, here's the backstory: In 1973, a most unlikely competitor from an unlikely country entered the first-ever Whitbread Round the World Yacht Race (now called the Volvo Ocean Race). Ramón Carlín Lima, a successful Mexican businessman in his fifties, had only been sailing casually for a couple of years and had no boat and barely a crew. Among the 17 competitors, the British Royal Navy purchased six yachts to train 800 men and chose the best four 10-man crews for each of the four legs of the race. Who would win?
Bernardo Arsuaga won the 2016 San Francisco International Ocean Film Festival Director's Award. See www.theweekendsailor.com for more about the movie.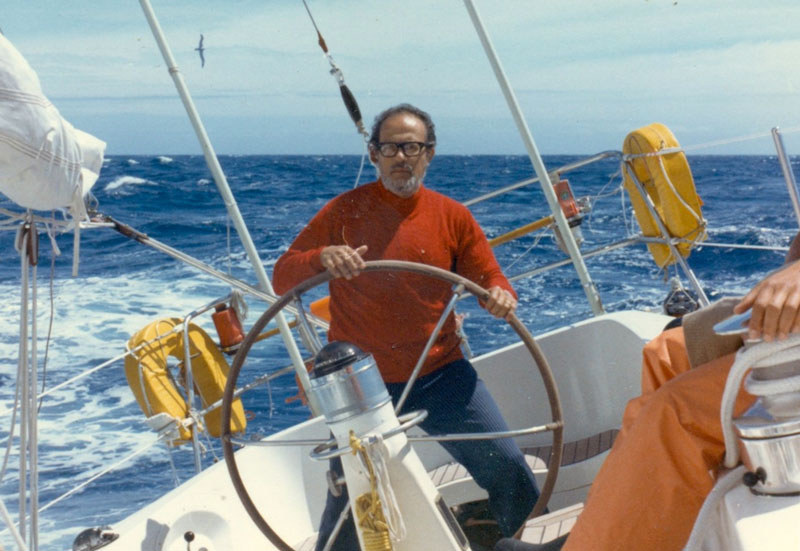 Carlín passed away on May 5 of this year, at the age of 92.
Receive emails when 'Lectronic Latitude is updated.
SUBSCRIBE