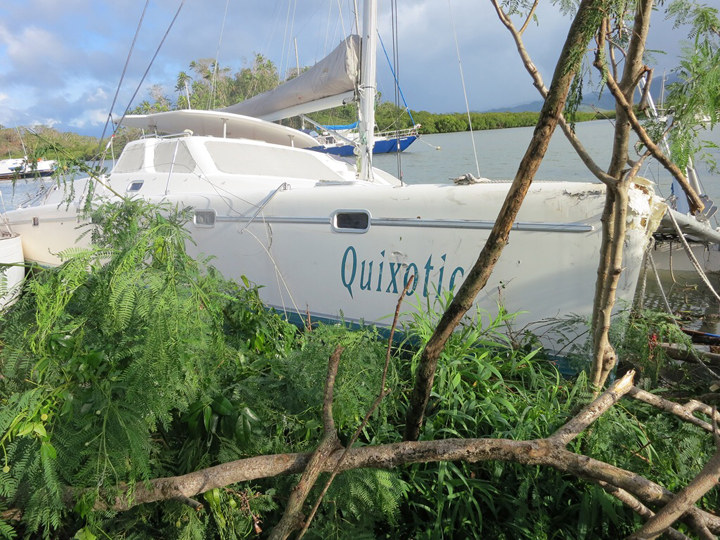 Young adventurers Lewis Allen and Alyssa Alexopulos of Redwood City have done just that. The boat is a Voyager 43 cat that was driven onto the rocks a few months ago with a group of other boats near Savu Savu, Fiji, by the winds of powerful Tropical Cyclone Winston. Having too many holes to float, she was driven up onto a beach to keep her from sinking.
Post-hurricane, Quixotic wasn't looking too good. She had a lot of holes in her port hull, the port engine and saildrive had taken a swim, the port side electrical system had been submerged, and she had that forlorn look of a hurricane-damaged boat.
While most people, including the former owners, saw the boat as half full of water, Lewis and Alyssa saw the boat as being half empty of water — and full of opportunity. After all, other than the problems mentioned above, the rest of the boat — sails, rig, rudders, electronic systems — was still in pretty good shape.
"She's certainly a project boat," Lewis admits, "but we got her for a bargain price. While our work is cut out for us, we plan on returning her to her former glory. In fact, we think she's going to make an outstanding living and sailing platform, and one that we plan to charter here in Fiji."
Latitude 38 readers may remember Lewis and Alyssa from numerous reports in the magazine. How they fell in love at first sight on her dad's boat while Lewis was buying something for the Tartan 37 Eleutheria that he was going to sail around the world. How they started cruising with the 2008 Ha-Ha. How they did the 2009 Puddle Jump and cruised the South Pacific. How they fell in love with Fiji — and if we're not mistaken — bought some land there.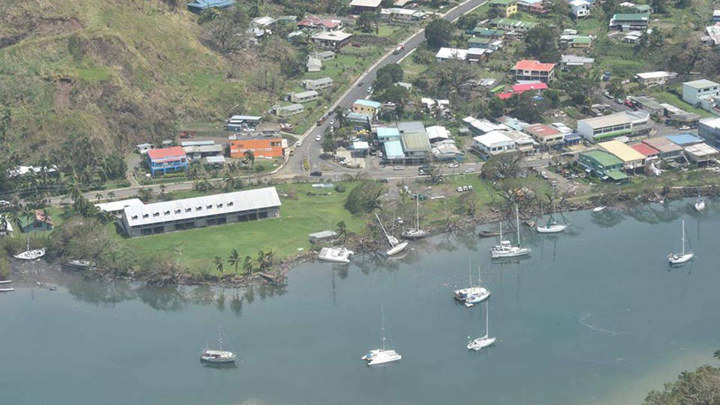 What we didn't report is that they'd changed plans and both taken training to become professional crew on yachts. In fact, they were advertising for crew positions as recently as February. Given our view that being professional crew is something that sounds great but is often like working on a floating prison in which it's impossible to have any real family life, the arrival of Winston and the destruction of Quixotic may well have been a blessing in disguise.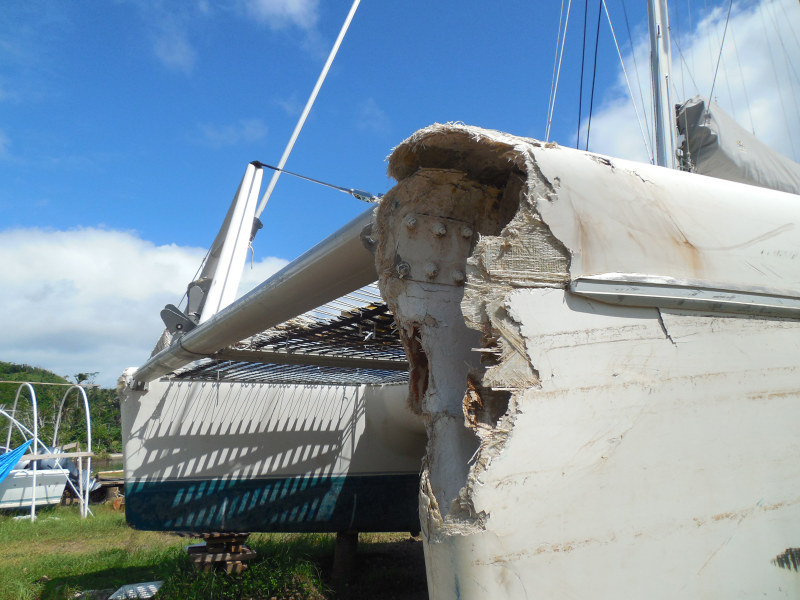 Of course, buying damaged boats is a tricky business. One has to be able to very accurately assess the true value of the boat as she's standing. Such boats are almost always overvalued, even at pennies on the dollar. On the other hand, some people have come away with tremendous bargains. Fatty and Carolyn Goodlander, for example, completed their first circumnavigation aboard a hurricane-damaged 38-ft boat they'd bought for $3,000.
Have you ever bought a badly damaged boat? If so, did you get a heck of a bargain or a money pit? We'd love to hear your story.
Receive emails when 'Lectronic Latitude is updated.
SUBSCRIBE