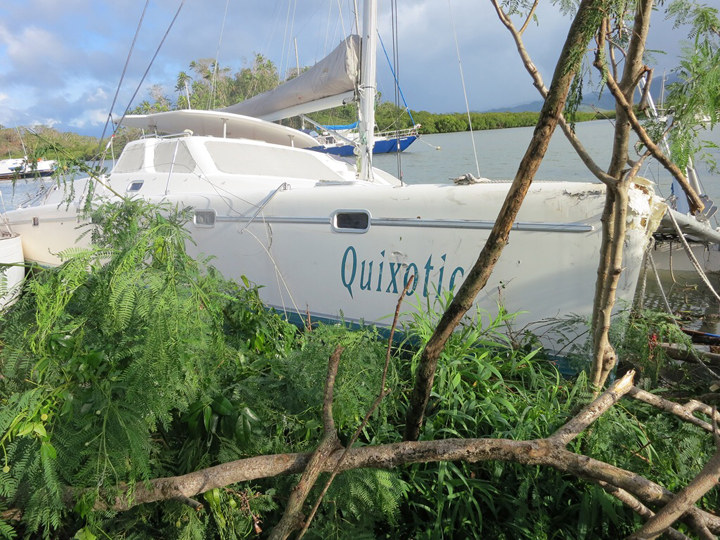 Young adventurers Lewis Allen and Alyssa Alexopulos of Redwood City have done just that. The boat is a Voyager 43 cat that was driven onto the rocks a few months ago with a group of other boats near Savu Savu, Fiji, by the winds of powerful Tropical Cyclone Winston. Having too many holes to float, she was driven up onto a beach to keep her from sinking.
Post-hurricane, Quixotic wasn't looking too good. She had a lot of holes in her port hull, the port engine and saildrive had taken a swim, the port side electrical system had been submerged, and she had that forlorn look of a hurricane-damaged boat.
While most people, including the former owners, saw the boat as half full of water, Lewis and Alyssa saw the boat as being half empty of water — and full of opportunity. After all, other than the problems mentioned above, the rest of the boat — sails, rig, rudders, electronic systems — was still in pretty good shape.
"She's certainly a project boat," Lewis admits, "but we got her for a bargain price. While our work is cut out for us, we plan on returning her to her former glory. In fact, we think she's going to make an outstanding living and sailing platform, and one that we plan to charter here in Fiji."
Latitude 38 readers may remember Lewis and Alyssa from numerous reports in the magazine. How they fell in love at first sight on her dad's boat while Lewis was buying something for the Tartan 37 Eleutheria that he was going to sail around the world. How they started cruising with the 2008 Ha-Ha. How they did the 2009 Puddle Jump and cruised the South Pacific. How they fell in love with Fiji — and if we're not mistaken — bought some land there.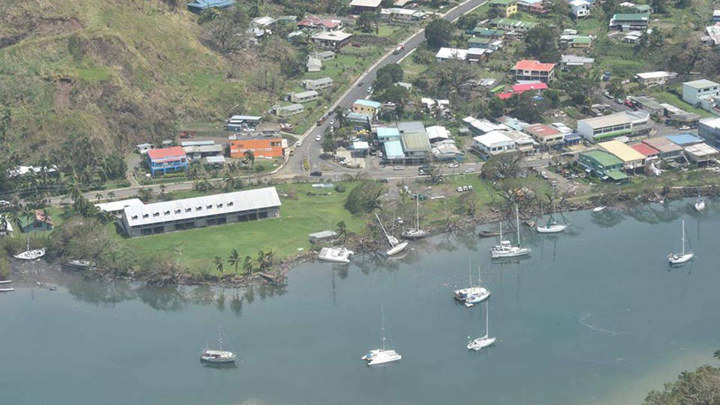 What we didn't report is that they'd changed plans and both taken training to become professional crew on yachts. In fact, they were advertising for crew positions as recently as February. Given our view that being professional crew is something that sounds great but is often like working on a floating prison in which it's impossible to have any real family life, the arrival of Winston and the destruction of Quixotic may well have been a blessing in disguise.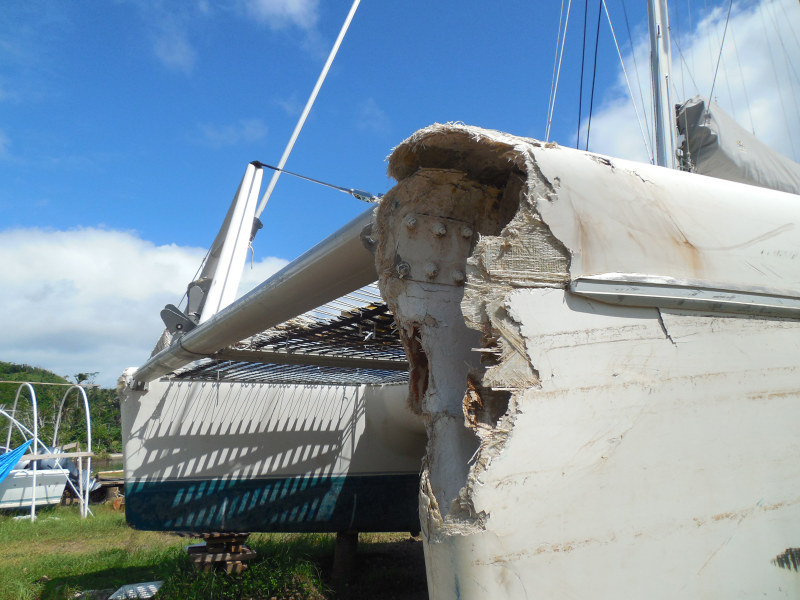 Of course, buying damaged boats is a tricky business. One has to be able to very accurately assess the true value of the boat as she's standing. Such boats are almost always overvalued, even at pennies on the dollar. On the other hand, some people have come away with tremendous bargains. Fatty and Carolyn Goodlander, for example, completed their first circumnavigation aboard a hurricane-damaged 38-ft boat they'd bought for $3,000.
Have you ever bought a badly damaged boat? If so, did you get a heck of a bargain or a money pit? We'd love to hear your story.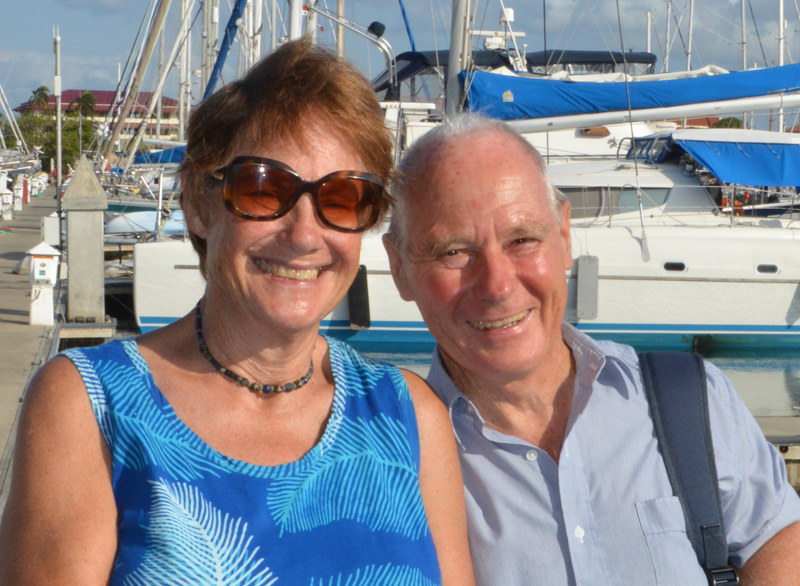 During the eight years since they departed Sydney, Australia, aboard the Oceanic 46 Kristiane, Paddy and Carolyn Mitchell have undoubtedly faced many challenges. Perhaps that's why they reacted calmly and rationally when they lost their forestay April 24, while en route from the Galapagos to the Marquesas. At the time they were still nearly 700 miles from the closest landfall — and had only enough fuel aboard to motor 200 miles.
"I am afraid that I am in a bit of trouble," wrote Paddy, 68, via Sailmail. "…I am now using a halyard as a forestay and am under a very reefed main only." The retired Australian naval officer's strategy proved to be both prudent and successful. The couple made landfall at Nuku Hiva six days later without further incident — having averaged more than 100 miles a day under their jury rig.
Upon arrival, they contacted American expat Kevin Ellis of Yacht Services Nuku Hiva, who set Kristiane up with a temporary Spectra forestay, so the Mitchells could sail another 700 miles to Tahiti for proper repairs with a bit more confidence.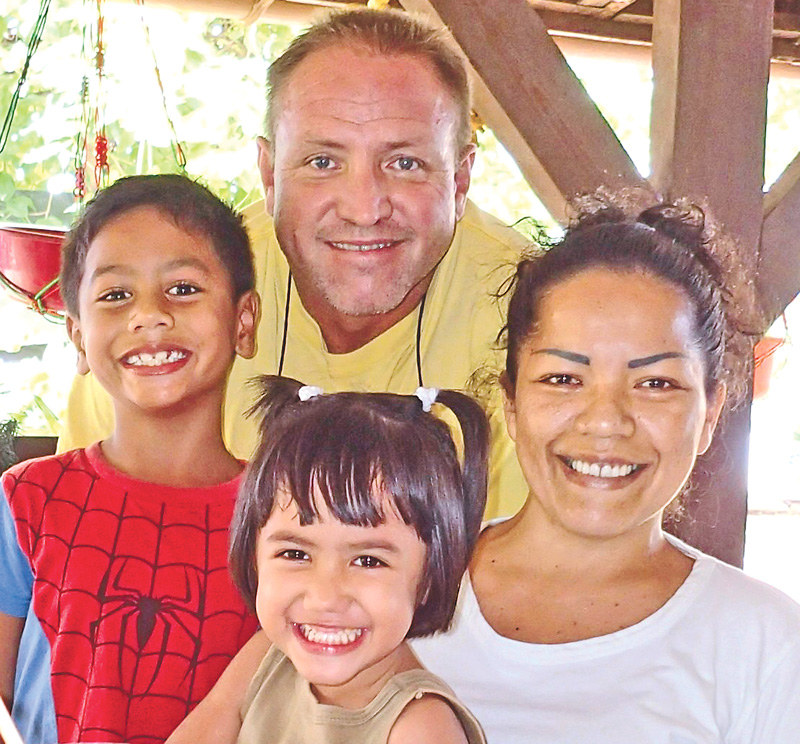 Kevin, who was profiled in the January 2015 Latitude 38, has been helping cruisers in a variety of ways since making Nuku Hiva his home nearly a decade ago. As you might have guessed, he fell in love there with a lovely Marquesan girl, Annabella, and soon abandoned his cruising ambitions in order to make a life with her. Today, the couple has two adorable kids and their business offers just about every shoreside service a visiting cruiser could need, from repairs to horse rentals.
When we met Paddy and Carolyn in Panama a couple of months ago, Paddy predicted, "I think the best part of our circumnavigation is yet to come." Despite their little rigging issue, that statement could still prove to be true, as roughly 4,000 miles of tropical island-hopping lie ahead of them before they complete their loop at Sydney. As the British say, "Remain calm, and carry on."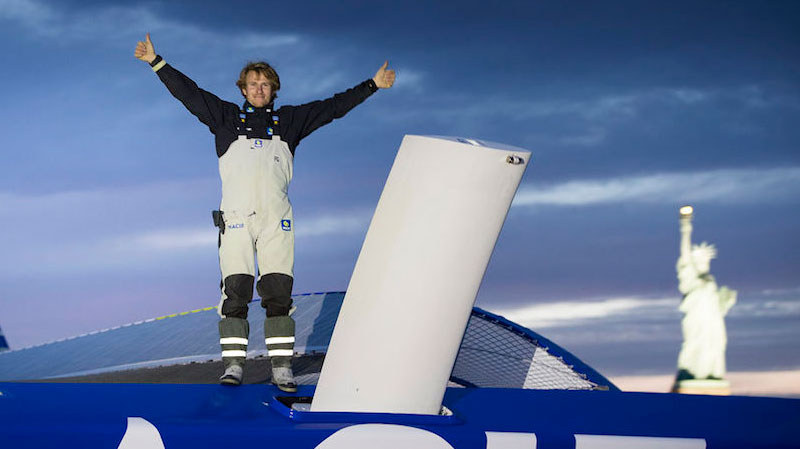 'Golden Boy' François Gabart has done it again. The 33-year-old Frenchman continues to cement his place at the very top level of sailing with another major race victory, this time claiming line honors in the Transat Bakerly from Plymouth, UK, to New York. Sailing into the Big Apple in a time of 8 days, 8 hours and 54 minutes, Gabart finished just 25 minutes off Michel Desjoyeaux's record-setting time from the 2004 edition of the race, which sailed a slightly shorter course into Boston. Sailing an atypical southerly course across the Atlantic, Gabart enjoyed extremely fast downwind sailing conditions for much of the race while battling close to, oftentimes within sight of, Thomas Coville on Sodebo, who finished nearly ten hours behind Gabart.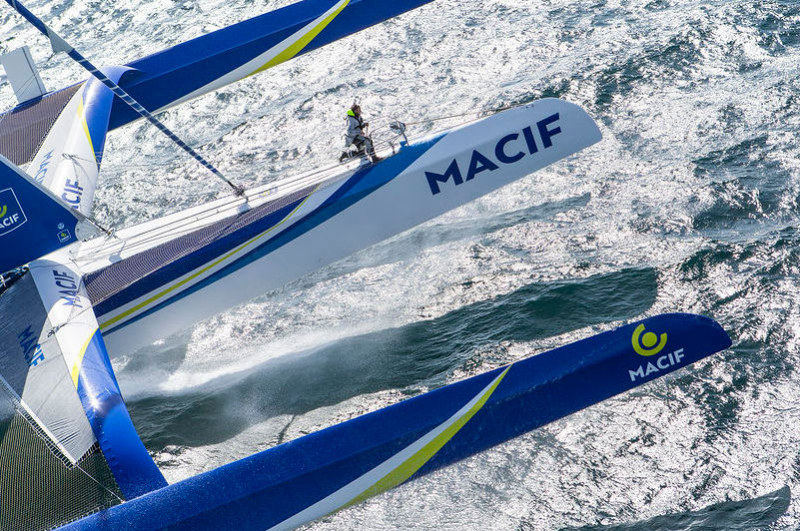 The Vendée Globe- and Route du Rhum-winning Gabart was on record pace until the very end, only slowed by light airs during his final day of sailing into New York. With his new 100-ft VPLP trimaran Macif designed exclusively for smashing solo-sailing records, Gabart is now two for two in transatlantic races, having also won the Transat Jacques Vabre last fall alongside co-skipper Pascal Bidégorry. This victory is Francois' first solo win on a maxi-trimaran, sailing the same boat that he will use in 2017 to attempt to break Francis Joyon's outright solo round-the-world record, as well as every other major solo record.
Elsewhere in the fleet, the Multi 50 trimarans are making their final approach into New York, with Gilles Lamiré on FrenchTech Rennes St. Malo now just 760 miles out and in a commanding position to win. His biggest competitors have both sustained damage, the latest of whom is Lalou Roucayrol on Arkema, which hit a UFO and damaged a daggerboard. Roucayrol and his team are now searching for a routing solution that will incorporate more downwind sailing and allow him to hold onto second place over Pierre Antoine on Olmix.
The IMOCA 60s are still locked into a thrilling battle, with Armel le Cléac'h on Banque Populaire VIII and Vincent Riou on PRB separated by some 40 miles with just 700 miles of race track left. The new foiling-generation IMOCA Banque Populaire VIII has the advantage for now, but anything can happen upon approach to New York. As winds typically get lighter near shore, this may benefit the wily old dog Riou and his lighter 'classic' IMOCA PRB.
Frenchwoman Isabelle Joschke leads a 10-boat Class 40 division over hard-charging Briton Phil Sharp, who has served his six-hour stop-and-go penalty for sailing into one of the exclusion zones earlier in the race. Armel Tripon's Blackpepper is the latest Class 40 to sustain damage, and has since retired into Horta, Azores.
In his 50th transatlantic crossing, Latitude 38 favorite Loïck Peyron on Pen Duick II leads Eric Tabarly's reference time from 1964 by a substantial margin.
Receive emails when 'Lectronic Latitude is updated.
SUBSCRIBE