If most any of us weekend warriors fell off a boat while sailing and got hit by the rudder, we'd likely come away with a serious injury only if we took the blow with our head. But Franck Cammas is not a weekend warrior, the boats he trains on are not traveling at 6 knots, and their rudders aren't thick and sturdy.
While training on a GC32 in Quiberon Bay, Brittany, on Monday, the 42-year-old French skipper of America's Cup Groupama Team France got the catamaran up on her foils, accelerating briskly to 25 knots in a 17- to 18-knot westerly on flat seas. In the sudden surge of speed, Cammas lost his balance and fell overboard, hitting his right leg on the leeward hull's blade-like rudder. At that speed, the sharp carbon edge cut deep.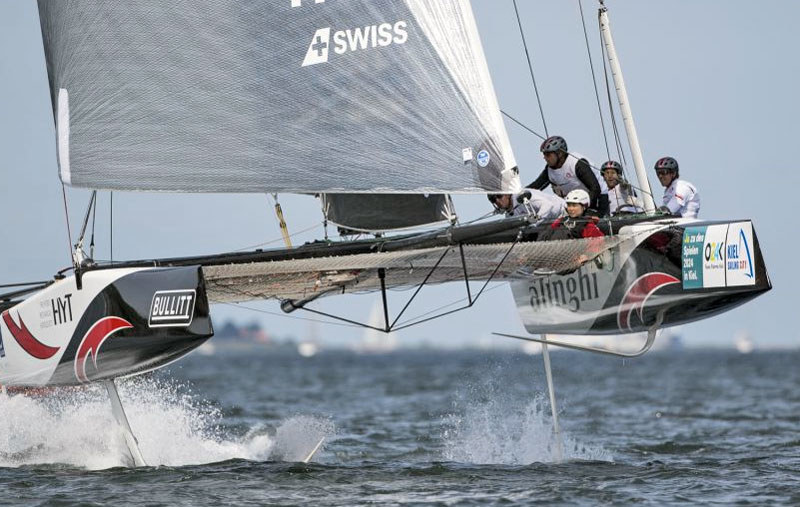 One of the crew grabbed the helm to avoid capsizing. Coach Bertrand Pacé, who was supervising the training session, got Cammas aboard his RIB as delicately as possible and headed to nearby Port Haliguen. The injured skipper was helicoptered to Nantes to take advantage of the best possible trauma care. Following several hours of surgery, doctors reassured Cammas that he will not lose the use of his foot — the arteries, nerves and tendons are unaffected. However, both the fibula and tibia were broken.
Although the Groupama Team France America's Cup Challenge will go on, Cammas' campaign for the 2016 Olympics will not. He and Sophie de Turckheim were hopefuls in the Nacra 17 multihull class.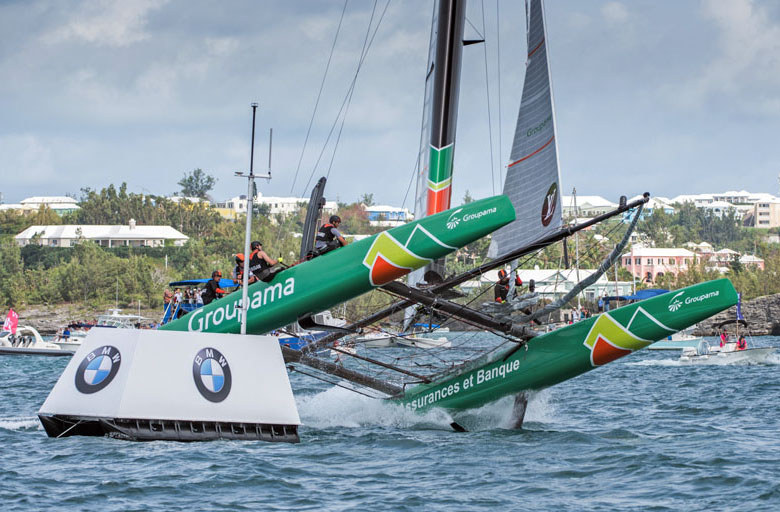 Among his many, many achievements in professional sailing, Cammas won the Transat Jacques Vabre in 2001, 2003 and 2007 (setting the record); the Route du Rhum in 2010; the Volvo Ocean Race in 2012; and the C-Class Catamaran Championship (aka Little America's Cup) in 2013 and 2015. Skippering Groupama 3 — with the Bay Area's Stan Honey serving as navigator — Cammas held the Jules Verne Trophy for two years. He had previously held the 24-hour distance record of 794 miles (an average speed of 33 knots) for two years. As a 24-year-old, he first came to glory in 1997 when he won the Solitaire du Figaro.
We wish Franck Cammas the best of success in his recovery and rehabilitation.
Receive emails when 'Lectronic Latitude is updated.
SUBSCRIBE