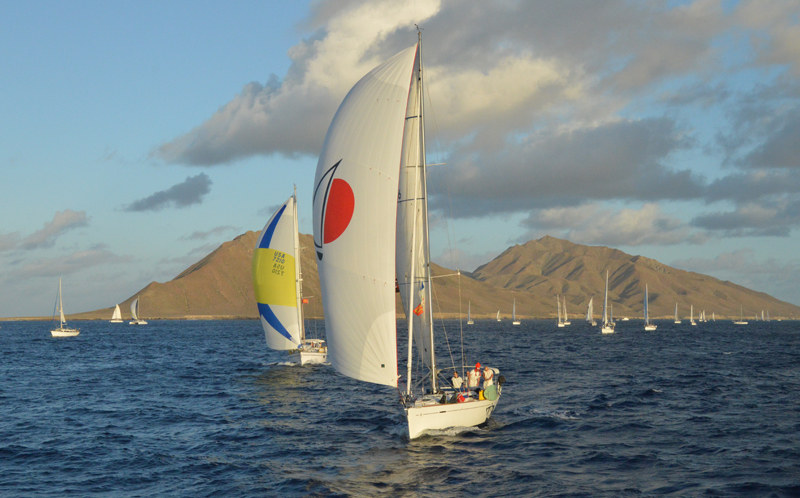 After the third leg of the 22nd annual Baja Ha-Ha from San Diego to Cabo San Lucas, at times one of the roughest in the annals of Ha-Ha sailing, most of the 450+ crew of the 115 boats managed to make it to Cabo in time for the big party at Squid Roe. As beaten up and exhausted as they were, the Ha-Ha folks rallied for an outrageous dance party, throwing their mental ages back 30 to 40 years. Who knows, maybe it was partly in response to the big banner the Squid had put up to welcome the Ha-Ha crowd for the 22nd year in a row.
But there's no rest for the wicked, with the beach party at Medano Beach this afternoon highlighted by the 'Here to Eternity' rolling-in-the-surf kissing contest. All action on the beach stops when the HTE contest gets underway.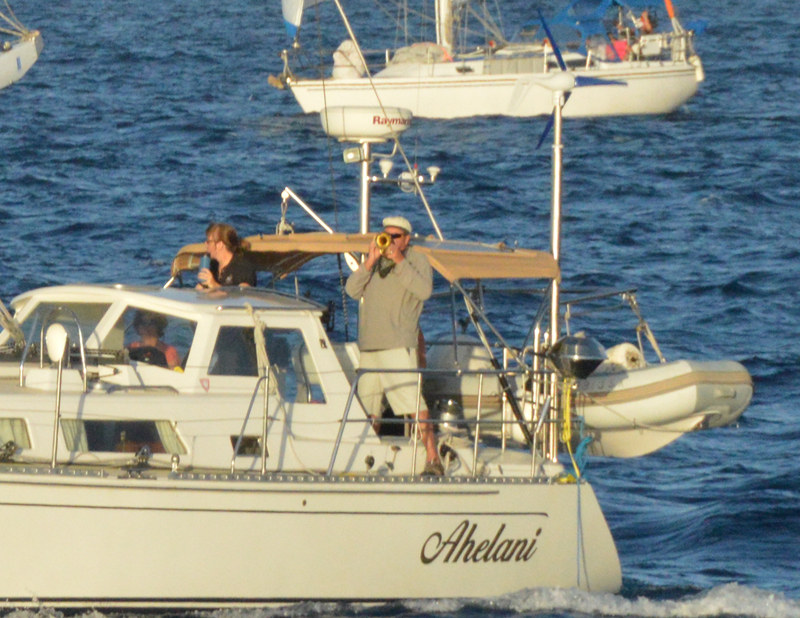 This year's fleet has been terrific, with the smallest boat ever, Tom Carr's Bluebird, a 19-ft Mirror sloop, and the biggest number of soul sailors — no motoring — in years. One couple stuck out a calm period so long that their dog picked up the ignition key to their engine and mouthed it over to them. They ignored their pooch.
When you do the Ha-Ha, your days and nights are packed with action and activities. No wonder so many people say it seems like months ago that they left San Diego. Some are even having trouble remembering the names of friends and family members. It's a living-at-Level-11 experience.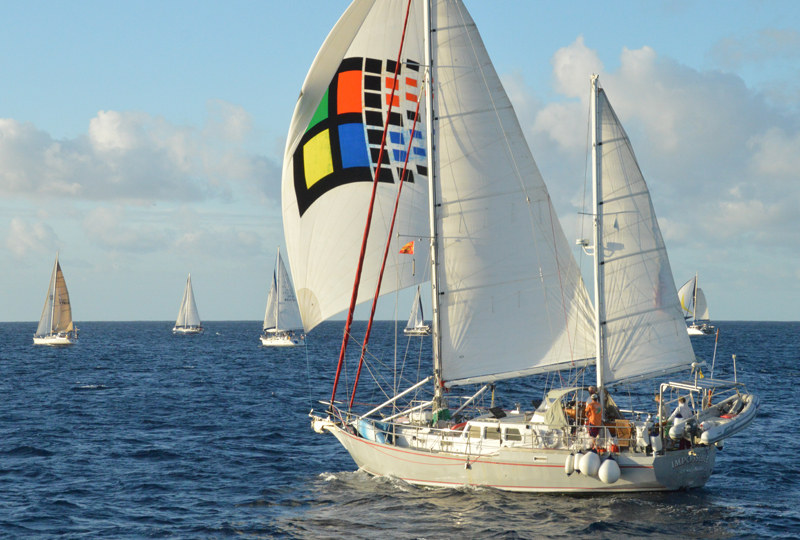 Speaking of the last leg, many boats broke personal best speeds in warm, dry winds that gusted to over 30 knots. Tom Wurfl and Helen Downs, for example, got their San Diego-based Lagoon 42 cat up to nearly 17 knots — under main alone, no less — which may be a record for that design.
The biggest Ha-Ha mystery remains who put on the fireworks show at Bahia Santa Maria. It wasn't Profligate.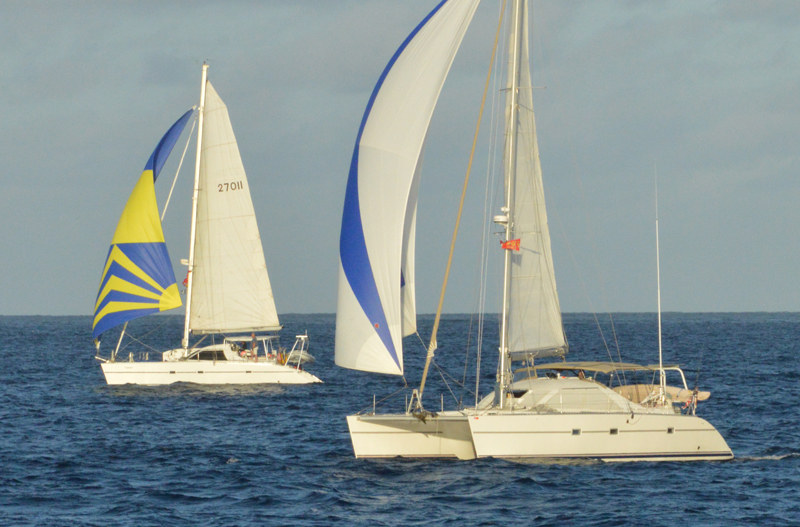 Do you know what you'll be doing in late October 2016? We do: The 2016 Ha-Ha, which will be Profligate's 20th. We hope you'll join us.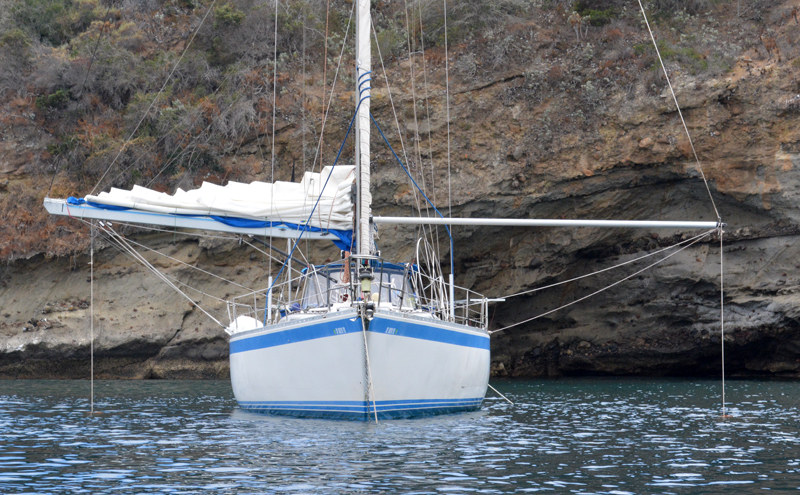 Southbound cruisers from Puget Sound or San Francisco Bay are spoiled by placid, lake-like anchorages. Even when ferries or ships throw wakes as they pass, any uncomfortable rolling quickly dissipates and you can get back to your game of Jenga. But as soon as you enter Southern California waters, you'd better be prepared to let the good times roll…and roll and roll and roll.
Don't be lulled into thinking that, just because the wind has kept your bow to the swells during the day, it's going to continue to be so generous all night. What's more likely is that the wind will switch or die altogether, leaving you to roll gunwale to gunwale until either you can't take it anymore and up anchor, or the breeze fills in the next morning. This also applies to every roadstead anchorage along the Pacific side of Baja — and more than a few in the Sea of Cortez.
Savvy sailors mitigate the rolling with flop-stoppers. These devices hang off the boat — typically from whisker poles — and use the force of the boat's rolling against the water to minimize motion. While they don't stop movement altogether, they make the ride noticeably more comfortable. So much so that, during a recent cruise-out to Santa Cruz Island, one friend threatened to stow away on our boat just so she could get a decent night's sleep!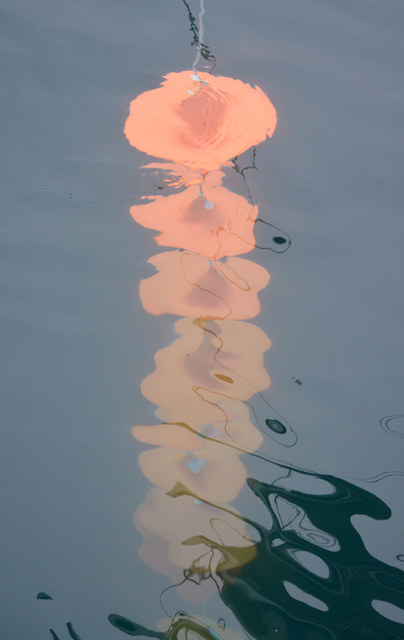 Flop-stoppers come in a wide variety of shapes, sizes and price ranges, from plastic milk crates to $600 aluminum works of art. On our Wauquiez Centurion 47 Gazelle, we use the 'traffic cone'-style Rocker Stoppers by Davis — eight per side, with a mushroom anchor at the end of each string — and have been pleased with their performance but frustrated by the amount of room they require to store. Before we take off for Baja, we'll be looking at the FlopStopper, which has a high price point but looks very effective and has the added benefit of breaking down into a small package.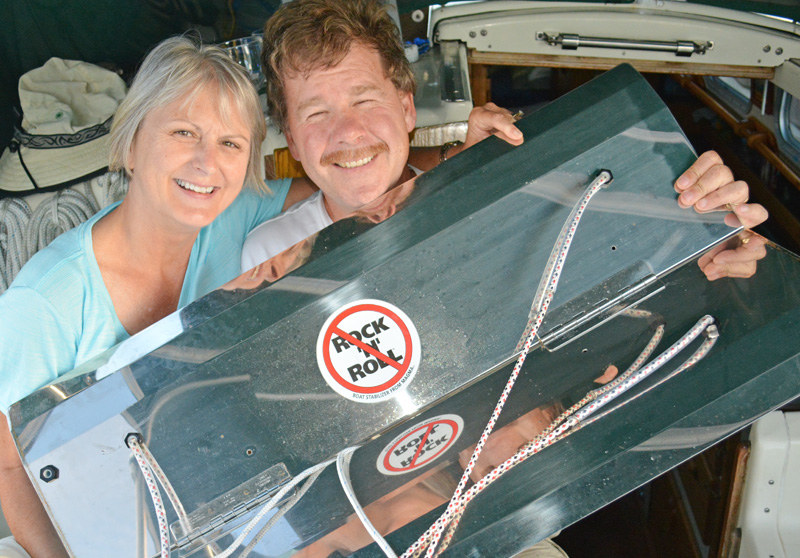 Of course there are many other types of 'roll dampening' devices in the world, and a quick Google search will turn up plenty of DIY options, but if you're heading south, do yourself — and your crew — a favor by investing in whatever works for your boat and budget. Otherwise, you might just lose sleep over it.
Ad: Sail on Seaward in Mexico
Receive emails when 'Lectronic Latitude is updated.
SUBSCRIBE