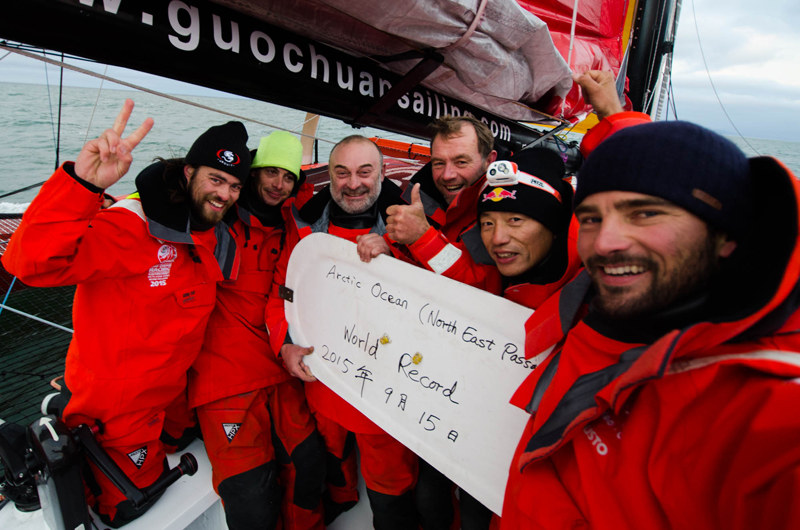 Although there was no brass band to greet them when they arrived at the Bering Strait, renowned Chinese sailor Guo Chuan and his five-man international crew set a new sailing benchmark yesterday, having completed the first nonstop crossing of the Northeast Passage in a sailboat, the 97-ft trimaran Qingdao China. (We're talking about the opposite side of the Polar Ice Cap from the Northwest Passage.) The 3,240-mile voyage from Murmansk, Russia, took them 13 days.
Having made the treacherous crossing in the name of world peace, Chuan, 50, is undoubtedly thrilled with his team's success and the attention the effort has garnered from international media, but his taste of glory was probably bittersweet. Early on, Chuan was quoted as saying: "In view of sailing, I do not want to see any Arctic ice as it would be dangerous for the fragile hull. However, it is really sad to see such disappearance of icebergs caused by global warming. Though it makes the route navigable, I would like to see more ice deep in my heart."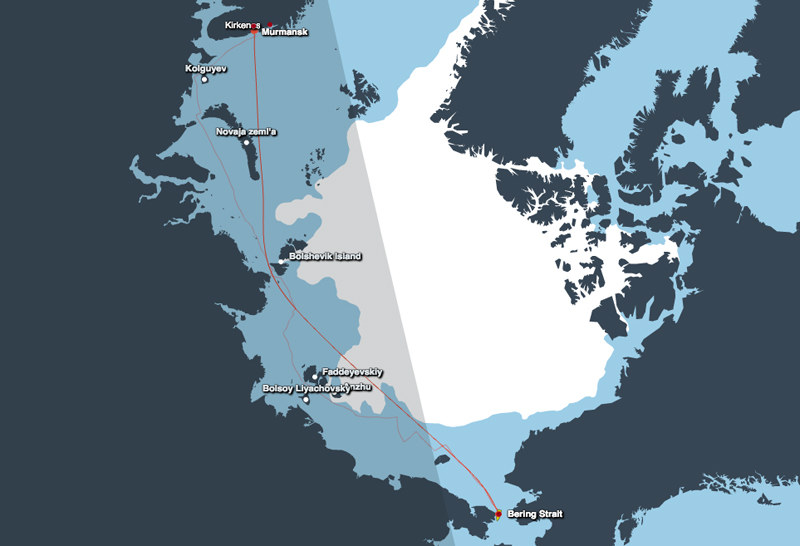 If you're struggling to recall previous attempts to cross the Northeast Passage by other sailors, you're not alone, as there have not been many. Swedish scientist Nils Adolf Nordenskjöld first did it aboard a vessel called Vega in 1878, and in modern times Russian Nicolai Litau crossed in 1999 aboard Apostle Andrew. Although parts of this route are now used by commercial vessels traveling between Russian ports and Europe, before the contraction of Arctic ice in recent years, transiting this desolate region of planet Earth would typically only have been possible in an icebreaker. And we can only imagine the red tape a sailor would have to go through in order to get permission from Russia to attempt it. (Chuan wisely included a Russian in his crew.)
Chuan's team saw a wide range of wind and weather conditions during the two-week passage. Starting on September 3, the big tri showed her speed potential during the strong winds of the first several days — at one point clocking 37 knots, and logging a 466-mile day. The team first encountered ice on day six, an experience that was both thrilling and worrisome. As they passed the most northerly Russian land mass, their track reportedly passed north of latitude 78N — less than 800 miles from the North Pole.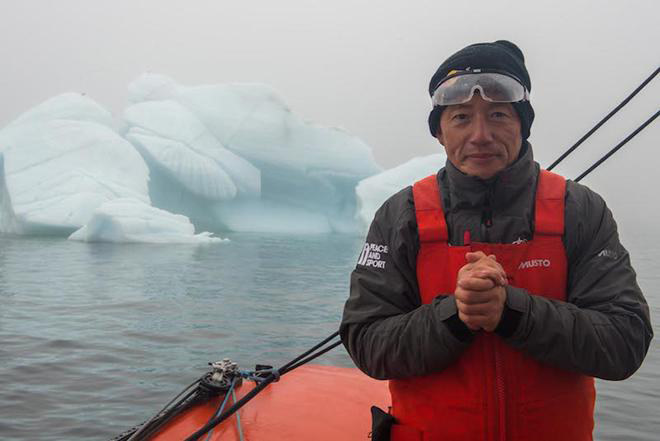 Qingdao China is the former IDEC, which Francis Joyon solo circumnavigated in 57 days in 2008. Remarkably, Chuan, who is regarded as China's shining star of offshore sailing, was first exposed to the sport only 15 years ago. In 2008 he completed the Volvo Ocean Race as a media crewmember, and in 2013 he became the first Chinese to solo circumnavigate the globe. We have to wonder, what's next? (See the website for more on the crossing.)
Click here to Watch the Video now.
If you have sympathies for the anti-nuke movement, you won't want to miss the chance to check out the original 'peace boat', the Golden Rule, which is scheduled to arrive in San Francisco Bay this Sunday.
As reported earlier, here and in
Latitude 38
, this wooden 34-ft ketch was resurrected from a Humboldt Bay mudflat a couple of years ago, and was painstakingly refurbished by a team of dedicated volunteers, many of whom are members of the Veterans for Peace organization.
The Golden Rule holds a special place in the hearts of antiwar and anti-nuke activists and sympathizers, as she was the first vessel to attempt being a nonviolent impediment to nuclear testing in the Pacific islands, and her crew — one of whom was a former US Naval officer — is credited with inspiring many subsequent anti-nuke efforts.
Following recent visits to Monterey and Santa Cruz, the Rule is expected to arrive beneath the Golden Gate sometime this Sunday. You'll know her by her tanbark sails emblazoned with a peace sign and a white dove. She'll be in the Bay for three weeks from Sunday through October 10, September 21 being the International Day of Peace. Viewing locations have not yet been announced, although either Berkeley Marina or Sausalito is likely. Check out the website for details or call Gerry Condon, National Board Vice President of Veterans for Peace, at 206-499-1220.
Receive emails when 'Lectronic Latitude is updated.
SUBSCRIBE