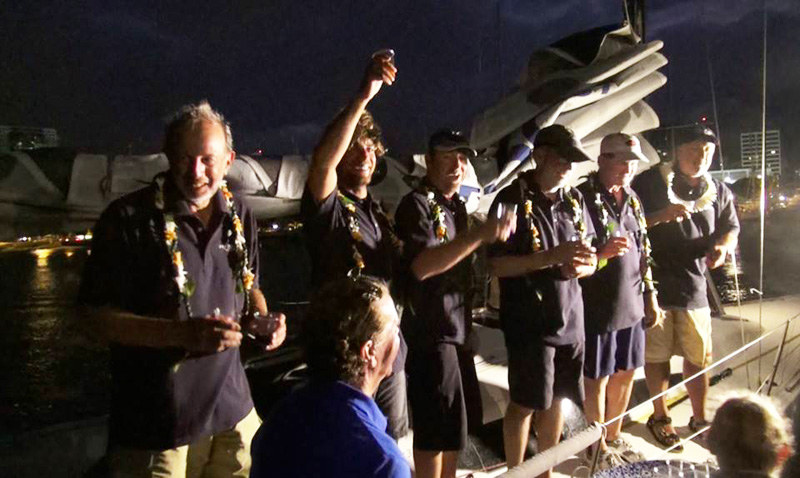 At 4:12 a.m. local time this morning Harry Zanville's San Diego-based Santa Cruz 37 Celerity crossed the Transpac finish line off Oahu's Diamond Head buoy, becoming the first to finish what has been an uncommonly slow and challenging L.A.-to-Honolulu race.
Since the first group of starters sailed out of Long Beach nearly eleven days ago, the fleet of 57 boats (only five having retired) has had to overcome light winds, atypical routing, extra-squally conditions and an unprecedented amount of floating debris and rubbish on the way to Honolulu.
In stark contrast to Celerity's Transpac debut four years ago, when she sailed too far north and finished near the back of the pack, the 37-ft Tim Kernan-designed racer/cruiser has made gains in this year's race exactly where she lost out four years ago: in routing and navigation. Engaged in a first-to-finish and ORR Overall handicap drag race with Paul Stemler's J/44 Patriot and Tracy Obert's custom 59-ft ketch Marjorie, Zanville and his Corinthian crew stayed on a starboard jibe longer than her rivals, anticipating the eventual easterly shift near the islands, and then nailed her port-jibe layline from nearly 500 miles out. With Celerity's rivals all jibing too early and needing to take a couple of hitches back to starboard, Celerity stayed on port and lit the afterburners to continue making solid VMG to the barn.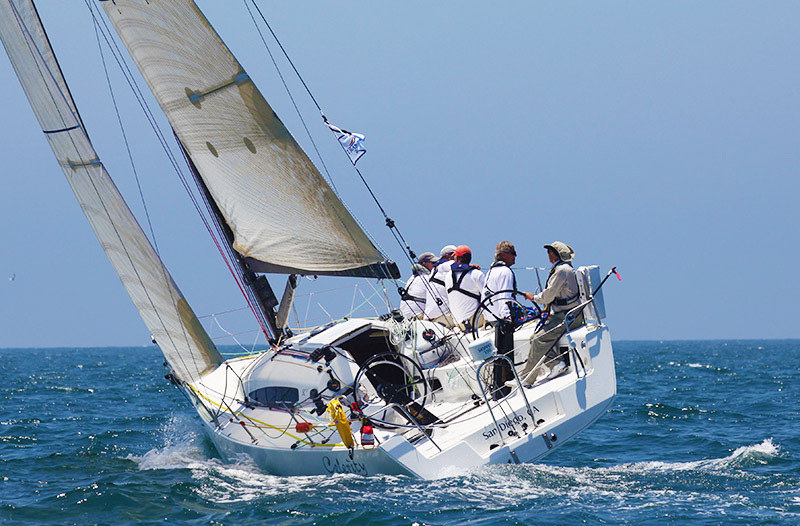 With maxi-trimaran Lending Club 2 having officially withdrawn from the race to chase an outright course record and the conditions being less than ideal for the bigger boats that started on both Thursday the 16th and Saturday the 18th respectively, no Transpac race records will fall in 2015, despite the unprecedented caliber of yachts entered. That's not to say that there aren't thrilling battles going on all over the course, however. The lightweight and long 'sleds' of Division 3, which excel in light-to-moderate breeze 'waterline' conditions, have begun to work their way up the overall rankings and threaten to claim overall handicap honors, as have the TP52s in Division 2.
Predicted to finish around a day off outright monohull record pace and the fixed-keel Barn Door record pace respectively, both Wild Oats XI and Rio100 have had their hands full with Ragamuffin 100, as the trio of super-maxis have all chosen wildly different routing options through the touch-and-go middle section of the race course, which was defined by a lingering area of high pressure between two dissolved lows. Only recently consolidating well north of the rhumbline and jibing to port for their approach to the islands, Wild Oats XI looks to have cemented their position as the favorite to win Division 1, while the fixed-keel Rio100 should place second in division and claim the coveted Barn Door trophy for fastest elapsed time of a fixed-keel monohull. Current Barn Door record holder, the R/P 74 Wizard, is less than a hundred miles behind and currently correcting out to third in Division 2 behind the TP52s Bolt and Destroyer.
Tim Fuller's J/125 Resolute continues her match race with Greg Slyngstad's J/125 Hamachi, with the double-handed entry Resolute sailing brilliantly to hold onto a narrow lead in the intensely competitive Division 4, despite having just two crew on board and competing against five other fully-crewed vessels including two sisterships! The Corinthian crew onboard the Santa Cruz 50 Allure is hanging tough to lead Division 5 against wicked-up Bay Area entry Lucky Duck and Hawaii race stalwart Horizon.
There's still a whole lot of race track left for much of the fleet, and with the majority of the pack sailing well north of the rhumbline, and in a literal minefield of trash. There have been several reports of minor damage and crews having to go overboard to cut away fishing nets, or back up to dislodge their boats from rubbish. Anything can still happen in this 48th edition of the Transpac. The race will unfold extra quickly as the fleet approaches the finish and the 6-hour delayed trackers go live. Follow the tracker here and see the website for all the latest.
Real racing in the lead-up to the 2017 America's Cup starts tomorrow in Portsmouth on the south coast of England with the first Louis Vuitton America's Cup World Series regatta (yes, the fancy luggage company is continuing their AC sponsorship). The six teams met in competition for the first time today, sailing five-man foiling AC45s in two practice races under heavy rain in light, shifty conditions. The home town hero, Sir Ben Ainslie, took the first race and Glenn Ashby's Emirates Team New Zealand won the second contest.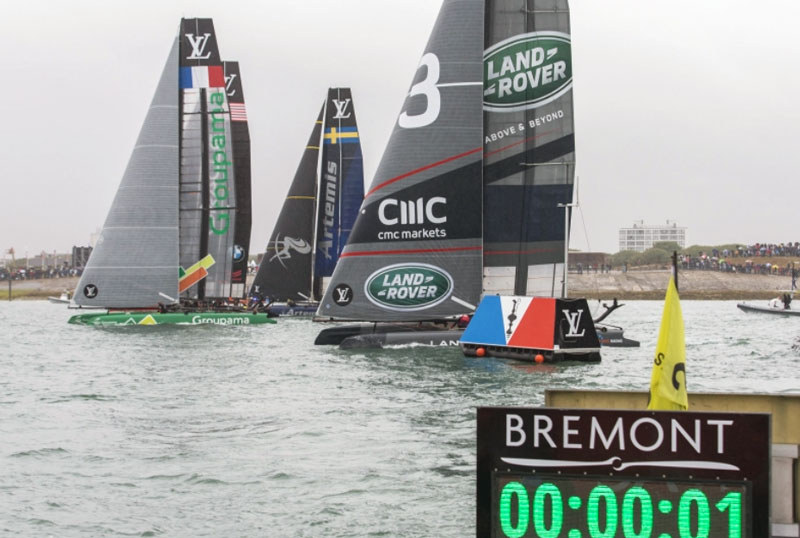 Ainslie's Land Rover BAR is the favorite to win this weekend's counting races. Besides ETNZ, the others are Groupama Team France, Artemis Racing, SoftBank Team Japan, and the defender, Oracle Team USA, sailing under the burgee of San Francisco's Golden Gate Yacht Club.
Racing will start on Saturday afternoon at 1:40 p.m. local time (6:40 a.m. PDT). Two fleet races are scheduled each day. To watch live in the USA, you'll need the AC+ app, which costs $7.99 for ACWS Portsmouth. NBC Sports will show highlights. For more info, see www.americascup.com.
Swan 461, 2006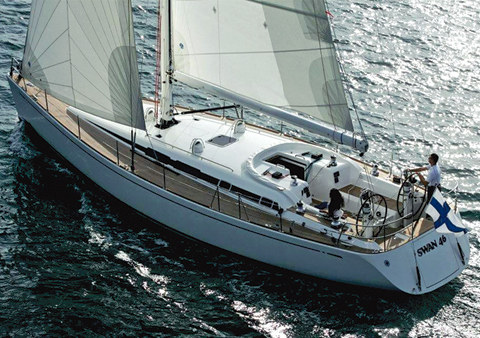 Lohengrin is a low use, single-owner boat set up for easy short-handed sailing. Berthing is made simple with a retractable bow thruster. Carbon fiber mast, no running backstays needed. Twin steering wheels, large comfortable cockpit with electric winches.
Located in Sausalito, asking $625,000.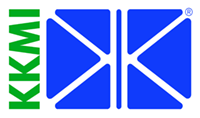 Receive emails when 'Lectronic Latitude is updated.
SUBSCRIBE