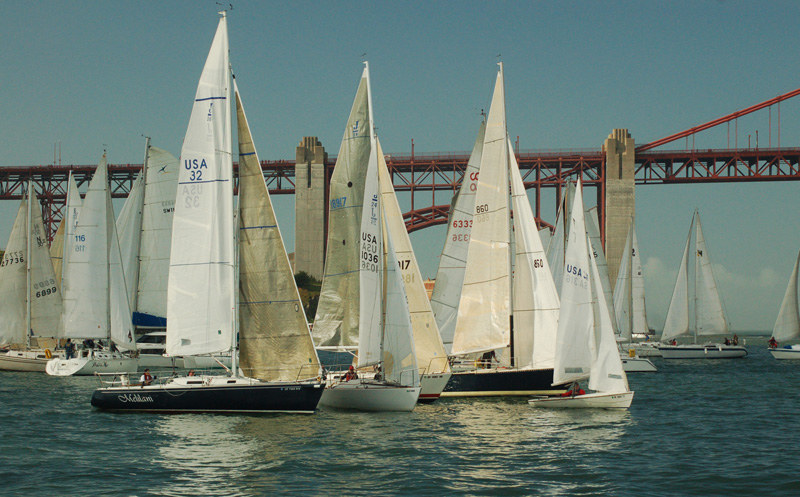 Back on January 6 we asked Singlehanded Sailing Society members why they loved the infamous Three Bridge Fiasco so much. To our surprise, we received a heck of a lot of responses. Naturally, we wanted to share them with you, since the race begins early tomorrow morning and we figured this would be a good way to get everyone amped for the big race.
Larry Riley: "Well actually, I have found that for the most part the weather is pretty nice. I'm usually praying for wind. That said, we'll probably have a 30-knot sleet storm this year. So, yes a bit colder than summer but the race has: flat water, usually mild wind, great lighting — the sun's low in the sky.
"Why single hand? Hmm, poor personal hygiene? Crappy personality? Too cheap to feed the crew? In love with my spinnaker and want it all to myself. All of the above?
"Well seriously, I just like single- and doublehanding. Just don't like a crowd on the boat when sailing."
Daren Heldstab: "Because it's a blast? Seriously, the thing about the Three Bridge is that it's a real sailor's race. The racers have to deal with January's often-very-light, fluky conditions in addition to adverse currents, etc. But the weather is often mid-winter spectacular! Also, the folks with the most high-tech, expensive gear aren't necessarily going to seize the day since there is no set course, and things are so fluky that time of year that things could go a number of ways, and often local knowledge trumps bankroll."
Robby Robinson: "It is past tense for me — many years ago — but Dolores and I usually never did well aboard Rolling Stone due to lack of wind during the Three Bridge, but I remember one really, really stormy race with one squall following another, the old IOR One-Tonner finished first in class. I've done a lot of singlehanded racing, including two TransPacs ('82 & '88), but I can still remember that Three Bridge race.
"The Three Bridge gives meaning to crowd sourcing. I could never understand why more YCs or the YRA didn't run races similar to the Three Bridge. It requires thinking beyond boat speed. It has obviously been the most popular race run on San Francisco Bay."
Ants Uiga (Three Bridge Fiasco founder): "Flash back to '88 or '89, the memory gets a little vague.
"Typical January conditions include no wind, fickle winds, strong tides, and big changes. It all adds up to a race chairman's dilemma in trying to figure out a way to configure a race. Besides, I was never a good sailor and couldn't figure it out.
"So, I transferred the decision-making from the race chair to the skipper. Fiasco seemed like a good name. If no one finishes, the race chair wins. This gave me an option to win that would not happen as a skipper.
"The proud 'papa' watches with glee as the number of participants increases. A big special thank you to all the volunteers who manage the race each year!"
Darren Doud: "Let me count the reasons:
"Anyone has a chance to win one of the largest sailboat races, so why miss out.
"It feels a little like playing the lottery. Will this be my year to win the Three Bridge? The race format combined with the shifty winds, large wind holes, and strong currents creates so many passing opportunities. If you make enough right decisions, combined with some luck, then you might have a shot at the top spot.
"More choices in race tactics. I think the wider range of race tactics creates a more interesting problem to solve. One of the first questions I am asked by other racers about the Three Bridge is which way are you going or which way did you go. It is one of the first big decisions we have to make in the race, and if it turns out to not work out, then you spend the rest of the year wondering if you could have done better going the other direction.
"Mid-race progress report. It is always fun to pass boats going the other direction and gauge your process mid-race. It keeps you in contact with other boats that are racing.
"Tradition. My dad introduced me to the race and I have been competing in it since the late '90s.
"The first to finish is the winner. No crunching rating numbers after the race and if you can see the first boat to finish, then you know you did good."
Receive emails when 'Lectronic Latitude is updated.
SUBSCRIBE