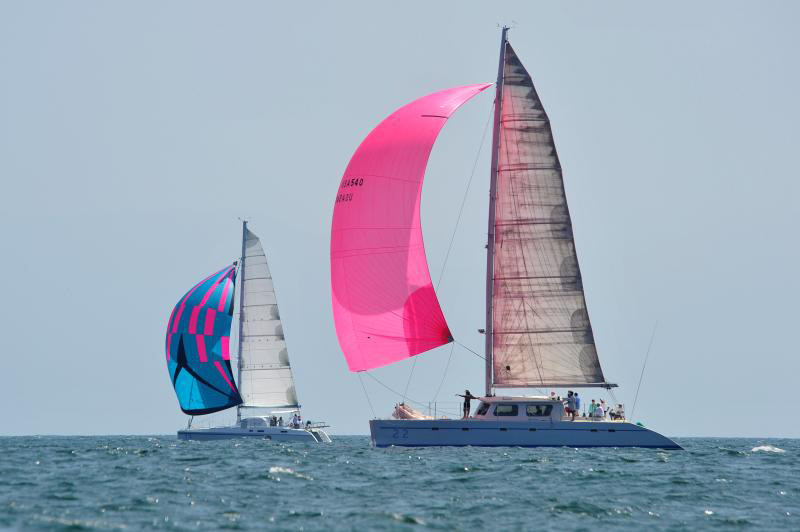 The video here is of Katrina Liana demonstrating how to pump up an inflatable surfboard on Profligate last Christmas. She makes it look easy, doesn't she? We're happy to report that Kat is once again assisting Riviera Nayarit Tourism and Latitude 38 by helping to put on the Sailors' Splash in La Cruz on Friday, December 13, and the Banderas Bay Blast on December 15-17.
What's the Splash? It's the big welcome for all of this year's new cruisers — and old cruisers — to the Riviera Nayarit (the northwest portion of Banderas Bay). It starts at 10:30 a.m., when all the captains and crews of boats who will be participating in the Blast are invited to board Profligate and other cats for a trip to seven-mile distant Paradise Village Marina, where we'll call on the Vallarta YC to have a look around, take a dip in their pool, and who knows what else.
That afternoon we'll make our way back to Marina Riviera Nayarit at La Cruz where, at 3 p.m., we'll start the Intergalactic New Rules Volleyball Championship. The new rules are simple: 1) The main thing is to always keep the ball moving, so a person or side can hit it as many times as possible, and a ball landing in the water doesn't stop play; 2) Only women can hit the ball downward; 3) Men are encouraged to wear Speedos. This event will be covered by ESPN 9's quadcopter for a three-hour special to be aired on Christmas Day.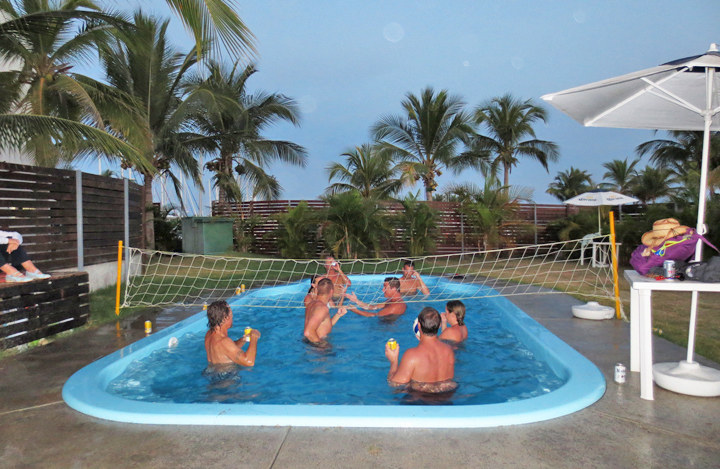 Nayarit Riviera Tourism's Splash Party will begin at 6 p.m. There will be free appetizers, beverages, sun shirts and hats for all those who will participate in the Banderas Bay Blast. Naturally there will be music, too. And Katrina will probably give an in-person inflatable SUP inflating demonstration.
The three-day Banderas Bay Blast, which features Baja Ha-Ha style 'racing' for cruisers, starts on Sunday December 15 after the Saturday layday. In order to avoid any accidents, this will be pursuit racing, with each boat having her own starting time. In order to encourage participation by boats that rarely, if ever, race, these boats will be given a triple Latitude handicap bonus, and will be vying for one of three pizzas donated by Philo's. The 'racing' will start sometime after noon, and be short enough to continue the Intergalactic New Rules Volleyball Championship at 5 p.m. Philo's Music Studio, Bar and Restaurant will open just for the Blast participants on Sunday night for music, drinks and food.
Monday is the seven-mile race to Punta Mita. Time and waves permitting, there will be a surf and SUP contest. Monday afternoon marks the annual opening of the Punta Mita Yacht & Surf Club, which is located in Punta Mita at the last building at the base of the last jetty. Get your Punta Mita Yacht & Surf Club shirts — all proceeds to charity — while they last. Opening ceremonies at the club will be presided over by new Commodore Kat. Lifetime memberships are $1, but require that you sail to Punta Mita and that you received one paddle by the Commodore with a carbon fiber paddle. Current members often fake not being members so they can get that paddling. Extra paddles, which are very popular, are an extra $5 each. All proceeds go to charity.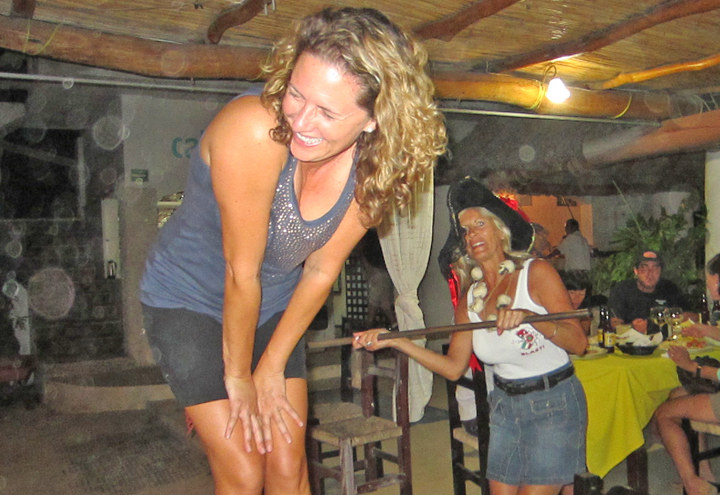 The final event of the Blast is Tuesday's Pirates For Pupils Spinnaker Run for Charity from Punta Mita to Paradise Marina. The fun starts in the morning, when the young children of Punta Mita put on a lunch performance for everyone at the yacht club. The 'racing' starts at 1 p.m. Anyone donating $20 or more will be placed on one of the boats. There will be a limited number of free berths for Monday night at Paradise Village Marina.
If you're going to participate, please advise Doña de Mallorca, so she can figure out how much beer and how many shirts to buy. Trust us, you don't want to miss this one — even if you have to fly down to join a boat as crew. After all, at this time of year the sun is always out, it's always 85 degrees in the afternoon, the breeze is mellow, the seas are flat, and the natives are friendly.
Midwinter racing spans the entire Bay Area and provides both experienced racers and newcomers to the competitive side of sailing ideal opportunities to get out on the water. Apart from stormy days, winter wind and sea conditions are usually more forgiving than during the middle of summer, which means almost everything on the boat happens in slow motion.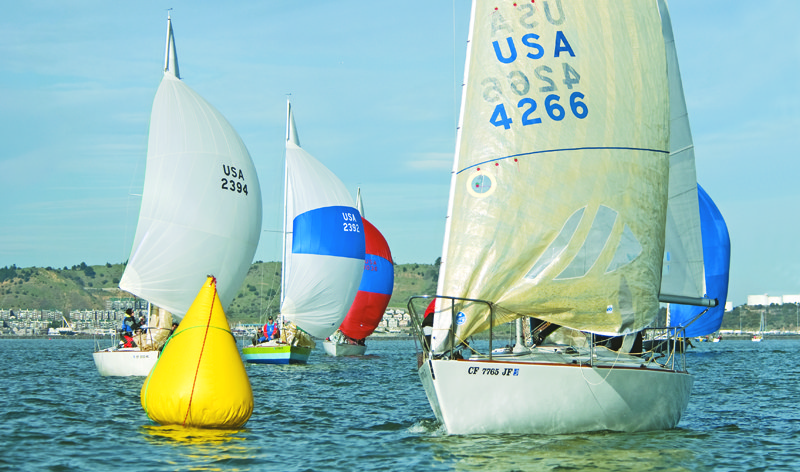 So, if you need to practice starts on that Moore 24 you just became a partner in, you need more practice time on the bow, you want to hone your spinnaker trimming skills, or you'd like to get a low-stress intro to volunteering for race committee work, here are a number of opportunities.
On Thanksgiving we attended a cruiser get-together out at Punta Mita, Mexico, where for some reason the conversation turned to engines and engine hours. Jake and Sharon Howard of the Seattle-based Hunter 45 Jake, who have spent the last six summers in the Sea of Cortez and the last six winters cruising mainland Mexico, reported they have 12,000 hours on their diesel. That's a lot.
That careened off into a conversation between Wayne Hendryx of the Hughes 45 Capricorn Cat and ourselves over things that can be done to extend the life of a diesel and to improve engine performance. Three obvious ways to extend the life of a diesel are to run it regularly, change the oil frequently, and give it time to warm up before use and cool off after a long run. But then Hendryx said he also likes to use vinegar and molasses on his Volvo diesels — 4,000 hours on each.
Get out of here! Vinegar and molasses?
Hendryx says he pours a couple of gallons of vinegar into a tub, sticks the engine raw water intake into the tub, turns the engine over a few times until the raw water system is full of vinegar, then lets the vinegar sit inside the engine for 48 hours.
"I learned this trick from an old diesel mechanic who had a shop at Svendsens in Alameda," Hendryx told us. "He told me if I left the vinegar in for 24 hours, it would clean out all the salt crystals that form and turn water route curves into corners, restricting the flow of cooling water. I tried it twice and didn't notice any difference, so I decided what the hell, I'd leave the vinegar in for 48 hours. And that did the trick. I swear my boat goes almost a knot faster at full speed now."
We guess we believe that.
"Do your engine belts ever squeak?" he asked us. "The solution is to coat the pulley with a little molasses. It keeps the belt from slipping."
"What are you going to tell us next, that you use toilet paper as oil filters?" we asked with skepticism.
"As a matter of fact, I do use rolls of toilet paper as oil filters," Wayne responded.
Our question for you is whether you believe Hendryx. If you do believe him, just remember where the vinegar goes and where the molasses goes, because you don't want to have vinegar on your pulley and molasses in your raw water coolant system.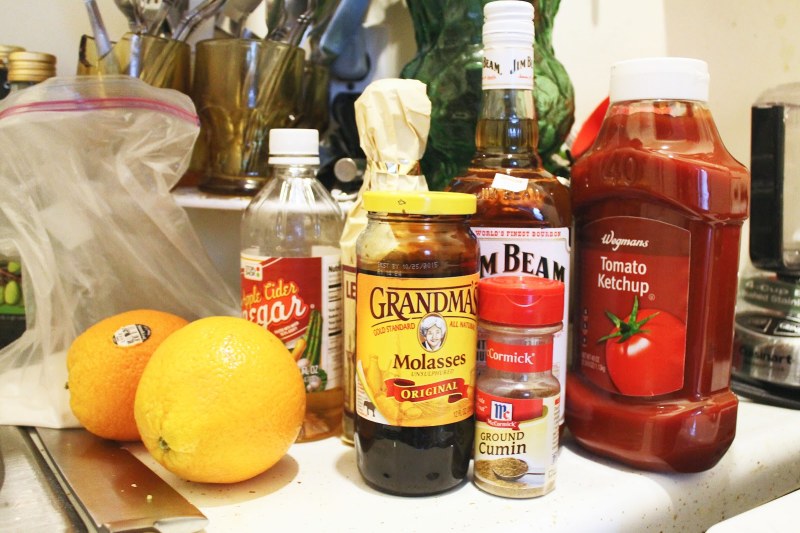 Receive emails when 'Lectronic Latitude is updated.
SUBSCRIBE