Francois Gabart and Michel Desjoyeaux onboard MACIF — the dream team in this year's Transat Jacques Vabre — dismasted yesterday less than 150 miles from Salavador de Bahia, Brazil while leading the IMOCA class. The pair of Vendée Globe winners had been caught and passed by fellow VG champ Vincent Riou and PRB in the doldrums just two days before. Not ones to back down from a fight, the duo put the pedal to the metal and pulled out a 20-mile lead over PRB nearly overnight to solidify their position atop the IMOCA fleet. That's when the top two-thirds of their 90-ft rig came crashing down. This is a painful case of déjà vu for the two French superstars who also suffered a démâtage — dismasting — while fighting for the lead of the last Barcelona World Race two years ago.
"We were sailing on port tack with the full mainsail and big gennaker in 15-20 knots of wind with a little sea from behind us," says Gabart, "which was allowing us to surf a little. It was not unpleasant. I know we were pushing the boat . . . and this is not exactly the first time I have been pushing the boat since it was launched two years ago.
"After the Vendée Globe, we set a new mast which is lighter. We wanted to save some weight without sacrificing reliability. But this mast was always a bit more fragile in the harsh conditions of the Transat Jacques Vabre. I don't want to second guess anything but it seems obvious."
Open 60s dropping rigs — or keels, for that matter — are not exactly a new phenomenon and beginning this Vendée Globe cycle, all new IMOCA builds will have one-design rigs and keels in an effort to improve reliability and appease sponsors. Fortunately for everyone, both sailors on MACIF are safe and should arrive in Salavador de Bahia by the time you read this.
Elsewhere in the fleet, the top two Multi 50s have finished with Erwan La Roux and Yann Elies' FenêtréA Cardinal holding off a race-long attack from defending champion Actual to win by just over five hours after 5,450 miles and two weeks of racing. PRB has assumed the lead in the IMOCA class while Maître Coq and Safran duke it out for second. In the Class 40s, GDF SUEZ looks to be escaping the doldrums with her lead intact after being seriously challenged when the fleet compressed when entering the doldrums.
Well-known East Bay woodworker Kyle Miller was found dead yesterday morning inside his 1989 Mercedes, which was partially submerged off the Sugar Dock facility on the south side of Richmond's Santa Fe Channel.
After entering the gated facility at an unknown hour, the car apparently struck a concrete piling that was laid horizontally along the edge of the wharf, causing it to topple into the channel, with the Mercedes evidently following it into shoaling waist-deep water. When the upside-down vehicle was eventually lifted out, Miller's body was found lying against the headliner — not restrained by a seat belt. The windows were all rolled up.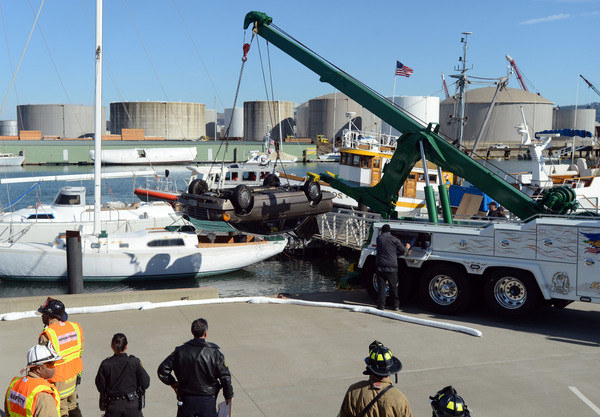 For the past seven years, Miller lived aboard his Chris Craft motor cruiser at the Sugar Dock, where he occasionally acted as caretaker when the facility's owners, Bill and Grace Bodle, were out of town. Among other Bay Area employers, Miller had worked for designer Tom Wylie and naval architect Andy Davis. He had a keen interest in music, and reportedly rehearsed with a group of friends regularly. Miller is said to have been in his mid-40s.
Bill Bodle was the first to notice the vehicle, at about 8:15 a.m. yesterday. He immediately called 911, which resulted in a huge response: as many at 10 Richmond police squad cars, five fire department vehicles, and eventually a large Coast Guard vessel, whose rapid approach to the scene generated such a large wake that it unfortunately dislodged the wreck from the shallows, and allowed it to slip into deeper water, partially beneath a berthed sailboat. After some jurisdictional wrangling between the various agencies, a robot was deployed to assess the situation, followed by a fire department-affiliated diver. A large crane eventually pulled the wreck onto the wharf.
According to various media reports, police do not suspect foul play or suicide. However, it's yet unknown if factors other than driver error contributed to the tragic accident.
We're sad to report that Greg Stephanoff's Catalina 42 C:Drive was found adrift in the Pacific with no sign of Stephanoff. The 60-year-old Honolulu sailor was last seen leaving the Ala Wai on October 3 bound for Hanalei Bay on Kauai.
On November 7, a container ship spotted C:Drive adrift 1,300 miles west of Oahu and tried to make contact but received no response after repeated attempts. On November 15, a Coast Guard cutter reached the stricken vessel, where crew found no on aboard and no firm indication of what happened. The Coast Guard says a GPS and personal effects were taken from C:Drive — which was left adrift — in hopes they would offer clues to what might have happened to Stephanoff.
Receive emails when 'Lectronic Latitude is updated.
SUBSCRIBE