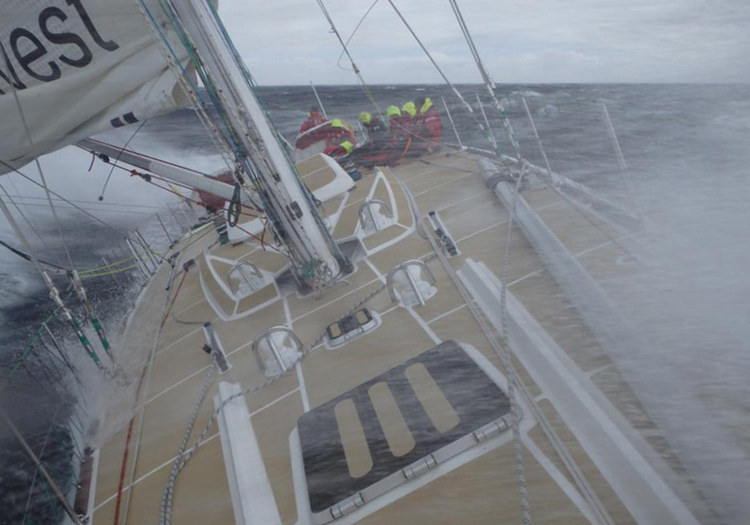 On the thirteenth day of the Clipper Round the Word Race's fourth segment, sailors faced incredible weather conditions, with winds gusting well beyond 100 knots. This after repeated storm systems have battered the mostly amateur racers. Sunday's conditions proved exciting and, unlike previous heavy-weather interludes, left crew and boats mostly unscathed as they journeyed from Cape Town, South Africa to Albany, Western Australia though the Roaring Forties.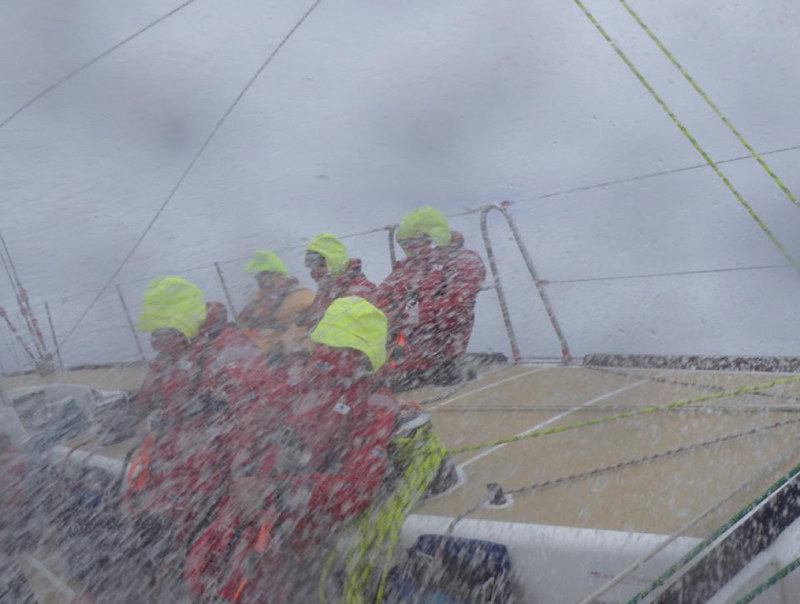 As Sunday night fell, wind speeds built into the 50-knot range and grew steadily to 80 knots. The system saved its greatest strength for the very end as some skippers reported gusts much higher.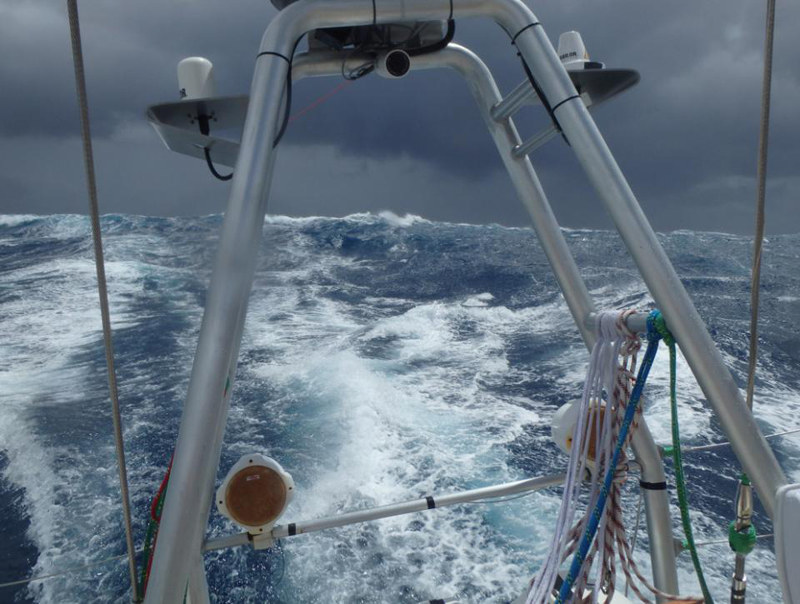 "'Riders on the Storm' by The Doors is the soundtrack that comes to my head," wrote Old Pulteney's skipper Patrick van der Zijden in his blog. "Although if we would have played it on our outdoor speakers, I doubt we would have heard it. The top of the storm gave us wind Force 9 to 10, with gusts up to 70, and peaked at over 120 knots."
"These conditions lasted about 20 minutes and then nothing," according to skipper Chris Hollis aboard PSP Logistics. "The wind backed to the northwest and just dropped to 20 knots, and soon we were bobbing around in the very lumpy, confused sea. It left us behind not really knowing what just happened!"
Not all boats were affected, leaving some to ask, why not us? "It has been a frustrating night of sailing, waiting for this front to come through," says fourth place Henri Lloyd skipper Eric Holden. "We battened down quite early expecting some stronger winds that still have yet to materialize, so we spent the whole night going slower than we should have."
Racing continues though the Southern Ocean and is expected to finish in about a week. You can watch video footage of the storm below.
"Yesterday we had a big problem with our visas," report Marina and Myron Eisenzimmer, vets of numerous Baja Ha-Ha rallies with their San Francisco-based Swan 44 Mykonos.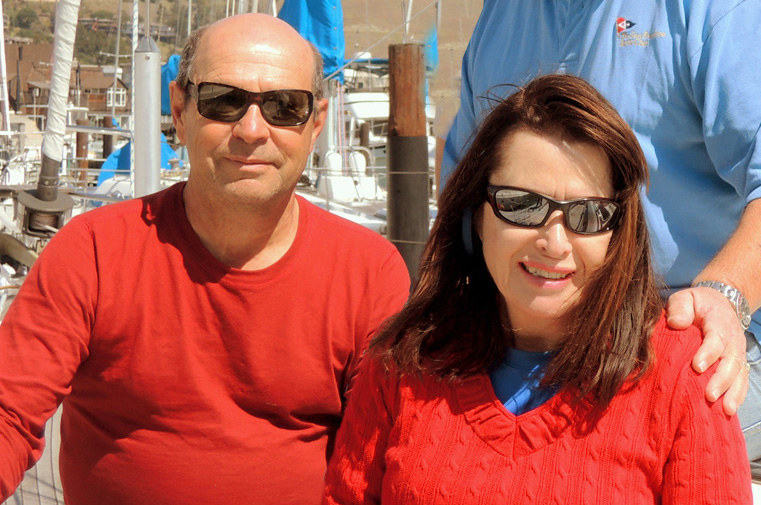 "As we checked in with Alaskan Airlines to fly back to SFO from Puerto Vallarta, the person checking us in noticed that our visa cards had not been stamped 'Paid'. She would not give us a boarding pass until we showed that the visas were stamped. We had to get a cab to a bank and hopefully get back in time for our plane. Getting a cab took forever because it was a short trip and the drivers all wanted full fares. The first bank we went to said our visa form was too old. We took off to another bank and paid the $60, in addition to the $30 or so for the cab. But we did make it back in time to catch our plane home.
"If we had brought the paid receipt that ship's agent Victor gave us in Cabo," Marina notes, it would have saved us lots of time and money. We are still analyzing why this happened. But please pass this along to the other Ha-Ha boats."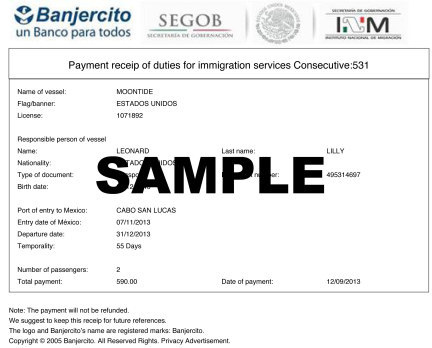 Joe Pfeifle of the Hermosa Beach-based Beneteau 42 Set Me Free had similar complaints: "Both myself and crew had to double pay the immigration authorities upon leaving the country by plane. They say the law changed November 2012 and that you need the receipt showing payment of the visa. No matter that we had stamped valid visas. They wanted a bank receipt showing payment. Also, the fact that we surrendered any receipt we would have had to the initial immigration official didn't seem to matter. Then they refused to give me a receipt and would only take cash!"
As everyone knows, Mexico's rules for Immigration for mariners have been formed a little bit on the fly, and thus there have been issues. But in most cases if you have a visa stamped 'Paid', you should be fine. If you don't, either hope you'll be lucky or get to the airport early if flying home.
When Pt. Richmond's Kim Paternoster heard the news, she spoke the truth of many adoring Ben Ainslie fans when she posted the following to her Facebook page: "Nooooooooooooooooo!"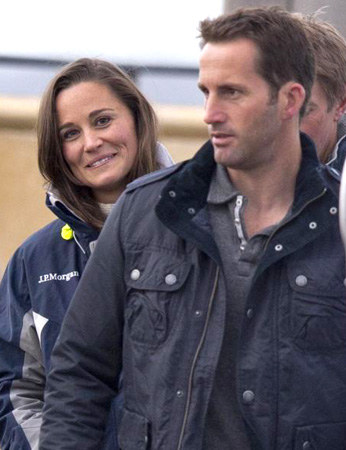 It seems Sir Ben hosted the Duchess of Cambridge's lovely younger sister Pippa Middleton aboard a Bordeaux 60 for a daysail last week. Speculation is now running rampant that the two gorgeous Brits might be dating, which would be a tough blow for the handsome America's Cup winner's ardent (and amorous) admirers.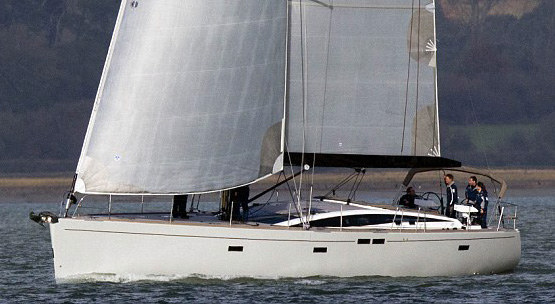 But take heart, ye ladies of sailing! The pair were accompanied by about a half-dozen other people, so it's unlikely any hanky panky was going on in the forepeak. And to make your heart flutter just a little harder for the Olympic gold medalist, earlier in the day he'd named two youngsters as 'Andrew Simpson ambassadors' in an initiative to honor the memory of the Artemis Racing sailor who was killed on the Bay last year while training for the America's Cup.
That noise you just heard was the collective sighing of 7 million Ben Ainslie fans.
Receive emails when 'Lectronic Latitude is updated.
SUBSCRIBE