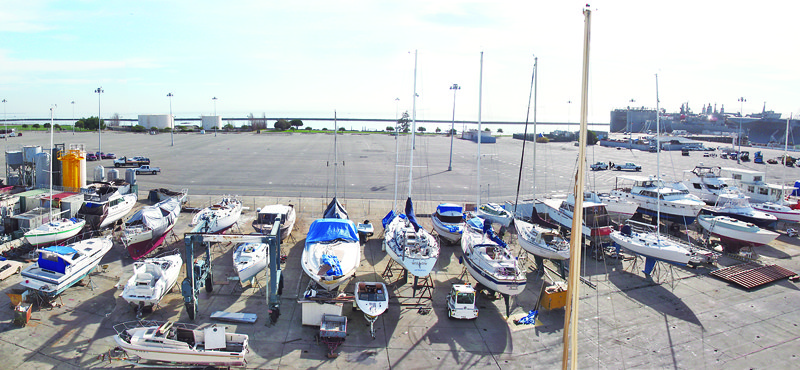 As reported earlier, a trio of unpaid volunteers has been splashing boats at Nelson's Marine in Alameda as fast as they can because the long-established business is being evicted by the city. According to one of the Good Samaritans, former Nelson's customer Scott Rhoades, once the gates are locked this Friday, boat owners will have to deal with city to retrieve their property.
Despite the fact that Rhoades and two former Nelson's employees have been launching up to eight boats a day, he estimates that "There are still at least 200 boats here." They range in size, he says, from big keelboats in the 50-ft range to a Cal 20.
From our conversation with Rhoades this morning, it sounds like the most frustrating part of the ordeal is not being able to reach all the owners, some of whom live out of the area, and thus are unaware of the eviction. "I would be pretty happy if we reached 50% of them," he said.
Another challenge has been dealing with scavengers who've been hovering like vultures in hopes of taking scrap metal or boat parts from the all-but-abandoned site.
We have not seen a transcript of last night's Alameda City Council Meeting, but we're told that Council members took a conciliatory tone with concerned mariners, and indicated that there will be a process by which owners can retrieve their property, even after the eviction is physically formalized this Friday.
Political red tape being what it is, however, if you have a boat in Nelson's or know someone who does, we would strongly urge you to get it out of there ASAP. The man to contact for permission to launch is attorney Kevin Montee, (925) 943-6570, whose firm Horner and Singer LLP has been contracted by the City as outside counsel for the Nelson's case.
Receive emails when 'Lectronic Latitude is updated.
SUBSCRIBE