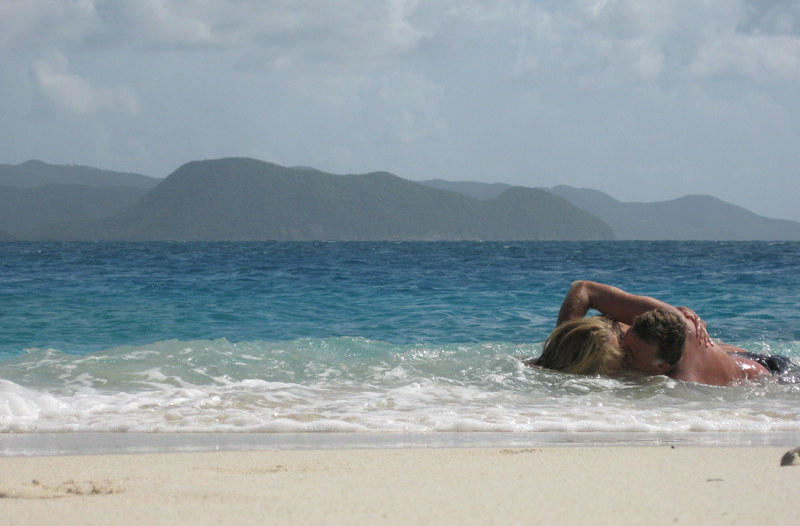 "Your photos of couples re-enacting the kiss from the film From Here to Eternity during the Ha-Ha inspired me to share my best attempt at that image," writes Pt. Richmond's Marc Fountain. "This was shot in one of my favorite spots on the planet, Sandy Key near the eastern tip of Jost Van Dyke in the BVIs. I set the camera on a rock with a 10-second delay and jumped in the water with my fiancé (now wife) Susan McCauley.
"Incidentally, this was late August 2011, and we woke up on the last day of our charter in Nanny Key a few days after this photo was taken. The plan we concocted over breakfast was to sail over to Peter Island, anchor for lunch, and then give the boat back to The Moorings in Roadtown in the early afternoon. That plan was quickly scrapped when we saw darkening skies, increasing wind and heard radio warnings about Tropical Storm Irene. We put the hammer down straight for Roadtown and got the boat all tied up about a half an hour before the sky exploded! Needless to say, Tropical Storm Irene became Hurricane Irene on top of us. We were stuck for four days because the runway was flooded in San Juan. The good folks at The Moorings let us ride out the storm on our charter boat in the harbor at no charge rather than forcing us into a hotel. It turned out to be great fun hanging out on the boat, reading books, and listening to the wind howl."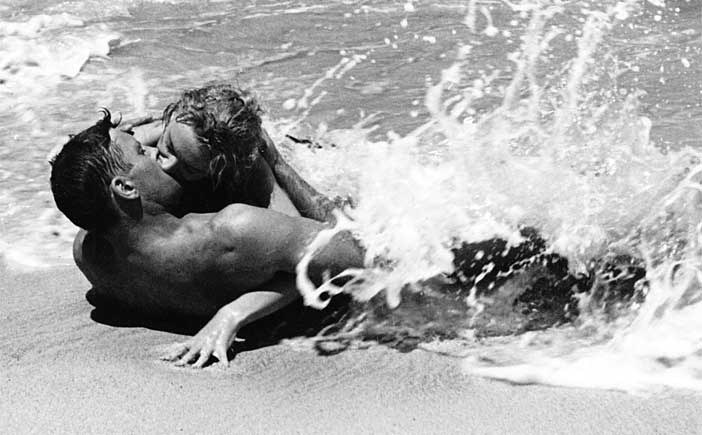 Great shot, Marc! Have you attempted to recreate the famous surf kiss perfected by Burt Lancaster and Deborah Kerr in the 1953 film classic? We'd love to see your best non-Ha-Ha shot.
For most sailors, 900 miles of offshore sailing is a substantial distance. But for legendary Italian ocean racer Giovanni Soldini and his international crew aboard the VOR 70 Maserati, that distance is merely the final sprint of their 14,000-mile Clipper Challenge Cup attempt. Having departed New York on New Year's Eve, they are expected to cross the finish line off Pier 39 sometime before the weekend. And if they do, they will have shattered Yves Parlier's 1998 monohull record (57d, 3h) by more than 10 days.
In the latest video uploaded from offshore, Ryan Breymaier, the sole American on the nine-man crew, shares some insights into life aboard Maserati.

Although Soldini has seen his fair share of adversity during a lifetime of ambitious offshore racing, Lady Luck seems to have been riding with him during almost all of this romp around South America. While Parlier faced 40-knot headwinds for 500 miles on the approach to Cape Horn, Maserati slipped around that notorious headland with relative ease. And she also got through both the Atlantic and Pacific doldrums without major slow-downs — New York-to-San Francisco voyages during the Gold Rush area, by the way, averaged about 200 days.
Currently positioned at 23.35° N (approaching the latitude of Baja California's Mag Bay), Maserati is working through an area of 6- to 12-knot winds. "We are heading toward the center of the high pressure area positioned northwest of San Francisco," Soldini explained this morning. "Then we'll tack toward the land. We are already dreaming of drinking an ice cold beer." No doubt.
We hope you'll join us in welcoming Maserati as they pass through the Golden Gate — especially if it happens during the daylight hours. Cheering previous record-setters has become a proud tradition within the San Francisco Bay sailing community, so stay tuned for updates here and at the official website. (If the team enters at night, they may do a re-enactment or 'trophy run' the next day for the benefit of adoring fans and the press corps.) With any luck, it will soon be time to ice down the champagne.
So it turns out King Neptune has a super lotto of his own. Who knew?
We're talking about the guy who found a handbag-size lump of ambergris on a British beach last month, for which he's been offered $68,000. And the kid last year who found a chunk worth $65,000 on another English beach. Or the Australian couple who, a few years ago, found a 32-lb lump worth almost $300,000.
Ambergris is a hard waxy-like substance either coughed up or pooped out — scientists aren't sure — by sperm whales. The stuff has been highly prized for centuries for its aromatic properties. And we do mean highly. In the old days, a returning whaling captain could retire off a decent size blob of it.
Ambergris gets to those beaches by floating there. It floats low, sometimes just below the surface, which would make it hard to spot. But it never gets waterlogged and sinks. Whale experts estimate there are tons of it bobbing around the world's oceans. So some of it has been out there for decades.
And people occasionally find it out there. We couldn't locate any references to finds by yachts or other modern craft. But there are plenty of stories from the days of yore. In one close to home, in the early 1900s, a lumber schooner plucked a 75-lb chunk out of the ocean near Mendocino. Today, that chunk could be worth $700,000.
But just like the super lotto, the odds that a cruiser or daysailor might stumble across some are astronomical. Ambergris comes only from sperm whales, and only 1% of them are thought to produce it during their lives. (It may be a coating that allows irritants like squid beaks to pass easier.) Even during the heyday of whaling in the 19th century, many ships and crews went their whole careers and never found any. And they made a point of checking every sperm whale they caught.
Then again, somebody does win the lottery every week. Right?
Have any of you found ambergris afloat, or know anyone who has? If so, we would love to know about it. Please email with details.
We'll have more on this subject in the next issue, including a clue that might help you spot ambergris, and a quick method to identify, and even 'grade', your find.
Until then, keep a sharp eye out. That UFO sliding past the rail might very well be the remains of the dead animal that it resembles. On the other hand, it might be a lump of something worth more than your boat.
Receive emails when 'Lectronic Latitude is updated.
SUBSCRIBE