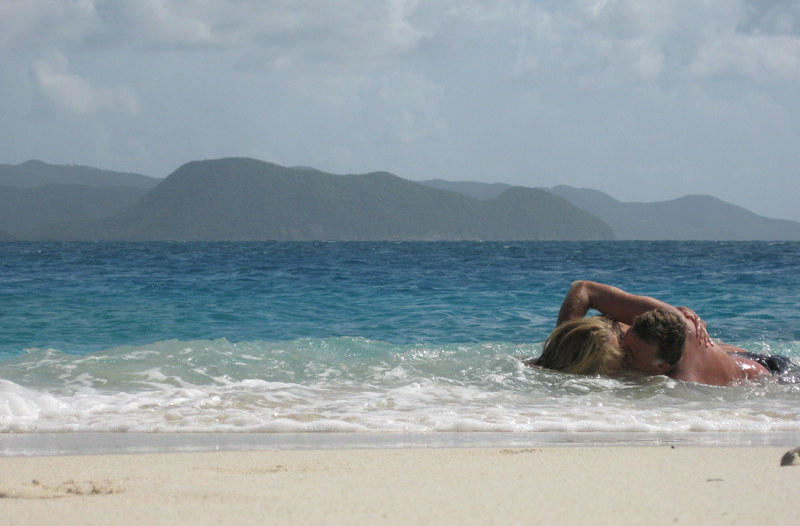 "Your photos of couples re-enacting the kiss from the film From Here to Eternity during the Ha-Ha inspired me to share my best attempt at that image," writes Pt. Richmond's Marc Fountain. "This was shot in one of my favorite spots on the planet, Sandy Key near the eastern tip of Jost Van Dyke in the BVIs. I set the camera on a rock with a 10-second delay and jumped in the water with my fiancé (now wife) Susan McCauley.
"Incidentally, this was late August 2011, and we woke up on the last day of our charter in Nanny Key a few days after this photo was taken. The plan we concocted over breakfast was to sail over to Peter Island, anchor for lunch, and then give the boat back to The Moorings in Roadtown in the early afternoon. That plan was quickly scrapped when we saw darkening skies, increasing wind and heard radio warnings about Tropical Storm Irene. We put the hammer down straight for Roadtown and got the boat all tied up about a half an hour before the sky exploded! Needless to say, Tropical Storm Irene became Hurricane Irene on top of us. We were stuck for four days because the runway was flooded in San Juan. The good folks at The Moorings let us ride out the storm on our charter boat in the harbor at no charge rather than forcing us into a hotel. It turned out to be great fun hanging out on the boat, reading books, and listening to the wind howl."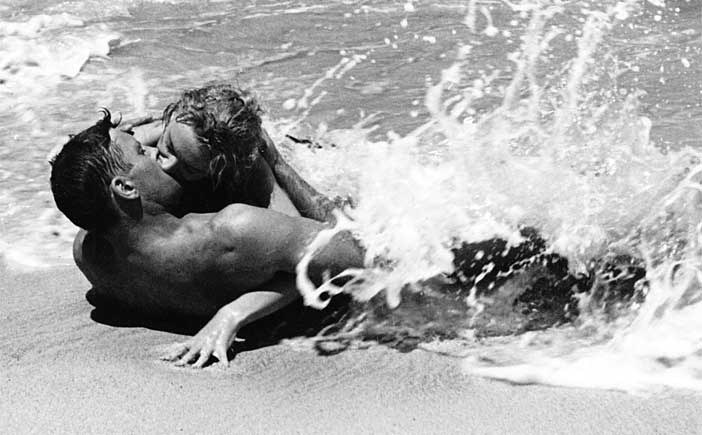 Great shot, Marc! Have you attempted to recreate the famous surf kiss perfected by Burt Lancaster and Deborah Kerr in the 1953 film classic? We'd love to see your best non-Ha-Ha shot.
Receive emails when 'Lectronic Latitude is updated.
SUBSCRIBE