Neil Shroyer of Marina de La Paz reports that "we", by which we presume he means the Mexican Marina Owners' Association, had a meeting with Immigration officials in Mexico City with regard to implementing the new immigration rules. Among the new rules are requirements that boats check in electronically with officials before arriving at their port of entry, that boats be inspected at their port of entry, and that no crew get off the boats anywhere in Mexico before the boats are inspected.
Shroyer reports that they have it in writing from Mexican officials that there will be no problem with this year's Baja Ha-Ha being run as it's always been run, and that they hope to set up an Immigration booth right on the docks in Cabo.
The officials also told Shroyer and others that they will "gradually" move toward implementation of the new rules. Stay tuned to 'Lectronic for the latest on any changes. It should be remembered, however, that the whole federal government will change on December 1 with the new President, so it's possible that the new rules won't ever be implemented.
In Ha-Ha weather news, the Mexican government reports that Hurricane Paul came ashore earlier in the week at Mag Bay — 150 miles north of Cabo San Lucas — as a Category 2 hurricane, and then quickly lost strength as it moved up both sides of Baja as a tropical storm. The folks at Marina de La Paz, just on the other side of the mountains, reported lots of rain but no wind or damage. The Glesers on the Islander Freeport 41 Harmony in Concepcion Bay reported gusts in the 50s and lots of rain, but none of the seven boats at anchor there dragged or were damaged. David Eidell at Ascunsion Bay about 50 miles south of Turtle Bay on the Pacific Coast reported steady winds in the mid 40s, but no damage. The unusual thing about Paul is how far north the remnants came. Ha-Ha boats anchored in San Diego reported winds to 30 knots passed through quickly in the middle of the night.
With the waters off the Mexican mainland and southern Baja three to five degrees warmer than usual right now, and with the Ha-Ha due to start in 10 days, you can bet that we — as the Grand Poobah — are monitoring the weather situation very, very carefully. We had a long conversation this morning with Brynn Campbell of Commander's Weather, and she confirmed that both water temperatures and upper level conditions remain such that they don't yet preclude tropical storm formation. Indeed, there is some thunderstorm activity down around the Gulf of Tehuantepec right now that one computer model shows will result in a hurricane well to the south and west of Cabo by next Friday. Predictions are very speculative as to the strength and even where a storm might go. As Brynn tells us, her models show there is a less than a 50% chance that the thunderstorms will develop into a hurricane.
The thing the Grand Poobah wants all Ha-Ha participants to know is that he respects and fears tropical storms and hurricanes, and safety is number one. The good thing is that with each passing day, the chance of tropical storms decreases, and the fleet isn't slated to sail south of all-weather Turtle Bay — which the Poobah considers to be safe — for another two weeks. As mentioned before, the other good thing is that weather forecasting is so much better than it used to be, so the situation can be monitored from the existence of thunderstorms stage, which may or may not signal the development of hurricanes.
We'll remind everyone that no tropical storm, let alone hurricane, has crossed the Ha-Ha track during the Ha-Ha dates. Of course, that's no guarantee of what might happen in the future. As we'll remind folks, there have been several December hurricanes along the coast of mainland Mexico, well after the hurricane season was supposed to have ended.
Alas, no matter if it's about government regulations or the weather, there are few constants in life.
Mustang has initiated a safety alert on some of their hydrostatic (HIT) inflatable PFDs. Mustang Survival Inflatables with the Hammar MA1 inflation system may not inflate without having their inflator assemblies replaced. The affected products are:
MA7214 HIT inflatable re-arm kit
MA7218 HIT inflatable re-arm kit for LIFT
MD0450 Inflatable Vest PFD with LIFT
MD0451 Inflatable Vest PFD with LIFT (no harness)
MD3183 Deluxe Inflatable PFD with HIT
MD3184 Deluxe Inflatable PFD with HIT (with harness)
MD3188 Inflatable Work Vest with HIT
If you own any of these products, click here to be taken to a page that helps identify if your unit has been affected, or go to www.mustangsurvival.com/HIT.
Although the focus of America's Cup enthusiasts has now shifted to the big show next summer — the Louis Vuitton Challenger Series begins in July — its worth taking stock of the impact that the recent America's Cup World Series has had on the Bay Area.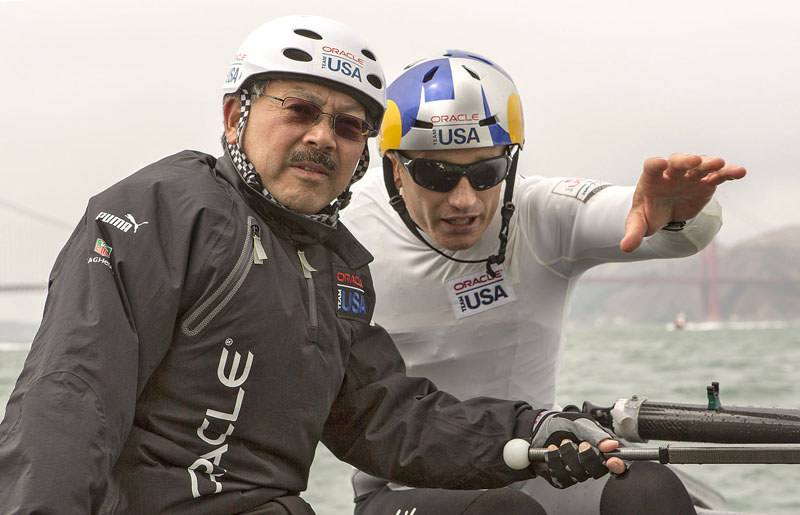 After decades of San Francisco city governments all but ignoring the Bay's year-round calendar of sailing events — and their inherent connection to local maritime history — it's refreshing to see that the current administration has it's eyes on the water. Although it took the flamboyance of the ACWS road show to do it.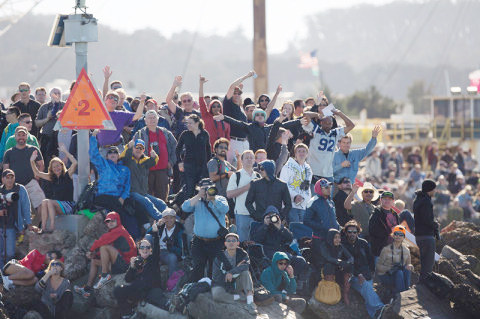 Mayor Ed Lee was on site at the Marina Green for the Super Sunday fleet races (October 7) and was impressed: "It's fabulous for our city, and a million people came out to watch it. They wanted to be near the waterfront so they could see the blend of sky and water, fast racing boats, the Blue Angels. The America's Cup races next year will be the only international event we have in the U.S., if not North America."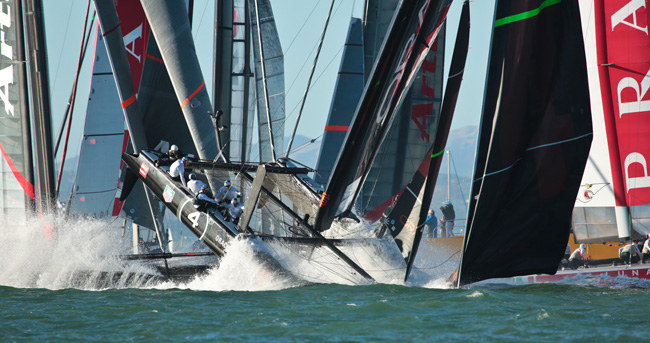 Fun facts compiled by the America's Cup Event Authority include:
A spectator fleet nearing 1,500 vessels was on the water for Saturday and Sunday
177 accredited media were on-site from 14 countries
More than 2,600 stories were published in more than 1,000 outlets in 46 countries
More than 300,000 unique visitors viewed more than 1 million pages on the America's Cup website
America's Cup TV produced 38 videos that have been viewed more than 360,000 times
The America's Cup app for iPhone and iPad has been downloaded more than 14,500 times, and more than 2,700 times for Android
The America's Cup Event Authority distributed 2,000 gallons (7,570 liters) of water on site, which theoretically prevented the use of more than 15,000 single use (500mL) plastic bottles
The event's Healthy Ocean Project drew volunteers including team members and fans, who helped the Parks Conservancy at Fort Mason restore and clean up the coastline.
PHOTO
Cumulative totals for the 2012-2013 ACWS place the home team, Oracle Team USA (Spithill) in the lead in both fleet and match racing, with the next event scheduled for April 16-21 in Venice, Italy, followed by a showdown in Naples May 14-19 — and a possible additional contest in New York, which is still in the planning stage.
Receive emails when 'Lectronic Latitude is updated.
SUBSCRIBE