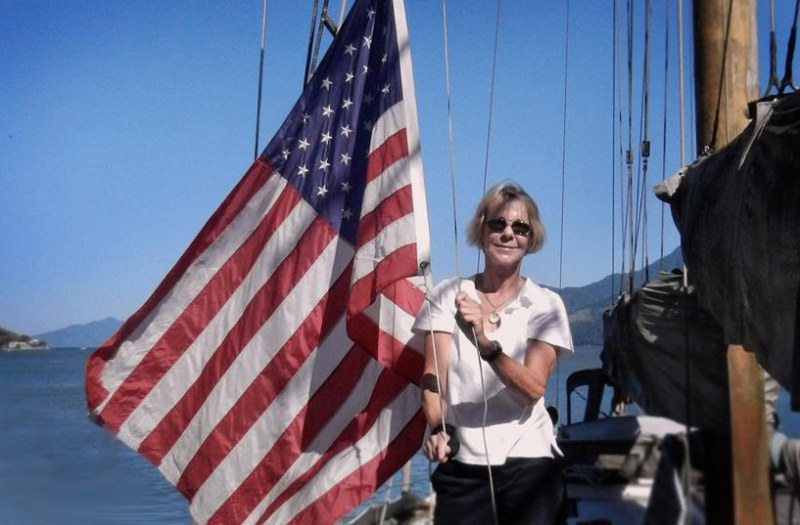 For well over a year now, an American flag has been flying upside-down from the rigging of the 72-ft gaff tops'l schooner Lord Jim, as she sits high and dry in a remote Brazilian boatyard at the edge of the jungle. As old salts know, in naval tradition an inverted national flag or ensign is a sign that the vessel is in distress.
The nature of Lord Jim's distress is unusual, however. After striking an unmarked rock and sinking five years ago, she was successfully raised and repaired. But that turned out to be the easy part of her Brazilian ordeal. A dispute with the boatyard owner forced the schooner's longtime owners Holger Kreuzhage and Tracy Brown into a protracted courtroom battle, which they ultimately won. In defiance of a court order, the owner, who Holger characterizes as thoroughly corrupt, literally removed the marine railway so Lord Jim could not relaunch. Subsequent court proceedings, all won by Kreuzhage and Brown, have still brought no resolution.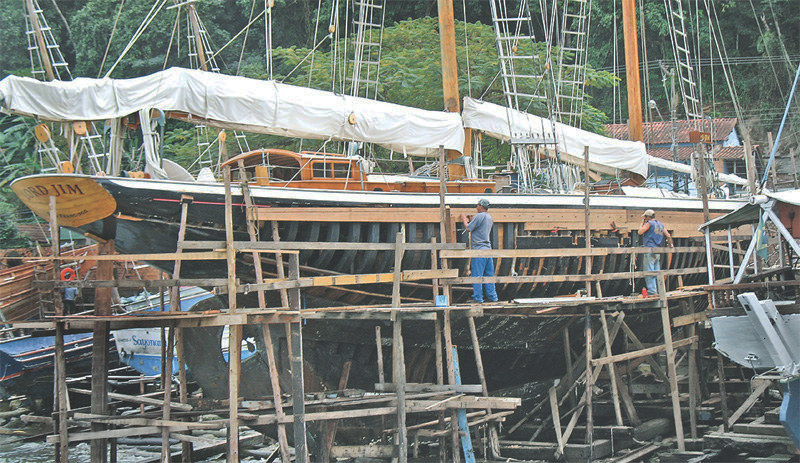 With that as background, Holger and Tracy recognized America's Independence Day in a unusual manner: "Our boat is still hostage, and so are we. But today we will rise above these local conditions, which were actually resolved by the justice system completely in our favor. A country where a final decision by the appellate court can be ignored by individuals who believe they are above the law only accentuates the difference in the values we treasure as Americans, and which we honor on this special day.
"Needless to say we miss our home country, our families and our far-away friends. In their honor and in the honor of our own country, we are flying our flag in its correct position, right-side-up."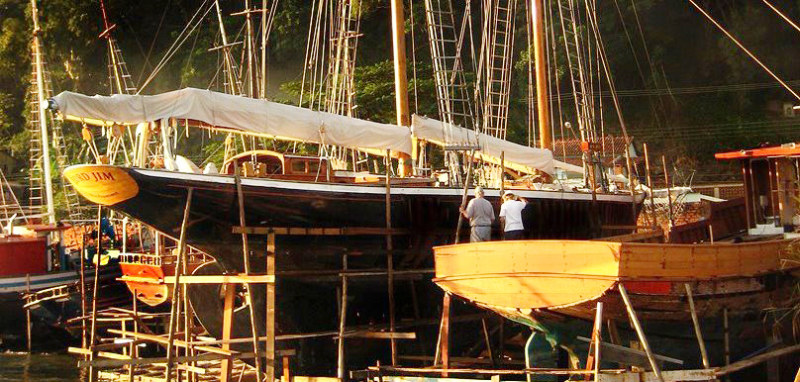 The 44-ton schooner was formerly based at Sausalito, and was previously the queen of Antigua's crewed charter fleet. As far as we know, she has circumnavigated more times than any other San Francisco-based vessel. We sincerely hope the current deadlock ends soon, freeing her to sail the world's oceans yet again.
Receive emails when 'Lectronic Latitude is updated.
SUBSCRIBE