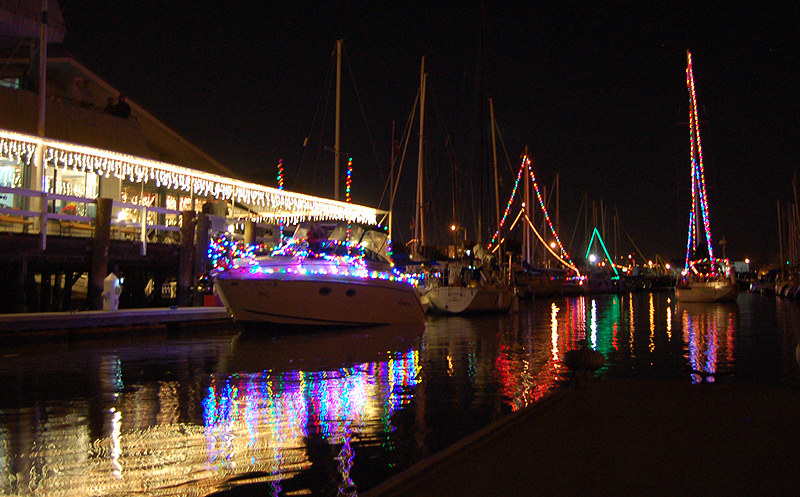 As we mentioned in Friday's 'Lectronic posting of all the Bay Area lighted boat parades, shooting such events is notoriously tricky. Photographing moving objects at night is difficult enough, but throw in an often shaky platform — whatever dock or boat you're standing on — and it can become downright impossible. But David Esser of the Prout 50 Tigress achieved the impossible on Saturday night during the 35th annual Lighted Yacht Parade on the Oakland/Alameda Estuary. "Lots of great boats this year," he noted before sending several great shots of some entries.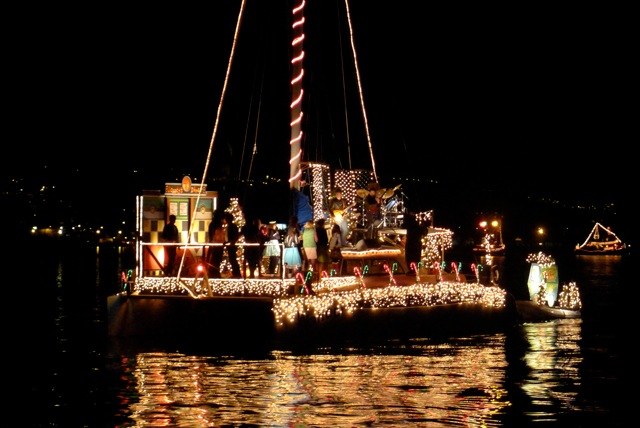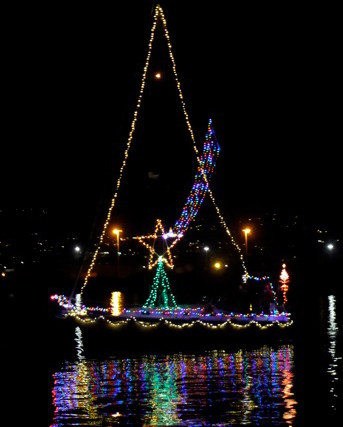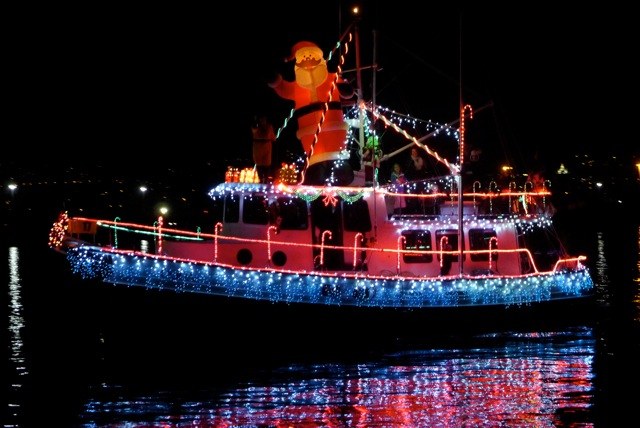 Though he doesn't know it, David is the front-runner in the just-created Latitude 38 Lighted Boat Parade Photo Contest. As the only entry so far, he certainly has an advantage, so if you took fabulous photos of 'Christmas ships' this weekend (please don't send shots from previous years), send your top three to LaDonna. If you weren't able to hit a parade on Saturday, there are still plenty coming up in the next couple of weeks. And we're not limiting the contest to Bay Area photogs — everyone is welcome to submit their favorite shots!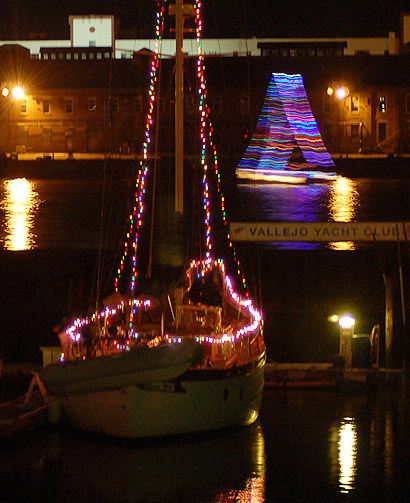 We'll announce the winner, who will receive a cool Latitude T-shirt for their efforts, in the December 19 edition of 'Lectronic Latitude, so grab that rusty old tripod, pump up the ASA on your camera, and get your paparazzi on!
Ad: KKMI Says Keep Your Outdrive Happy
KKMI Says: Keep your Outdrive Happy and Healthy All Year
Every 100 Hours
1. Stern drive oil change
2. Engine alignment
3. Engine coupling/universal joint/shaft spline lubrication
4. Shift linkage check and lubrication
5. Remove drive and prop for inspection
6. Grease U joints
7. Inspect and grease gimbal bearing
8. Inspect drive bellows for cracks and water intrusion
9. Inspect water hose between drive and transom assembly
10. Clean knotmeter intake
11. Replace drive and prop zincs
12. Contact KKMI Pt. Richmond to schedule your projects – don't wait until spring!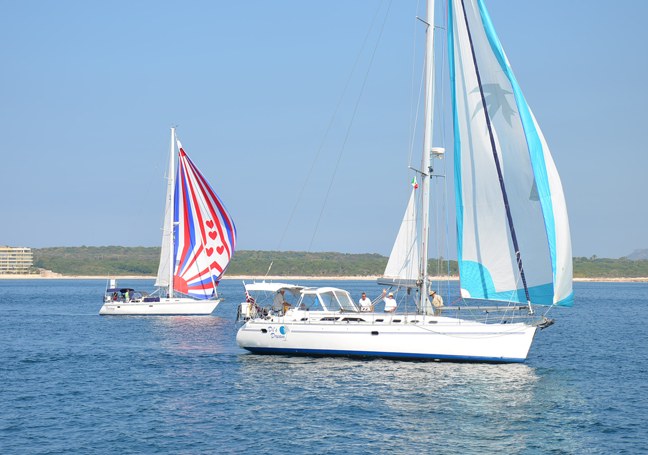 "The newest celebrity hotspot in the world." We don't know how 'experts' determine things such as that — surely they just make them up — but that's what Harper's Bazaar magazine has been calling Punta Mita and the Nayarit Riviera, which are on the north shore of Banderas Bay about 10 miles from Puerto Vallarta. We know this because Virgin America, which just started nonstop service from San Francisco to Puerto Vallarta, it touting the area with juicy quotes to attract customers.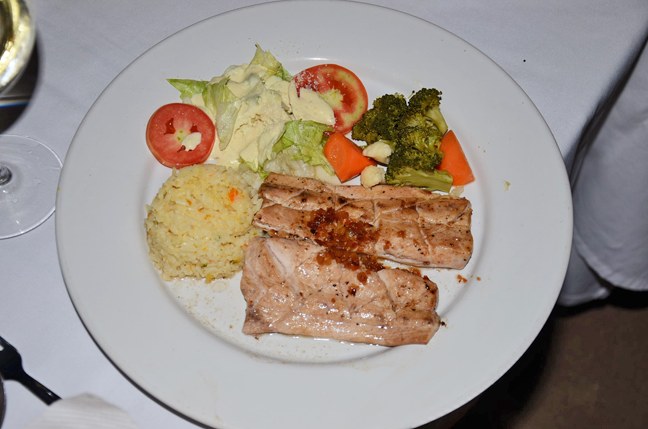 While it's true that the Nayarit Riviera is becoming home to lots of $5-$10 million dollar beachfront mansions, as well as very expensive and exclusive hotels, and is attracting all kinds of one-percenters seeking quiet vacations in the tropics, it also has some great things for cruisers, even the lowest-budget cruisers. For instance, lots of room to anchor for free, with good access to shore at both Punta Mita and La Cruz. Great tropical sailing on flat water. Excellent surfing. The terrific authentic Mexican towns of La Cruz, Anclote, El Risko and Emiliano Zapata, which means prices are low. For instance, haircuts are about $4, and anybody spending more than $7 for a delicious dinner risks coming off as being pretentious. And the free music — every type you can imagine — is really superb.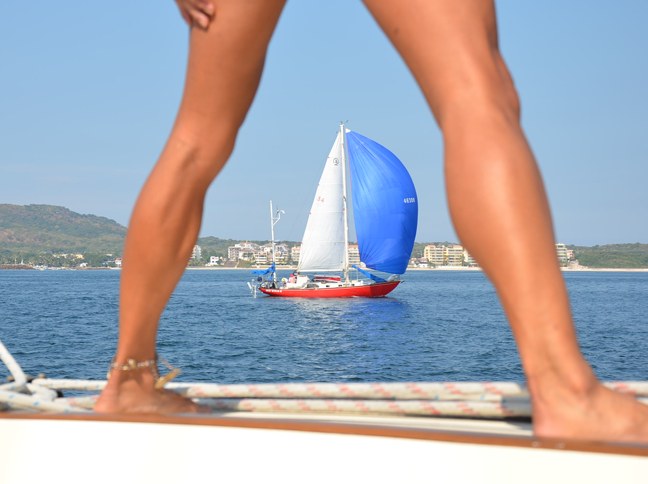 The Nayarit Riviera, along with Nuevo Vallarta's Paradise Marina, was the venue for the just completed Banderas Bay Blast. While the participant numbers were down this year to about 18 boats — we think because a lot of skippers took their time coming down from Cabo, La Paz and Mazatlan — Ronnie 'Tea Lady' was thrilled to announce that, as a fundraiser for the kids of the Nayarit Riviera, it was the best Blast ever. A bunch of the kids showed up to perform at the Punta Mita Yacht & Surf Club the morning of the last race, and these kids were cute!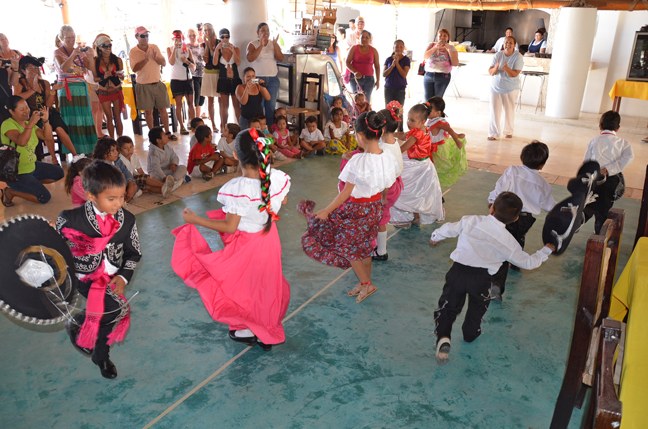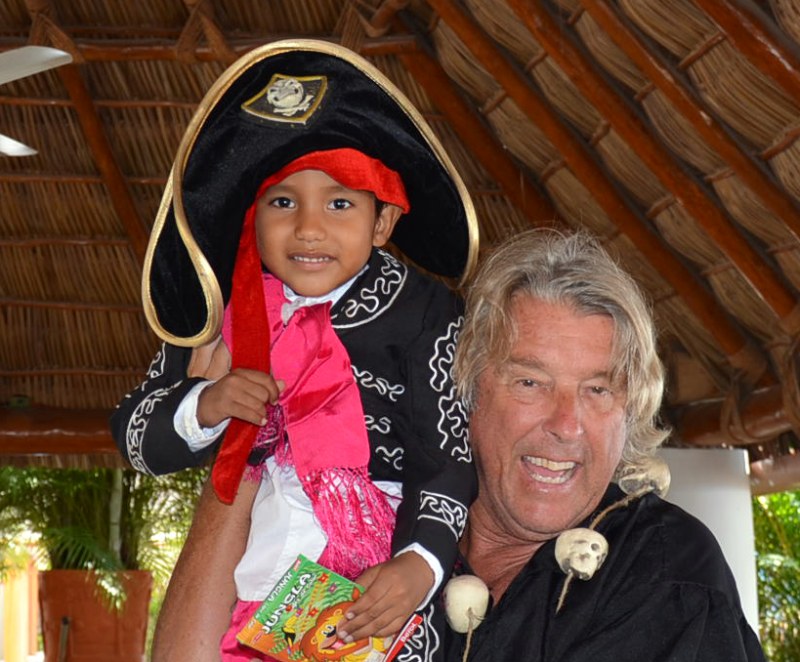 The winds for this year's three Ha-Ha-style fun races were light, but made for lots of close finishes. The 'results' were determined by Randy Hough of the committee boat Yemaya: The winners were Doer Anderson's Jeanneau 41 Bright Star; Stephanie Mortensen and Robin Kirkcaldie's Santa Barbara-based Bounty II Red Witch II; and Arjan Bok's San Francisco-based Lidgard 43 cat RotKat. The cool thing about the Blast is that it's all about camaraderie rather than competition. For example Rich Crowe of the fast Farr 44 Tabu, who has sailed 250,000 ocean miles, made sure that everybody appreciated the efforts of Pat and Jeannie Hughes and their crew aboard the 65-ft Patricia Belle, who demonstrated sailorly resolve getting their heavy steel schooner around the courses in such light winds.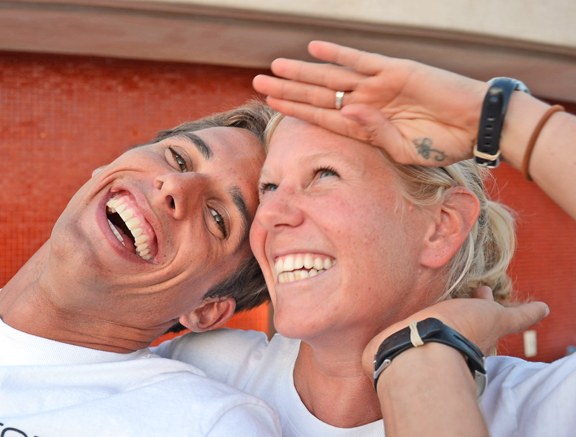 One thing everyone learned from this Blast is that you can't mess with the offshore reefs as much as three miles to the east of Punta Mita. The reefs are great for creating waves to surf, but bad for bouncing off of with boats. Sailmaker Mike Danielson guided the J/160 Blue at the very edge of one of the reefs in search of a smidgen more wind. They gybed just short of the reef, but fouled a spinnaker line in the bowsprit, fell off, and slammed into the reef. They struck so abruptly that the bowman flew right off the front of the boat, looking just like Superman in the old television show. We saw it with our own eyes. It took about 15 minutes of banging before Blue was able to get free of what will surely become known at Mike's Recife Azul, and while she was eventually able to continue racing, she'll be hauled today for inspection and repairs to the keel.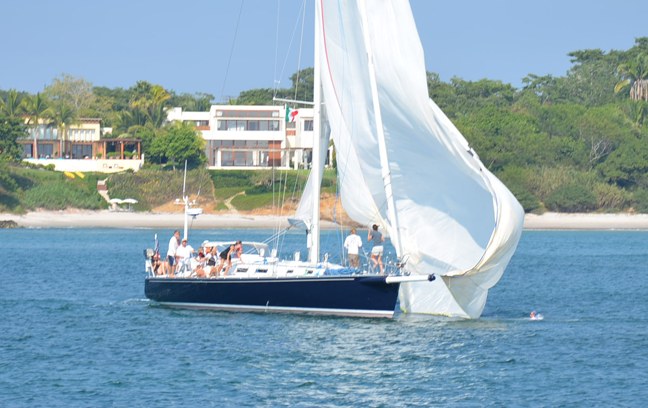 The cool thing about small events is that everybody gets a chance to know everybody else. For example, while talking with Robin Kirkcaldie and Stephanie Mortensen of Red Witch, we learned that generations of his forefathers were captains of sailing ships hauling cargo between New Zealand and England. And that Stephanie is an excellent surfer and a vet of the Pipeline. "Malibu was my home break," she says, "so every morning I had to battle with about 175 guys to get my share of waves."
Anyway, it was a great event in a great venue for a great cause. Next stop on the fundraiser trail for cruisers in Mexico? The Zihua Sailfest in Zihuatanejo February 7-12.
Receive emails when 'Lectronic Latitude is updated.
SUBSCRIBE