After exiting the Bay of Biscay, Franck Cammas took a hard left and headed South, a strategy that's paying off in the '10 Route du Rhum-La Banque Postale. With about 2,250 miles to go Groupama 3 has gained a lead of 250 miles, although in a race featuring G-class multihulls, that's about equivalent to a couple botched sail changes. The podium positions have been shaken up with Francis Joyon's Idec II now lying in second and Yvann Guichard on the race-record holding Gitana XI a couple miles farther back in third.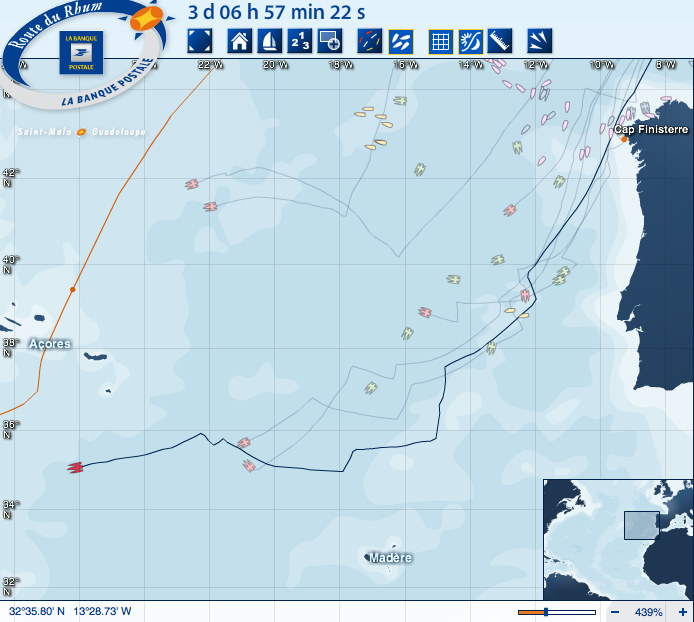 Oman Air Majan skipper Sidney Gavignet reported that he sustained substantial damage to his port forward beam. Oman Air Majan was sailing upwind in 20 knots of wind and not-very-extreme conditions. Gavignet was not injured, has activated his distress beacon, and is currently in the main hull in his survival suit. There is no water in the main hull and it remains watertight. But Gavignet wasn't the only sailor in the Ultimate class to have race-ending issues. Bertrand Quentin is currently in a Spanish hospital after being remotely diagnosed with a heart attack and airlifted from his Côte d'Or II.
In the IMOCA Open 60 class, Armel Le Cléac'h on Brit Air still leads the redoubtable Roland Jourdain on Veolia Environnement by 10 miles with Christopher Pratt on DCNS 1000 still holding third. The leading trio are still those up on the more northerly routing, while the break to the southeast by Michel Desjoyeaux and Arnaud Boissières sees this duo still losing miles to the pack. Foncia is now ninth with a 179-mile deficit to Le Cleac'h, on a routing east of south this morning, just northwest of Lisbon. To the north, those in the main pack are working their way upwind along the northern ridge of a high pressure area, on a high-wire act trying not to be snared or slowed by the lighter winds to their left, closer to the center of the system.
The Class 40s have also had to start dealing with the serious business of the high pressure system. The main group is now offshore of Cape Finisterre but there is a spread of almost 400 miles laterally between those right on the point — who will try to slip down the Portuguese coast — and Italian Davide Consorte on Adriatech, who is on the most northerly routing. The leader of the Class 40s is still Thomas Ruyant on Destination Dunkerque, just over three miles ahead of Sam Manuard aboard Vector Plus, with Bernard Stamm's Cheminées Poujoulat in third.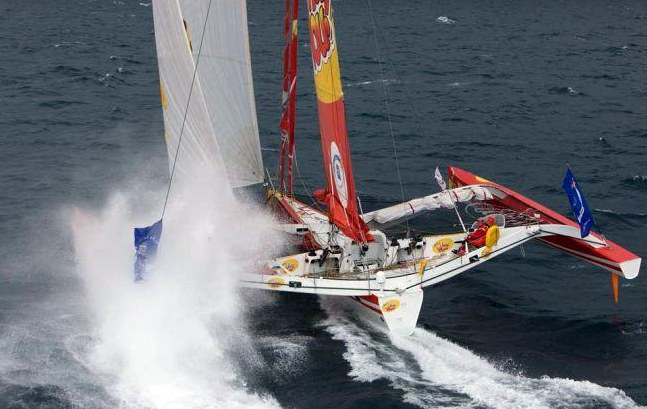 Former Multi 50 class leader Lionel Lemonchois will be making landfall in Portugal for repairs to his Prince de Bretagne. Lemonchois's mainsail came tumbling to the deck yesterday evening after the lashing to the main track car failed. According to his reports this morning it is too risky to try and retrieve the car. His technical team are standing by to assist at a Spanish port. So Franck-Yves Escoffier, three-time class winner in the race, is in the lead and has 62 miles between his Crêpes Whaou! 3 and Yves le Blevec's Actual.
In the Rhum class Andrea Mura on Vento di Sardegna continues his steady lead on his Open 50, by 25 miles. In this largley amateur division, which has the only American entry, Etienne Giroire's ATN, the news that the popular Christine Monlouis was dismasted last night when her Un Monde Bleu tout en Vert hit a fishing boat, will be felt especially hard.
Receive emails when 'Lectronic Latitude is updated.
SUBSCRIBE