The San Francisco Bay Bear Boat Association is sailing again! Bear Boats are 23-ft woodies designed and built at the Nunes Boat Yard in Sausalito in the early '30s for San Francisco Bay sailing conditions. Conceived by Ernest Nunes and Marty Martinson, the first keel was laid late in 1931. By the summer of '32, the new boat was ready for its first sea trial. Onlookers reported that Commodore Cliff Smith of San Francisco YC praised the effort, telling young Ernest Nunes, "That is a bear of boat." The name stuck and a unique class, indigenous to San Francisco Bay, was born.
Active and highly competitive racing continued through the '90s with as many as 69 boats in the fleet. But the Bear Class grew quiet; like their racing sailors of the halcyon days of the '50s and '60s, the boats have aged. The Bear Boat Association has been quiet for several years, but has recently been revived and is picking up steam. The first meeting in many years took place at the Corinthian Yacht Club on June 27, the evening before the Wooden Boat Show.
The next meeting will take place Wednesday, August 5, at 7 p.m. at Aeolian YC in Alameda, and we encourage anyone interested in this classic boat to stop by. For more info on the association, go to our website at www.bearboats.com.
Ad: Win Gas for Your Boat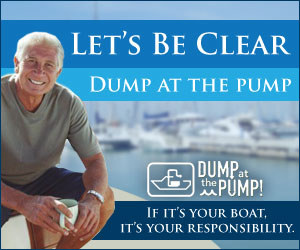 Let's be clear about it…
It's simple: You have to plan to properly dispose of human sewage from your boat. Boats with holding tanks must pull in and pump out at shore side pump out stations.
If it's your boat, it's your responsibility.
Just answer a few of questions at www.wingasforyourboat.com for a chance to win 1,000 gallons of gas for your boat!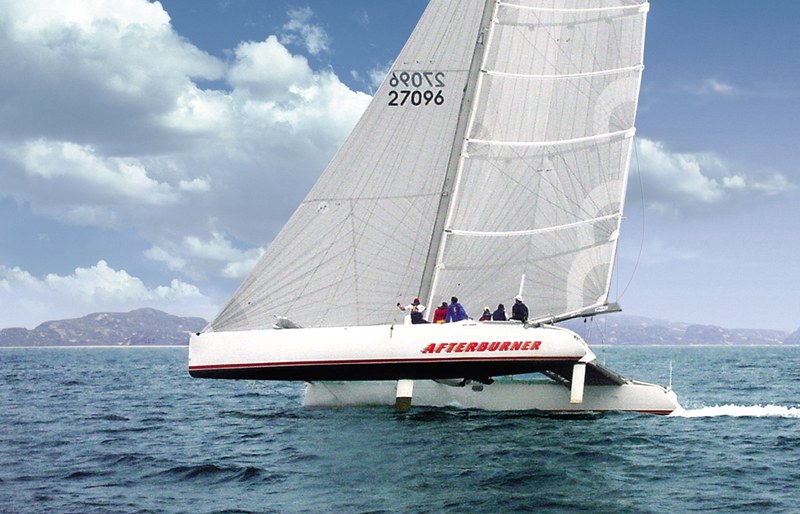 Afterburner, Bill Gibb's Ventura-based 52-ft Bladerunner catamaran, used idyllic catamaran sailing conditions to set a new course record of 5 h, 37 m in last Friday's 81-mile race from Santa Barbara to Redondo Beach. The Kiwi-built cat averaged a marvelous 18 knots for the distance sailed, and a little over 14 knots for the rated course, to beat her old record by 10 minutes.
The second boat to finish was Doug Baker's Andrews 80 Magnitude from Long Beach, just back from Hawaii, where she missed the all-time monohull TransPac record by only minutes. She finished about 50 minutes behind Afterburner.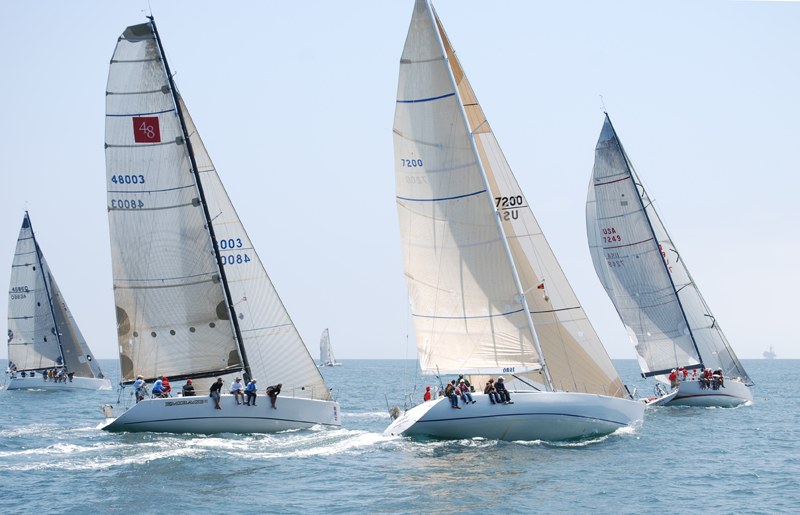 But don't try to get Gibbs into a multihulls versus monohulls argument. "It's all horses for courses," he says. "I have tremendous respect for canting keel monohulls, and Magnitude has beat us boat for boat a number of times. What this year's race proved is that a catamaran like mine needs moderate winds, meaning 10 to 20 knots, and flat seas, to set records. In winds under eight knots or over 20 knots, and in bigger seas, and sailing upwind, Magnitude is faster. But this year the conditions were right there in Afterburner's sweet spot."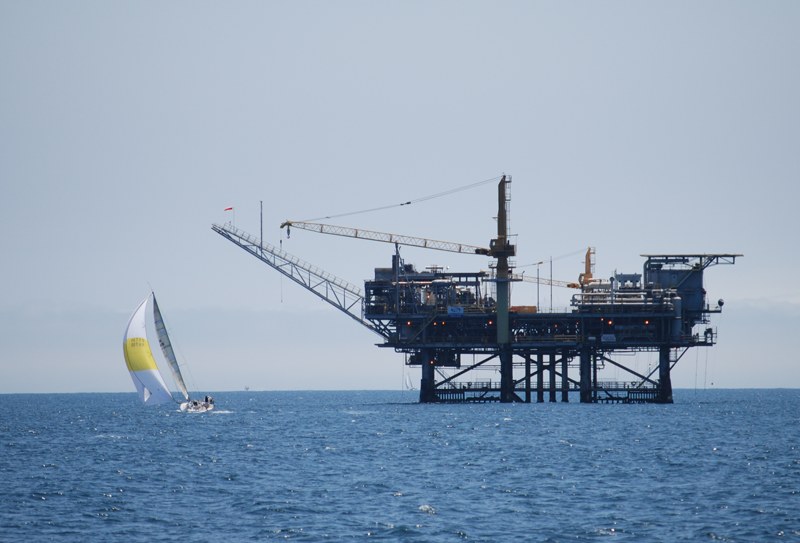 In the world of course record setters, Afterburner is a budget operation. Gibbs bought the now 22-year-old cat more than nine King Harbor Races ago for $100,000, and most of his sails are nearly seven years old, having been overbuilt from Cuban fiber to last for many years.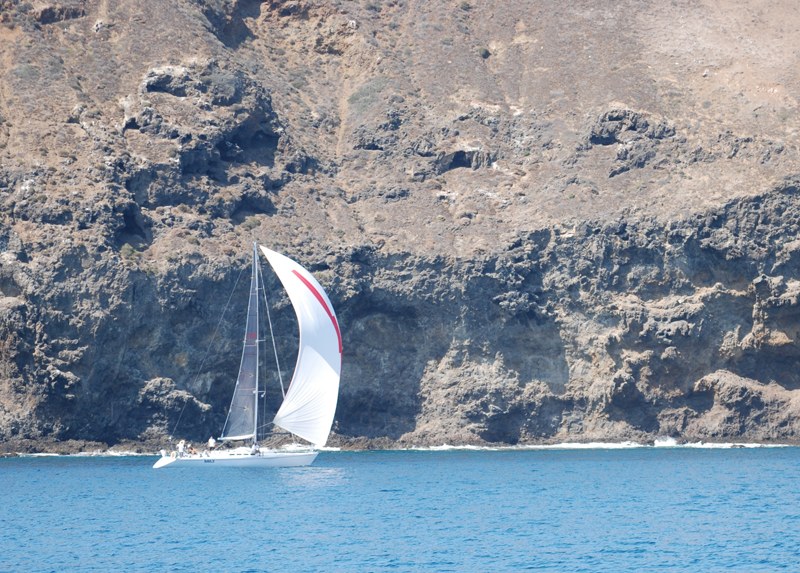 But when it came to corrected time honors in the 107-boat fleet, Chris Slagerman's Firebird Phat Cat stole the show by nearly 40 minutes over John Staff's Viper 830 Plankton. For what we could see in the pre-race manuevers, that Phat Cat cat seemed like she could do eight knots in just four knots of wind. Whew!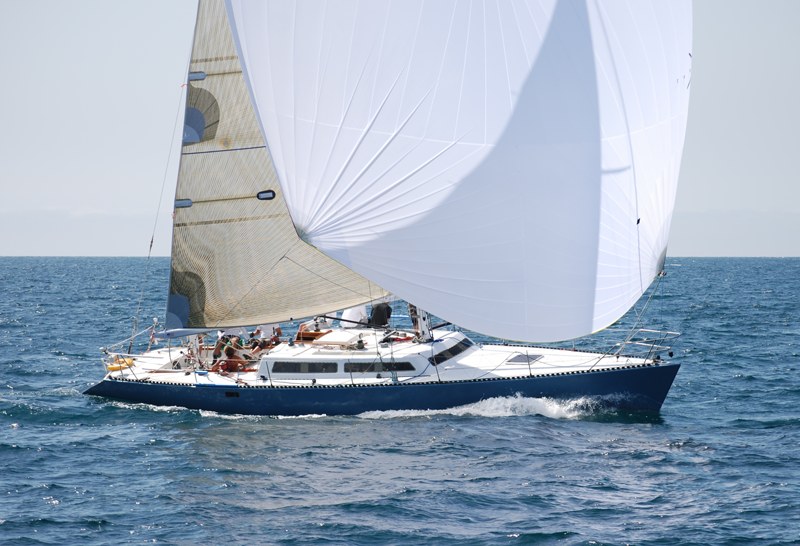 We've done about 10 King Harbor Races over the years, and can't remember one that was more pleasant. Thanks to unusually strong winds — eight knots — boats were able to get away from Santa Barbara faster than normal. While we never saw more than 15 knots, the wind was unusually consistent in the traditional light spots, meaning the lee of Santa Cruz Island and when crossing Santa Monica Bay. It allowed our Profligate — despite being loaded down with twin RIBs and outboards, full water and fuel tanks, plus other junk, to finish just 10 minutes after the class-winning Santa Cruz 50 Fifty-one Fifty. Alas, two hours were later mysteriously added to our elapsed time, perhaps as a penalty for taking up too much yacht club dock space after the race. Does that mean we're going to have to forfeit our fourth-in-class cheese platter trophy? We hope not. No matter what, like the Terminator, we'll be back. And you should think about signing up too!
PHOTO
Corrected time class winners:
ULDB A — Pendragon 4, Davidson 52, John MacLaurin
ULDB B — Fifty-one Fifty, SC 50, Mike Warns
ULDB C — Capt. Sluggo, Hobie 33, Burke
Sprit UI — Plankton, Viper 830, John Staff
Sprit PI — Shenanigans, J/120, Gary Winton,
PHRF A — Ono, Olson 40, Folkman Galloway
PHRF B — Elixir, Jeanneau 49DS, Chad Downey
PHRF C — Rush Street, J/29, Larry Leveille
PHRF D — Rasa, Islander 36, Ken Ziegler
ORCA — Phat Cat, Firebird, Chris Slagerman
J/105 — Escapade, Mark Noble
Farr 40 — Piranha, David Voss
For complete results, visit the King Harbor YC website.
Receive emails when 'Lectronic Latitude is updated.
SUBSCRIBE