Why You Can Do Les Voiles de St. Barth
Yes, some of the boats in the 54-boat fleet, such as Peter Harrison's Farr 115 Sojana and Michael Cotter's Southern Wind 94 Windfall, are worth millions and predominantly crewed by world-class sailors.
Some of the teams spend extravagantly on crew quarters. The crew of David Witt's 100-ft maxi Sun Hung Kai Scallywag stayed at the Manapany Hotel on the beach at Anse des Cayes, and Team Richard Mille rented out the entire Hotel Christopher on Pointe Milou for their crew.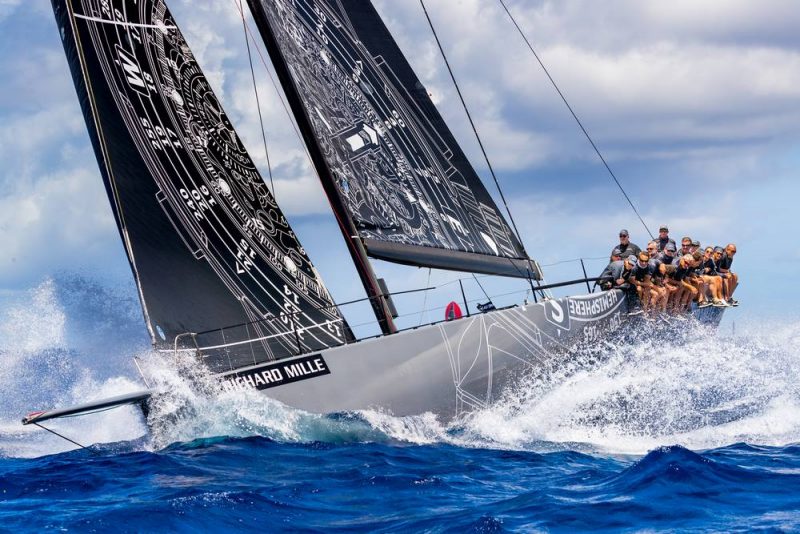 The prize for setting the record in the St. Barth to St. Martin and back race, which helps decide which team wins the Richard Mille RM-01 Chronograph Flyback Regatta watch, is worth $150,000. No pickle dish, that.
One of the crew, Pierre Casiraghi, is a member of Monaco's ruling family, making the event appear to be even more exclusive.
But that's skewed perception. Let's look at reality.
You don't need the world's greatest and most expensive yacht to win and get Voiles respect. The Jeanneau 3200 Credit Mutuel had five bullets in six races in Class 5. The Antigua-based J/122 Liquid won five out of six races in Class 4. The Melges 32 Lazy Dog from Puerto Rico took six bullets in Class 3. No, you don't need the most expensive boat, but you do need to be really good in Caribbean conditions.
In an even more extreme case of a modest boat doing surprisingly well, take Steve Schmidt's Hotel California, Too. Steve, who had never raced before, left Silicon Valley in the early '90s with a short-rigged custom cruising version of a Santa Cruz 70. He was modestly competitive this year despite enormous handicaps: having an ancient boat; having well-worn Dacron sails, having pick-up crew each day, most of whom spoke a language he didn't understand; and having the only boat in the 55-boat fleet to not have a spinnaker. Steve nonetheless managed to take a second, two thirds and three fourths in a competitive class.
However the West Coast's greatest claim to glory was Greg Slyngstad's unusual-looking Bieker 53 cat Fujin. Guided by crew boss Jonathan McKee, the light-gray cat took five firsts and a second. It hasn't been instant success for Slyngstad and Fujin, as she wasn't particularly fast in her first Voiles several years ago, got dismasted once, and flipped in 35 knots on a black night in last year's Caribbean 600.
But this has been Fujin's year. She set an all-time around-Tortola elapsed-time record, kicked butt in the Caribbean 600, and kicked butt again in Les Voiles. Boat-for-boat she left three larger Gunboats and two larger M&M cats in her wake. And looked very smooth doing it.
As for assuming some owners must be snobby, Peter Harrison of Sojana is happy to talk to anyone, particularly about how he introduced the Internet to England by buying equipment from Cisco when the now-great company had but 12 employees. And Casiraghi, godfather of this year's event, is about as laid-back a hard-core sailor as you can find. He's a vet of Giovanni Soldini's MOD70 Maserati, GC32 foiling cats, and the Transat Jacques Vabre. You want to talk to him, just say hello. Almost everybody gathers at the quayside bar each day to mingle with others, be they racers or residents of the island. The Voiles is all about mixing the racers with the locals, and it works.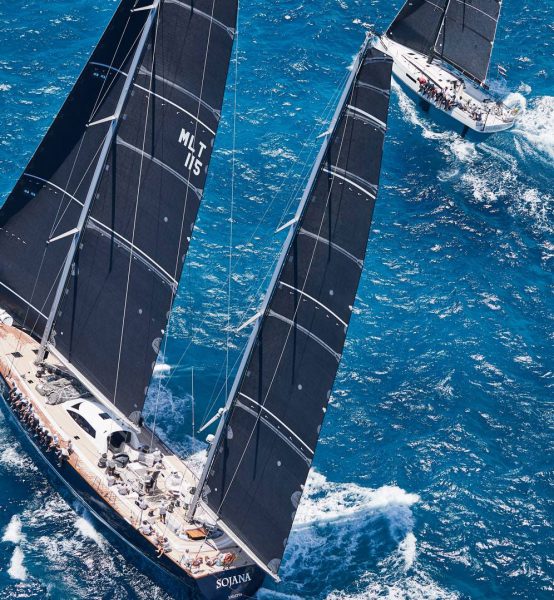 The bottom line is that there is absolutely no reason for you and a couple of West Coast mates not to charter a modest boat and do what we consider to be the most fun racing in the world. If that's still out of your league, you could just get your butt to St. Barth and hop onto a boat. We got Thor Temme of the Hawaii-based Aikane 56 Manu Kai and Jessie and Christian, of the Lagoon 62 Sea Wings Two cat run by ex-Two Harbors patrolman Scott Ciotti, on a 60-footer. Jimmy and Jeanette Drake raced on the 60-ft Code 2 Arara, as did I. Doña de Mallorca Spindler raced on both Arara and Schmidt's Santa Cruz 70.
Just show up is the name of the game. And quadruple that if you're a healthy single woman.
You can never tell about sailing conditions, even in the Caribbean. But the conditions for this year's Voiles were spectacular, with 16 to 22 knots the whole time. Warm air and warm, blue water, baby! The courses were scenic as could be, and featured lots of dangerous rocks as rounding marks. No boring sausages here. The sailing was perfect.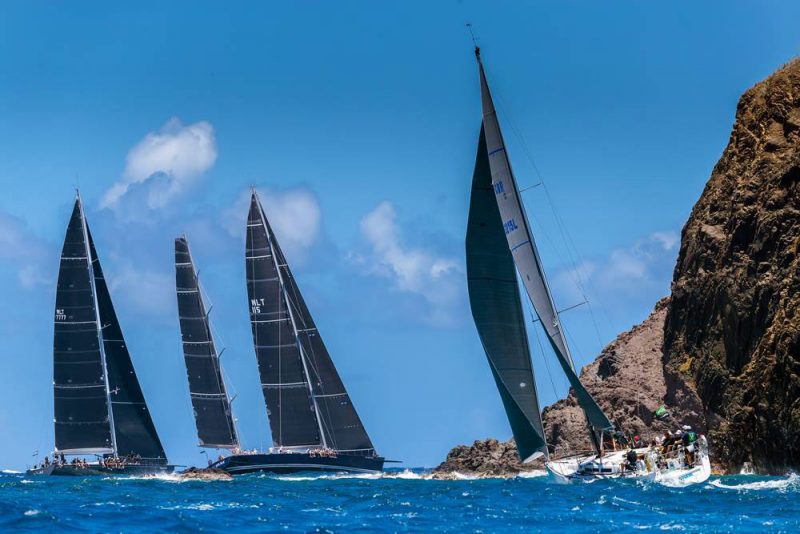 As for socializing opportunities, there were two bands almost every night on the quay where the boats tied up, a special crew night on Shell Beach that raged until 3 in the morning, and the always-wild beach party — dive for champagne — at Nikki Beach. If you don't make 50 new friends doing a Voiles, you're a hermit.
When it comes to serious yacht racing combined with serious partying on the cleanest, safest and most beautiful island in the Caribbean, nothing compares with Les Voiles. Nothing.
Hope to see you at next year's Voiles.  See https://lesvoilesdestbarthrichardmille.com.
Receive emails when 'Lectronic Latitude is updated.
SUBSCRIBE