West Coast Sailors at St. Barth Bucket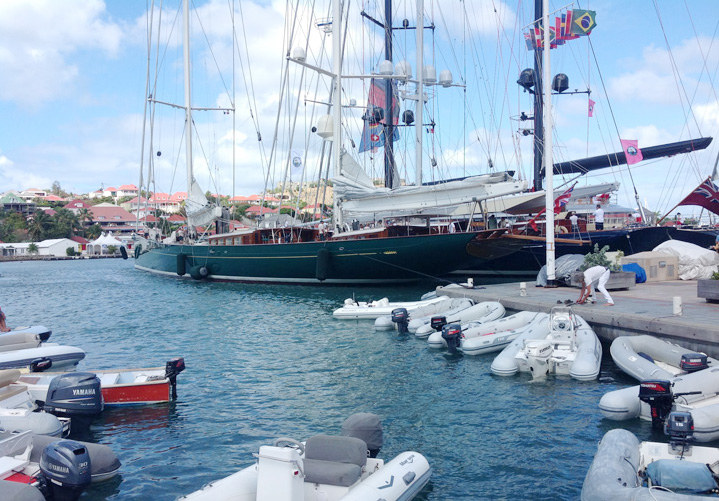 The St. Barth Bucket for 40 yachts between 100 and 218 feet — the greatest spectacle in sailing — is about to get underway in a few hours, and the mega sailing yachts have a sprinkling of West Coast sailors aboard.
According to Sunset Hotel balcony neighbor Mark 'the little Nipper' D.G. of Newport, Marin's Paul Cayard is here for his first Bucket — and will be driving the biggest entry of all, the 218-ft ketch Hetairos II. Hopefully he's got a good navigator, because the last time the boat did the Bucket she shaved a leeward mark and left 22 tons of lead on the ocean floor.
Northern California rigger Scott Easom is aboard the 180-ft ketch Twizzle. The other day he FB'd that the spinnaker sheets were 1.25" in diameter — and 400 feet long!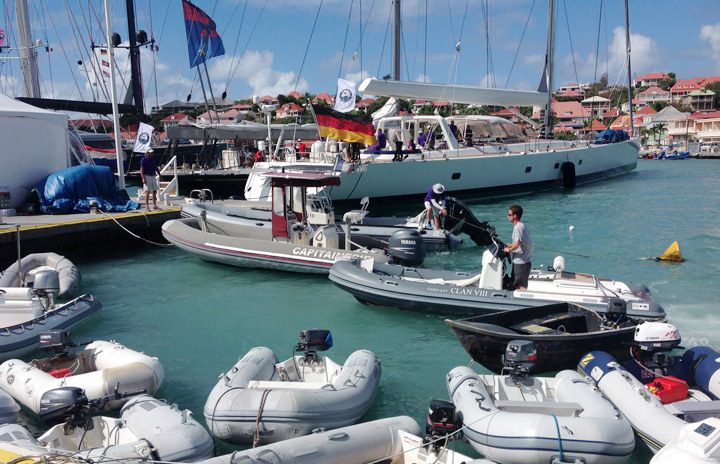 Kenny and Kerry Keefe, of Marin and KKMI, have been to the island for several Voiles, but this is their first Bucket. He's sailing on the 180-ft Adele, which will be locking horns with Marie, her near-sistership. Kerry will be holding down the fort ashore.
"No pictures!" shouted Mill Valley's Patrick Adams, as we were walking down the quay. Our good friend runs the Swan 100 Varsovie, which will also be racing.
San Diego's Jimmy Pugh, the 'P' in R/P designs, was eating at the same restaurant as we were last night. Presumably he'll be sailing aboard Hasso Plattner's 146-ft R/P screamer Visione. The German software mogul, who used to go up against Roy Disney in 86-footers, used to have a house in Novato.
While dinghying to shore, we almost ran into Scott Stolnitz of the Marina del Rey-based Switch 51 cat Beach House. He's almost completed a long circumnavigation, accompanied by his friend Nikki.
Aboard 'ti Profligate we're having a great time with longtime San Francisco Bay sailors Dick and Linda Oppenheimer, who have had their Hylas 46 Second Chance in the Northeast for the last two summers. Also aboard are Fin Bevan and Deborah Norum, he of the Los Angeles YC-based Cal 40 Radiant and she of Idaho. Both have done a number of Baja Ha-Ha's on big Profligate.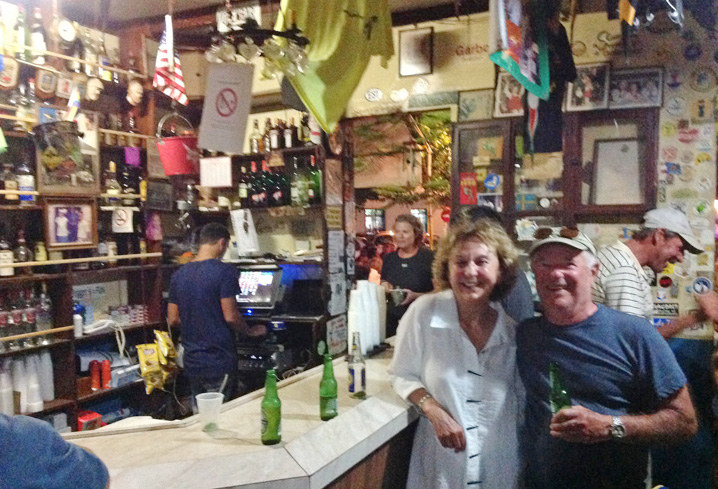 We're sure there are a bunch of other West Coast sailors on hand, but these are all we know about for now.
What about Jimmy Buffett, part-time resident of the island and patron singer of all sailors? We saw him strolling through the outdoor bar at Le Select last night, looking good, but much more corporate, neater and not quite as lighthearted as in his younger years.
Looks as if there is going to be a fine breeze for today's race, so we're outta here! Action photos to come on Monday.
Receive emails when 'Lectronic Latitude is updated.
SUBSCRIBE