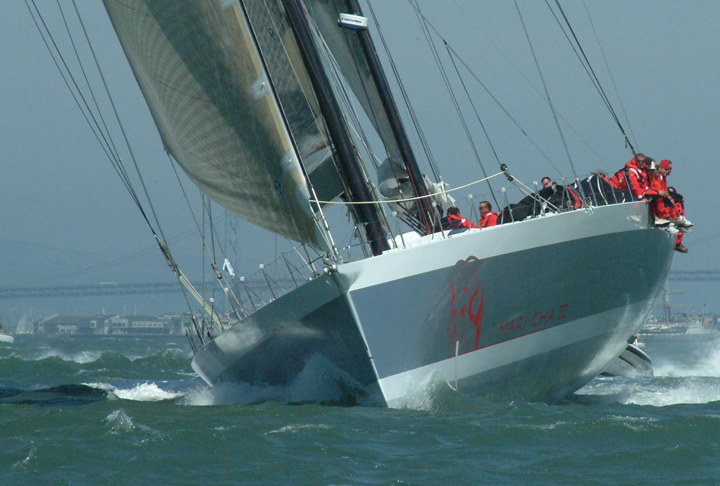 With less than a month until the start of the 2070-mile Pacific Cup race to Hawaii — in which there will be a "Latitude 38 division" for big boats for the first time — we thought we'd turn back the time machine to recall the biggest boat in the 2004 Pacific Cup. That boat was the 139-ft Briand/Oliver/Elliott Mari-Cha IV, which had been built in 2003 by JMV Industries to be the fastest ocean racing monohull in the world. She was commissioned by Robert Miller, the billionaire co-founder of Duty Free Shops. (And you thought Duty Free was a concept as opposed to a brand name!)
Mari-Cha IV was capable of 40 knots, and set a record of 525 miles in 24 hours in the course of becoming the first monohull to cross the Atlantic in less than seven days. Mari-Cha IV was not, however, the largest boat to ever do the Pacific Cup. That honor belongs to Mari-Cha III, the 147-ft Briand by Sensation Yachts that was also built for Maxwell. He raced her in the 2002 Pacific Cup.
As least some of Maxwell's motivation for having Mari-Cha IV built might have been the fact that Mari-Cha III had been beaten for 2002 Pacific Cup line honors by Bob McNeil's much smaller R/P 86 Zephyrus V. This despite the fact that Zephyrus was so new she wasn't really ready to race, and that McNeil fell overboard the first night out of San Francisco and went for a 45-minute swim. But Maxwell did get some revenge, as Mari-Cha IV took line honors in 2004 in a sizzling time of 5 days, five hours.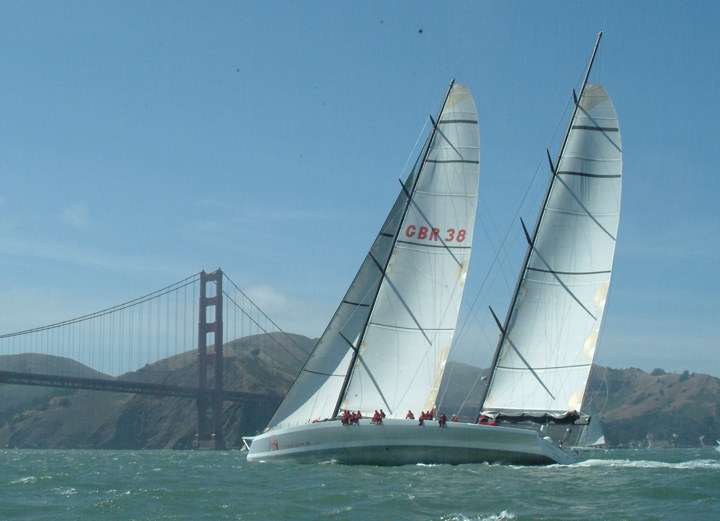 None of the 57 entries in the 2014 Pacific Cup has a realistic chance at besting Maxwell's mark of a decade ago. The three boats likely to come closest are Frank Slootman's Encinal YC-based R/P 63 Invisible Hand, Roy Disney's Waikiki YC-based Andrews 63 Pyewacket, and Max Klink's Botin 65 Caro. We wish them and all other Pacific Cup entries the best of luck.
There are 57 entries in nine divisions in next month's Pacific Cup, which has five starts between July 6 and July 11. Nine of the entries have female crew. They are: KnopKierrie (skipper Monika Majewska), California Girl (skipper Victoria Lessley), Green Buffalo (co-skipper Mary Lovely), Mirage, Aero, Aeriagnie (skipper Cecile Schweds), Shearwater (skipper Christina Wolfe), War Pony and Wolf Pack (skipper Melinda Erkelens). There are 15 doublehanded entries: Absinthe, Aeriagnie, Blade Runner, California Condor, Giant Slayer, Green Buffalo, Kaos, Lil Angel, Mirage, Ragtime, Shearwater, Thirsty, War Pony and Wolf Pack. Doublehanders Melinda and Bill Erkelens were overall winners of the 1994 Pacific Cup with the Dogpatch 26 Moonshine. They're racing the Donovan 30 Wolf Pack this year. The biggest boat in this year's Pacific Cup is the Nelson/Marek 92 Locura from Peru. The smallest are the Moore 24s Snafu from Alameda and Absinthe from Santa Cruz.
Where is Mari-Cha IV right now? Two months ago, the Netherlands' Royal Huisman yard announced that they've been commissioned to convert Mari-Cha IV, now known as Samurai, to a very fast cruising boat for an experienced yachtsman. According to the mission statement, "the boat must be beautiful, stealthy looking, very fast, elegantly comfortable, technologically advanced, and unforgettable to sail." The conversion brief and the Japanese name have us willing to bet a nickel the work is being done for none other than Larry Ellison. Sound far-fetched? Consider the fact that Ellison's current motor yacht, the 288-meter Feadship Miyamoto Musashi, is named after the man considered to be the greatest samurai in history.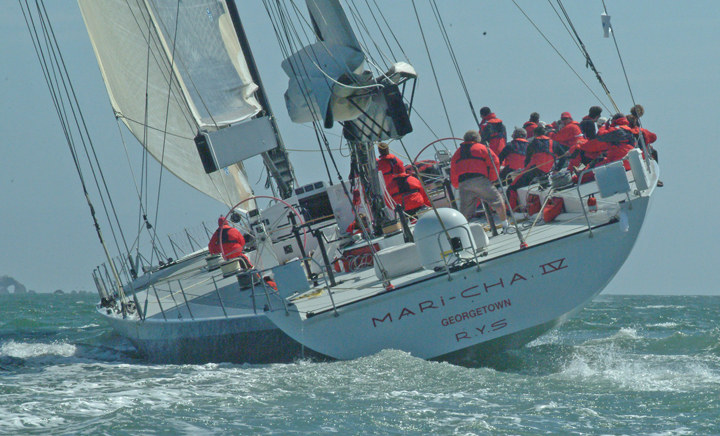 Receive emails when 'Lectronic Latitude is updated.
SUBSCRIBE