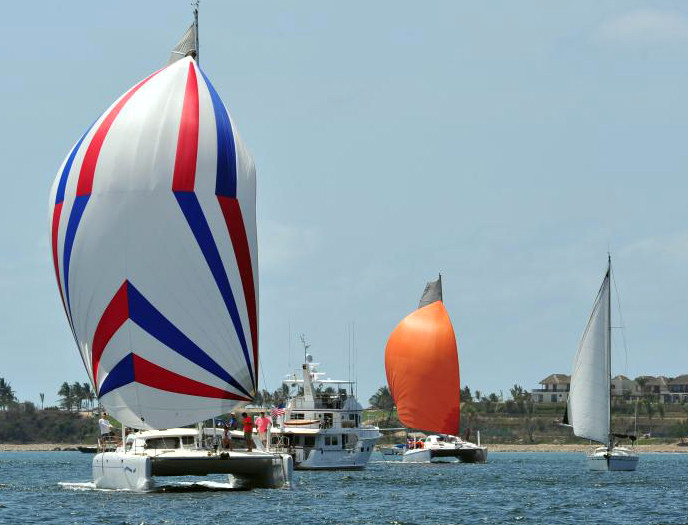 A record 30,000 pesos — including $500 U.S. donated on behald of last year's Baja Ha-Ha fleet — was raised in the Pirates for Pupils Spinnaker Run for Charity, which was held last Sunday on the beautiful waters of Banderas Bay. After a Saturday night dinner at the Bluewater Grill in Punta Mita for some of the 90 participants, the skippers and crews of nine sailboats, accompanied by three powerboats, started the 12-mile run to Paradise Marina in light winds and pirate costumes. Before long the wind was in the mid-teens and the boats were flying. There are few places in the world that regularly provide sailing conditions as cruiser-friendly as Banderas Bay.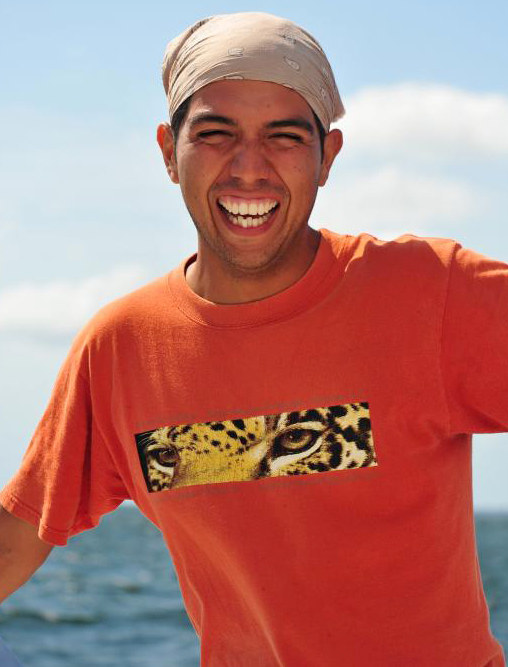 The participating sailboats featured four multihulls — Greg Dorland and Debbie McCrorie's Lake Tahoe-based Catana 52 Escapade, Wayne Hendryx and Carol Baggerly's Brisbane-based Hughes 45 Capricorn Cat, Steve May's Emeryville-based Farrier Endless Summer, Jim Milski's Lake City, Colorado-based Schionning 49 Sea Level — and six monohulls — Jim Casey's Tahoe-based Jeanneau 43DS Tomatillo, Tom Jones' Puerto Vallarta-based Charissa, the Mike Danielson-driven and Puerto Vallarta-based J/145 Blue, Don Von Tress' Island Trader 46 Sugar Bird, Interlude, and Jim and Chris Machado's Puerto Vallarta-based Jeanneau 41 La Ballona. Also, two powerboats – The Dark Side and Oso Blanco – participated. In the Pirates for Pupils, all participants are winners.
The P for P was founded a number of years ago by Latitude as a fun fundraiser before the much larger Banderas Bay Regatta that is held every March. For the last two years, we've also held a Pirates for Pupils in December as part of the Banderas Bay Blast. The most recent P for P was hosted by the Punta Mita Yacht & Surf Club — with Commodore Heather Corsaro helping with the fundraising and Doña de Mallorca coordinating the Punta Mita logistics — and Vallarta YC, whose Mike Danielson and Andy Barrow running the Lucha Libre fundraising segment of the event.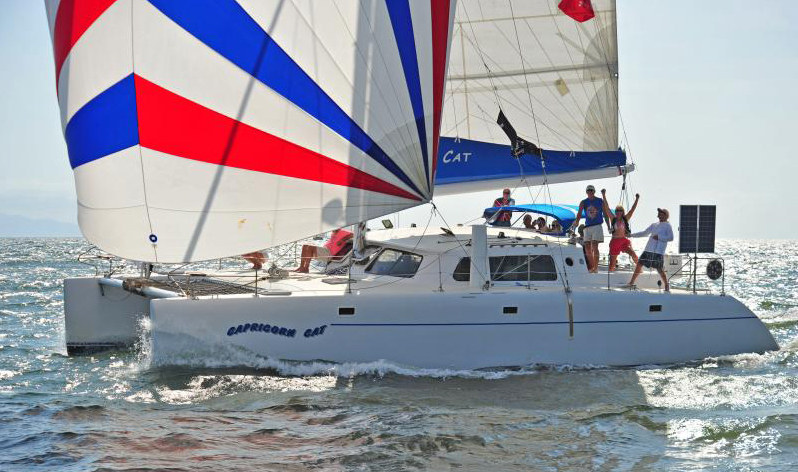 But the person who has made the Pirates for Pupils what it is since the beginning is Ronnie 'Tea Lady', who has been tireless in rounding up participants, collecting donations and making sure the collected money is wisely spent by charities serving children. When a deadline conflict made it impossible for Latitude and Profligate to participate this year, it was unclear if there would even be a spring Pirates for Pupils. But Ronnie stepped in and made it happen. Indeed, she, along with those who helped her, brought in the most money ever. Here's to you, Ronnie!
Receive emails when 'Lectronic Latitude is updated.
SUBSCRIBE