Latitude's First-Ever Boat Review
Longtime readers know that Latitude has always been averse to doing boat reviews. After all, in the typical boating publication review, somebody looks at a boat just as you could at a boat show, then goes out for an afternoon sail. We think there are two inherent problems with such reviews. First, there are huge variations in personal taste. Lots of people may like the interior layout and style of the Big Blow 42, while other fair-minded people may find it's just not to their liking. Second, and even more important, what can a single afternoon in a single kind of sailing condition really tell you about the sailing ability, seakindliness and durability of a boat? Not much, in our opinion. Thus our decision to refrain from boat reviews.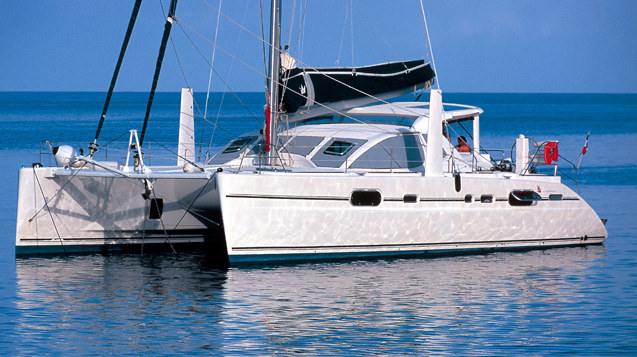 But while at the St. Martin YC in Sint Maarten last night, Curly — last name not needed, but long ago of Sausalito — introduced us to a longtime friend, "a catamaran owner," whose name we have already forgotten. Anyway, this relatively young gentleman of enough means to not have to work reported that 10 years ago he bought a Catana 471 catamaran brand new, and since then has sailed it across the Atlantic 20 times. Twenty times!
You know how a lot of people who cruise Mexico return to California for hurricane season? Europeans in the Caribbean face pretty much the same dilemma — except that while it's 750 miles from Cabo to San Diego, it's something like 3,500 miles between St. Martin and Palma de Mallorca. So most don't even think of doing it. But then there is Mr. Catana 471. "I can make it across the Atlantic in three weeks," he told us, "so why would I spend hurricane season in the Caribbean, especially since I love Palma so much?"
"How good is the 471 we asked him?"
"She's a very good boat," he replied.
Since talk is cheap, we were looking for stronger confirmation. And we got it.
"I just put $100,000 into refitting her," he mentioned. "I figured the only other boat I'd want would be a Catana 65, but that's more money then I want to spend, so I chose to refit my 10-year-old, much-traveled Catana 47."
So here's our first-time, one-line Latitude boat review: "The Catana 471 is a proven performer in Atlantic crossing conditions."
We are currently accepting additional boat reviews. If you don't have a lot of ocean experience with your boat, you are not qualified to write a Latitude 38 boat review.
Receive emails when 'Lectronic Latitude is updated.
SUBSCRIBE